Advantech Assists Stone Factory in Digital Transformation with iFactory OEE and Data-Driven Vibration Monitoring Solution
11/1/2021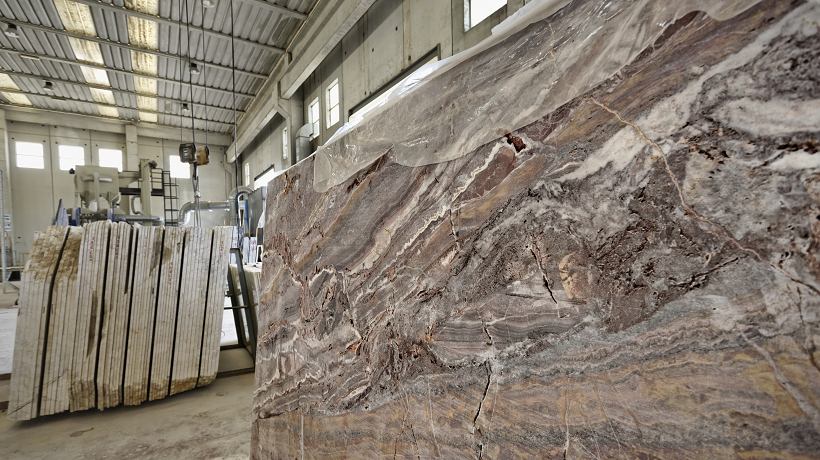 Advantech has utilized its iFactory Solution Ready Package (SRP) to assist a Taiwanese stone factory to visualize production data, monitor equipment, prevent potential malfunctions, and perform predictive maintenance, supporting the factory with its transition into becoming a smart factory so that it can improve its production and market competitiveness.
Taiwan's stone industry once thrived for decades,with most stone factories based densely in Hualien County, an area colloquially referred to as the "Kingdom of Marble." However, in recent years, the stone industry has declined markedly due to serious global competition. With the rise of stone industries in China and India, predatory pricing has pushed many companies out of the market. Under the guidance of the Stone and Resource Industry R&D Center, a stone factory based in eastern Hualien sought Advantech's assistance for digital transformation, utilizing the iFactory SRP to visualize its production data,achieve real-time equipment monitoring, and implement predictive maintenance to improve production efficiency and reduce unplanned downtime. This digital transformation has enabled the stone factory to successfully breakthrough into new highly competitive markets.
Confronting the Challenges with a One-stop Solution
For stone factories, the most important equipment in production and processing are stone cutting and polishing machines. The process of producing high-quality stone products is complex,and as such the machines they use contain multiple intricate parts. Malfunctions, damage,and the need to replace parts can result in significant downtime, which can cause considerable loss for the factory. This was always a challenge for the factory, since they have lacked sufficient technical knowledge for full maintenance and they had not properly maintained their equipment,which had been imported from Italy. Prior to seeking out Advantech to assist with their digital transformation, the factory had been passive in dealing with downtimes, primarily because repairs are difficult and parts are not readily available. This was complicated by the possibility of parts taking months to arrive if back-ordered from Italy. To prevent equipment downtime and reduced overall production efficiency, the factory decided to go forward with digital transformation and adopt a proactive approach to equipment monitoring and predictive maintenance.
After consulting with the Stone and Resource Industry R&D Center and knowing Advantech's reputation for quality and reliability of products and services, the factory sought Advantech for assistance in its digital transformation. Advantech provided a one-stop solution for equipment data acquisition and efficiency analysis from the edge to the cloud with its Overall Equipment Effectiveness (OEE) solution. This is one of Advantech's most vital iFactory SRPs for realizing smart factories through data acquisition,aggregation, and analysis of machine availability,helping companies improve productivity, reduce losses, and maximize profit.
One Step Closer to Realizing a Smart Factory
Advantech's iFactory SRP combines hardware and software into an integrated industrial application that enables factories to take a step wise approach to realizing their goal of becoming a smart factory. In this case, the factory had installed 40 third-party vibration sensors to collect motor vibration data from its machines. Based on the frequency of vibrations,the sensors can be used to detect the internal conditions of equipment motors. The data from these sensors can then be transferred via a Bluetooth low energy (BLE) gateway and Wi-Fi access point to the Me Edge edge computer to perform OEE analysis.
The analysis output can then be visualized on a dashboard for immediate insights into machine availability, productivity, and quality management.This helps with achieving predictive maintenance, monitoring machine conditions,and performing motor vibration diagnostics.Ultimately, the visualization of motor vibration diagnostics has enabled the factory to perform real-time monitoring and take precautionary measures to prevent machine malfunctions and unplanned downtime.
With the help of Advantech's one-stop solution, the stone factory has significantly improved its production efficiency while reducing operational costs and increasing market competitiveness.
Looking forward, the factory is excited to move further with its digital transformation by accumulating more data and using it in more applications, made possible by Advantech's solutions being extremely flexible in configuration,expand ability, and functionality. With Advantech's impeccable support and fast deployment, the dream of transforming into a smart factory could very soon become a reality for companies operating in virtually any industry.
---
MyWISE-PaaS Magazine - The New Wave of the Industry 4.0
The Industry 4.0 revolution is predicted to bring about four critical changes in the field of industrial automation. Likewise, the Solution-as-a-Service model will become one of the three main business service models. Advantech focuses on co-creation in an effort to help expand the Industry 4.0 ecosystem in response to these trends.