Advantech, Intel, and Heroic-Faith Join Hands to Improve Medical Care with AI
3/31/2021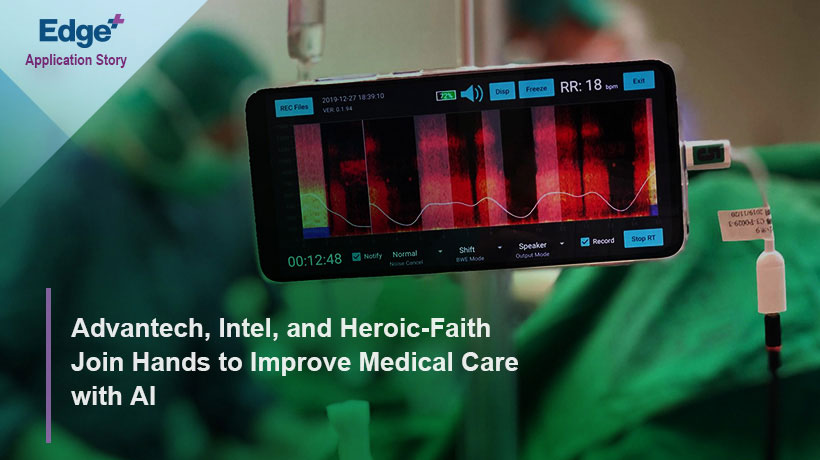 Heroic-Faith Medical Science joined forces with Advantech and Intel to launch an AI-based continuous lung sound sensor monitoring system. The system allows nurses to track the respiratory conditions of numerous patients on their ward in real time from a nursing station, greatly improving care efficiency.
Interview with Dr. Fushun Hsu, founder, Heroic-Faith; Mr. Yuan-Ren Cheng, co-founder of Heroic-Faith
During a particularly severe period of the COVID-19 epidemic in April 2020, medical staff at the intensive care unit of Wuhan No.9 Hospital in China wore full isolation gowns to treat patients and record their vital signs. They did this without the need to remove their headgear or use stethoscopes to record patients' respiratory conditions. They were able to do so because of an AI-based continuous lung sound monitoring system developed by Heroic-Faith Medical Science. Clinicians could listen to the patient breathing through a micro-electro-mechanical system (MEMS) capacitive microphone patch without taking off their isolation gowns, significantly reducing the risk of cross-infection.
Breakthrough in respiratory monitoring and treatment
Monitoring system is also suitable for non-intubated anesthesia, cardiopulmonary surgery, and long-term monitoring in intensive care units," explained Dr. Fushun Hsu, founder of Heroic-Faith Medical Science. Respiratory parameters including respiratory rates and abnormal adventitious lung sounds are very important indicators in the clinical care of critically ill patients, but there was no instrument that could continuously monitor such parameters. The lack of data and the inability to monitor conditions remotely for extended periods of time contributed to unsatisfactory levels of treatment.
Heroic-Faith therefore implemented their AI-based continuous lung sound monitoring system to replace the traditional stethoscope with thin auscultation patches. The system continuously records respiratory parameters simply by attaching the patches to the patient.
Moreover, AI algorithms help identify the patient's conditions and results are simultaneously fed into a mobile device, such as Advantech's 8-inch medical tablet AIM-75H, then turned into spectrogram, which can also be played through the device's loudspeaker. By using visual and sound aids for diagnosis, it is much easier for clinicians to identify abnormal sounds and quickly intervene when necessary.
In addition to bedside monitoring and care, Heroic Faith also integrated Advantech's USM-500 Medical Grade Edge Server, VEGA-340 Edge AI Acceleration Module, and Intel's OpenVINO™ toolkit to develop a central monitoring system that can simultaneously collect and aggregate respiratory parameters of every patient in the ward. Nurses can see the respiratory conditions of 24 patients in the ward at the same time from the nursing station. This reduces their workload and bolsters the overall quality of medical services.
Finding the right balance between computing performance and cost
"In the process of developing the central monitoring system, Heroic-Faith struggled to find the right balance between computing performance and cost. Not until the deployment of an integrated solution from Advantech and Intel was the issue finally resolved," said Mr. Yuan-Ren Cheng, co-founder of Heroic-Faith. Heroic-Faith originally used a high-end GPU to improve computing performance in the early stage of product development and retro-fitted commercial mobile phones for displaying spectrograms. Although this system architecture could be applied to bedside care, it brought up two major problems when undergoing further development. First, as the amount of monitoring data increased, the computing performance of the GPU required by the system increased, resulting in a substantial increase in cost. Second, the system resources of commercial mobile phones are limited, and a mobile phone can only monitor one channel, which makes it impossible to achieve the goal of central monitoring.
To tackle these problems, Heroic-Faith converted the system to the Intel OpenVINO™ architecture and utilized CPU optimization to meet computing performance requirements. It also actively sought suitable hardware solutions. After careful consideration of industry reputation, customization capabilities, and product reliability, it chose Advantech's USM-500 and VEGA-340 to create a total solution.
Mr. Cheng emphasized that Heroic-Faith specializes in AI algorithms and is not familiar with hardware design details, such as power supply and medical certifications. "Advantech USM-500 has passed IEC60601-1-2 medical certification and offers tremendous benefits when combined with VEGA-340, which is equipped with 8x Intel® Movidius™ Myriad™ X VPUs (vision processing unit) that can handle the respiratory sensors from four channels and provides processing performance of 0.7 pictures per second per core, a total of 8 cores in one AI card. Compared with the original system architecture that used mobile phones to process pictures, the computational performance nearly doubled. The combination of USM-500 and VEGA-340 completely solved Heroic-Faith's hardware problems. Moreover, Advantech's solution is fully tested and compatible. In addition to the product itself, it boasts a dedicated cradle, a power supply system, and several USB slots to fully satisfy customer needs.
Most importantly, Advantech respects each customers' opinions. Whenever Heroic-Faith put forward a request, Advantech listened carefully and responded quickly. For instance, it adopted Heroic-Faith's suggestion to adjust the product cradle so that it can be locked in place. In the future, Heroic-Faith hopes to work more closely with Advantech and Intel in areas ranging from product development to marketing and promote its AI-based continuous lung sound monitoring system in even more markets. The goal is for technology to reduce the burden on medical care personnel and provide the public with a higher quality of medical services.