Advantech Partners with Leading EV Charging Solution Supplier to Develop Rapid Chargers
2/7/2022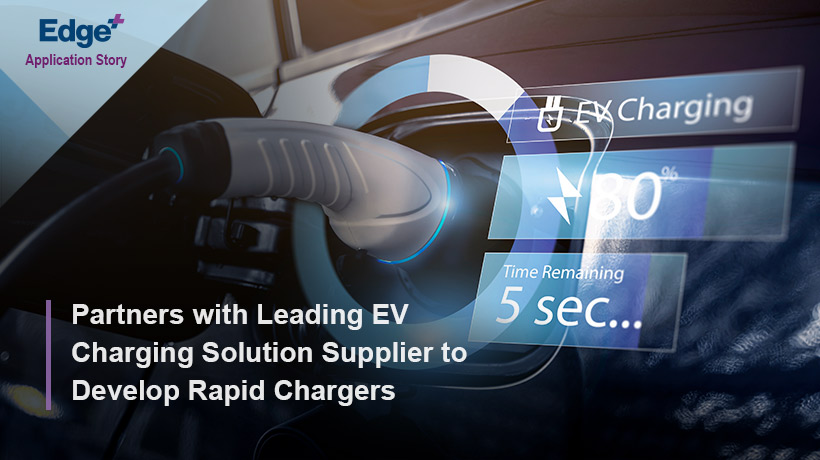 Electric vehicles (EVs) are growing in popularity due to increasing awareness of climate change and carbon emissions, as well as the recent reduction in price. However, the low availability of charging facilities is a significant concern for governments seeking to reduce emissions by promoting EVs. For private businesses, the high costs involved foster reluctance to install EV charging stations.
In South Korea, the Ministry of Economy and Finance has launched several programs aimed at making EV charging stations more accessible in an effort to achieve net-zero emissions from the transportation sector. Accordingly, the government is helping station operators and automobile makers to sequestration sites by offering subsidies/tax benefits and regulating the mandatory installation of EV charging infrastructure in new buildings. As the leading supplier of embedded computers for self-service fuel-dispensing equipment in South Korea, Advantech Korea has recognized that the continuing growth of the EV market means the self-service petrol station market will start to decline. Therefore, Advantech Korea decided to seek opportunities for cooperating with major charger manufacturers.
Rugged solution with wide operating temperature for critical environments
A leading global supplier of EV charging solutions was seeking a single-board computer (SBC) that complied with government safety regulations. Additionally, to ensure reliable operation in harsh industrial environments, the SBCs needed a rugged design, support for a wide operating temperature range, and multiple serial ports for integrating additional devices. Moreover, because the EV charging station would be operational 24/7 for a several-year period, local after-sales service and support were another key consideration.
After assessing the options available on the market, the company selected Advantech's MIO-5375 3.5" SBC for its EV rapid chargers because of Advantech's long-established reputation and experience with self-service fuel dispensing equipment. The MIO-5375 SBC supports a wide operating temperature range of -40 ~ 85 °C (-40~ 185 °F), allowing them to withstand operation in critical environments. In addition to fitting conveniently inside the charger, the MIO-5375 SBC has been streamlined for optimized functionality and features IEC-compliant ESD protection for all COM ports. Furthermore, equipped with four RS-232 ports, up to two RS-485 ports, and two Giga Ethernet ports, the MIO-5375 SBC can be connected to the Internet and devices such as printers, card readers, cameras, and self-service kiosks. MIO-5375 supports multiple display combinations via HDMI, DP, and LVDS, with mSATA and mini PCIe for easy I/O expansion. For urgent upgrades, MIO-5375 SBCs feature mSATA and mini PCIe to enable easy I/O expansion using the MI/O extension connector.
Sustainable solution with a global service network for international business
According to Tony An, Sales Director at Advantech Korea, charging EVs can take from 20 minutes up to several hours. Thus, the ideal sites for EV charging stations include car parks, motorway service areas, shopping malls, or locations where EVs are likely to be stationary for at least 30 minutes. Advantech's MIO-5375 is a robust and durable SBC solution for installation at outdoor EV stations. Compliant with most industrial standards, the MIO-5375 has passed reliability tests for rapid-charger projects conducted by renowned car brands in Europe and North America. The inclusion of network connectivity allows real-time data, such as charge completion times and charging bay availability, to be streamed to a centralized command center for monitoring EV charger metrics. "Our solution not only met the company criteria and came with a long-term warranty, but we also provided global logistics, a worldwide after-sales service network, and product certification for international exporters. Because MIO-5375 SBCs are a proven solution, the company can easily integrate them into future EV charging devices without re-verification, massively reducing time-to-market," said Mr. An.
11th Gen. Intel® Core U-series i7/i5/i3/Celeron 3.5" SBC w/ MIOe

Dual-Channel DDR4-3200 up to 64GB
4 simultaneous displays: LVDS/ eDP*, HDMI, DP, USB Type-C
2 GbE, 4 USB3.1, CAN Bus, DC-in 12-24V
Expansion: M.2 E-Key/B-Key/M-Key (supports NVMe) , MIOe
Supports iManager, WISE-PaaS/RMM, SW API, and Edge AI Suite