Advantech Solution Contributes to Taiwan Schools' Pandemic Prevention and Containment Efforts
3/31/2021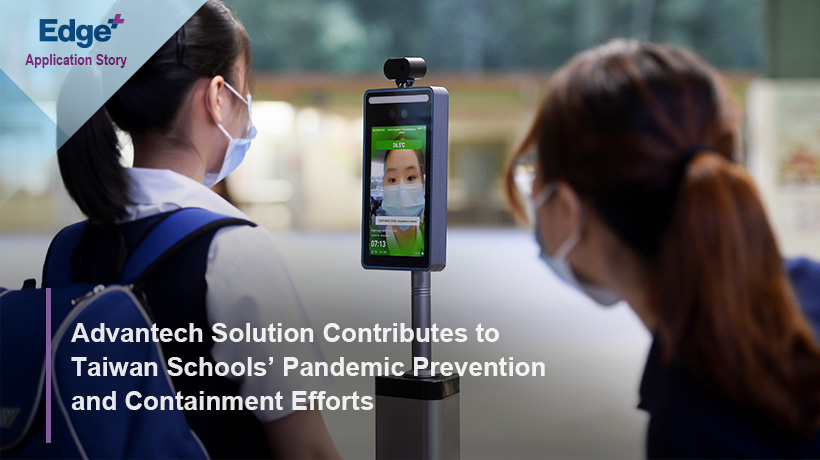 Advantech helped a Taiwanese system integrator (SI) overcome budget and technical challenges to create a total solution for facial recognition and thermal imaging for schools in Taiwan. This enabled them to implement accurate, efficient epidemic prevention and containment.
Interview with Alan Kao, product manager of Embedded IoT Group, Advantech

Facial recognition technologies have been around for many years. In the past, low recognition rates and high costs served as an impediment to mass adoption. However, due to advancements in AI and cameras, facial recognition applications are now being widely deployed in the healthcare, automotive, smart home, and access control industries. For instance, Toyota introduced a driver facial expression analysis solution capable of triggering autonomous responses from vehicles to prevent accidents. Facial recognition is used in airports to authenticate passengers' identity at departure and arrival gates. The onset of the COVID-19 outbreak has further increased the popularity of facial recognition and thermal imaging systems. Indeed, these systems monitor social distancing, detect the wearing of masks, and spot abnormal body temperatures.

The combination of edge AI and facial recognition drives contactless applications
"We have seen growing demand for contactless applications that utilize facial recognition technology, edge AI, and infrared thermography technologies; such as contactless lifts and access control gates. Apart from the pandemic, the key drivers are the total cost of ownership and mature and proven total solutions," said Alan Kao, Advantech's product manager of Embedded IoT Group. In the past, deploying a facial recognition solution required a large investment in centralized servers and facial recognition software. At present, edge AI technology allows facial recognition models to be run on edge computers. This significantly reduces costs and increases system response times by capturing videos and enabling responses close to the event source.

Earlier this year, a Taiwanese system integrator (SI) specialized in the integration and installation of school IT and surveillance systems was developing epidemic prevention systems for schools in response to COVID-19 outbreak. As most schools could not raise the funds required to meet urgent epidemic prevention and containment needs, system costs were the SI's biggest concern. The SI also faced a lack of trained engineers and limited knowledge of facial recognition and AI. To meet these challenges, the SI chose Advantech's FaceView industrial app. After consultations with Advantech's professionals, the SI decided to start with a pilot project at a school in Taipei.

Fully-tested and proven solutions from industry leaders
Advantech provided a total solution comprised of their AIR series edge AI inference system integrated with VEGA-300 AI acceleration modules and FaceView industrial app to address the SI's concerns. Mr. Kao stated, "Powered by CyberLink's AI engine, which is ranked one of the best in the NIST Face Recognition Vendor Test worldwide, FaceView provided high precision real-time facial recognition. In fact, FaceView boasts a recognition accuracy rate of over 99.8%. Our total solution allows SIs to shorten time-to-business outcomes and serve their customers with fully-tested and proven systems from industry leaders, Advantech and CyberLink, at very reasonable prices."

The total solution featured built-in APIs designed to help the SI quickly integrate the school management system, student information database, and LINE push notification system. Each AIR series edge computer was connects to up to five infrared thermal imaging cameras, which scan entire classrooms automatically every few hours. Moreover, Advantech's total facial recognition solution can identify students wearing masks. Names of students with abnormal body temperatures or without face masks were recorded into the school system and sent to staff using LINE push notifications. The system fulfilled the school's pressing COVID-19 prevention needs and contributed to the containment of other viruses that can cause high body temperatures. By implementing Advantech's facial recognition and thermal imaging solution, the SI saved time and money; and overcame several technical disadvantages. Now, all the SI's school clients benefit from the same efficient and accurate epidemic prevention and containment operations at a very reasonable cost.

The Taiwanese SI is now preparing for a large-scale system rollout at several schools in northern Taiwan. Mr. Kao pointed out that, "The solution is expandable; if schools require functions such as identifying strangers, fall detection, or violence detection, AI models can be deployed using the same edge computers." Advantech has witnessed fast-growing demand for contactless applications using facial recognition technology since FaceView was launched this year. FaceView can also be used for other tasks like access control of entrance gates and sensitive equipment, building management, contactless lifts and more. The application scope of FaceView will continue to expand even after the pandemic abates.