Advantech Visual and Touch Display Solutions for Medical Applications
1/15/2021
Touch displays are becoming increasingly important in hospitals. They can be found in parking lot kiosks, check-in counter/self-service stations, ID checking solutions, and touch control solutions for health checks. Advantech VUE touch displays deliver excellent performance to diverse medical applications. They help staff, visitors, and patients streamline their hospital experiences.
Different hospitals have different divisions — including operating rooms, nursing stations, outpatient services, and registration. Likewise, different touch displays are capable of fulfilling different requirements. The diverse services of hospitals often necessitate similarly diverse display solutions. Advantech unveiled touch display models capable of fulfilling various roles in hospitals.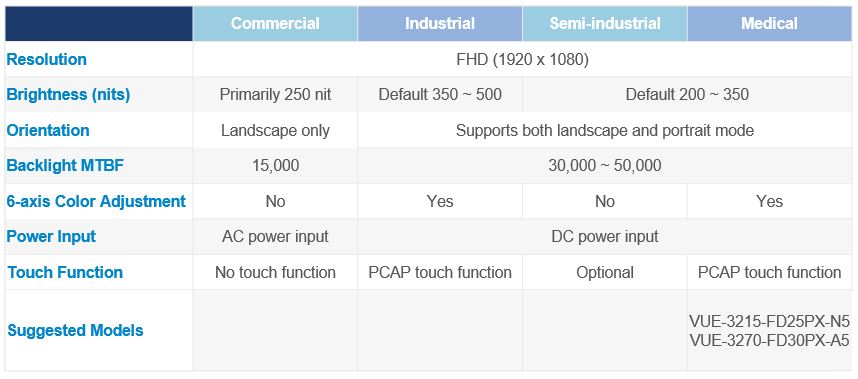 Advantech's VUE-3000 range primarily comprises medical grade panels which support DICOM and Gamma communication and management. These solutions usually come in 21.5" or 27.0" form factors and feature FHD (1920 x 1080) resolution for vivid visual experiences. These displays support 6-axis color adjustment functions for various medical applications. Advantech's VUE-3000 series models are IEC-60601 certified and support gloved, ungloved, and stylus-pen touch-control enabling medical information to be recorded through touch function. The following table details available VUE-3000 models.
Advantech's VUE-3000 series meet IEC-60601 medical certification standards and support DICOM and Gamma specifications. VUE-3000 models support 6-axis color adjustment to meet the needs of diverse medical applications. Each VUE 3000 solution features anti-reflective (AR) and Anti-fingerprint (AF) cover glass to enable clear visual performance. Medical staff can operate this solution with bare hands, gloved fingers, or a stylus pen, enabling easy data input. Advantech's VUE-3000 models support CS10V touch functionality to reduce noise and avoid disturbing patients. Further VUE-3000 touch display specifications are detailed below.
Information/communication technology (ICT) is converging in medical applications. An increasing number of medical touch displays are designed to facilitate applications with 5G, 3D, AI, streaming, and remote diagnostics. Similarly, diverse medical touch displays are being sold for a wide range of applications. The following graphic details these applications. Contact Advantech for more information.