AI-Powered Smart Fitting Rooms Use Advantech's Compact Industrial Motherboard with Powerful Core-i Processor
10/30/2020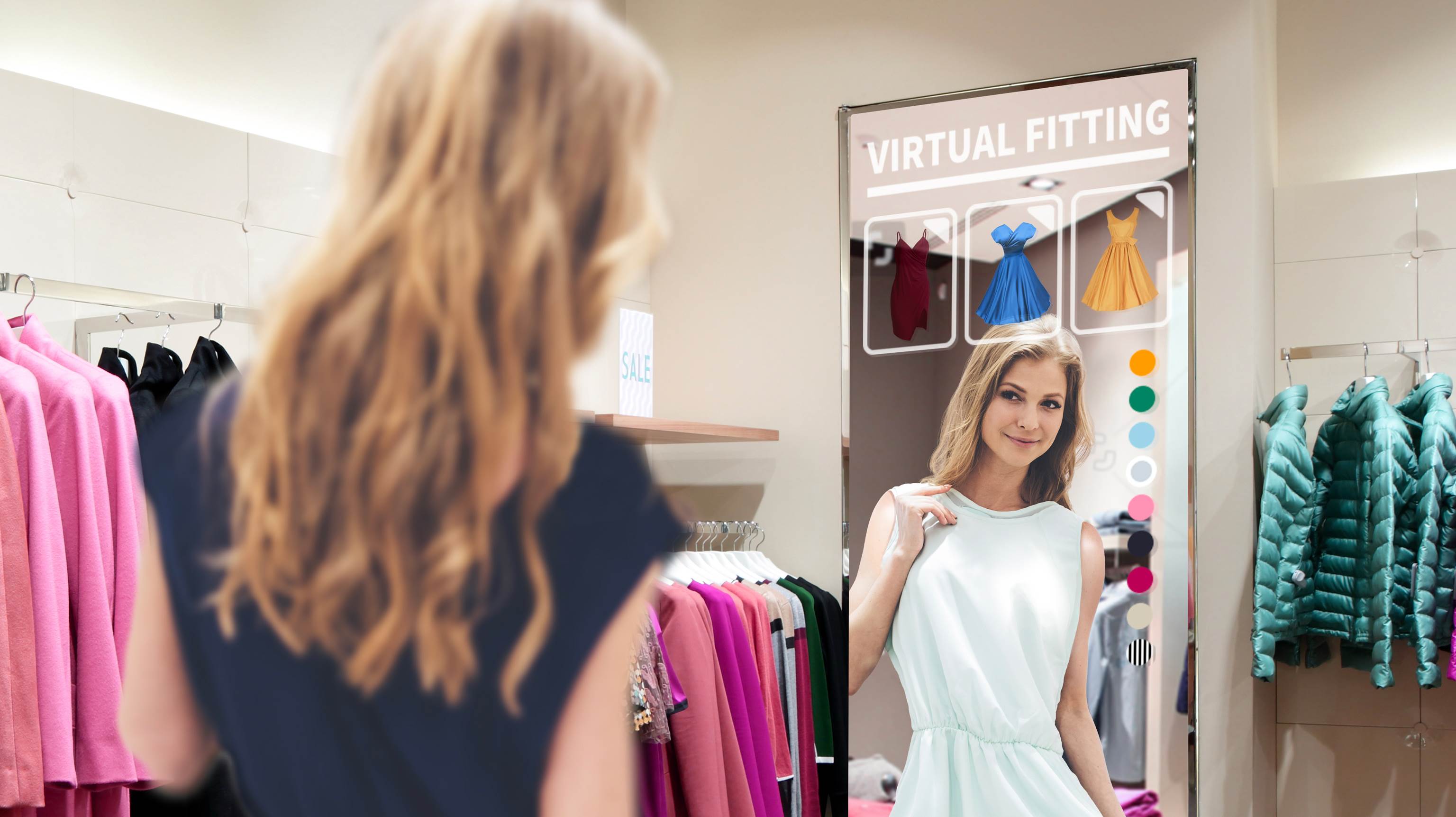 Quality digital shopping experiences are crucial considerations for brick and mortar stores competing with online businesses. To win over consumers spoiled by online convenience, retailers must present eye-catching and efficient in-store digital services. To this end, virtual fitting rooms found in digital boutiques help customers try on clothes quickly and easily. Friendly user interfaces and engaging layouts are essential features of smart fitting rooms. Indeed, customers should marvel at vivid virtual reality displays and dazzling exhibitions. A successful smart fitting room must facilitate service flows and enhance shopping experiences beyond those created by traditional fitting rooms.
System integrators are facing growing demands for innovative smart solutions like smart fitting rooms. Building a smart fitting room requires a resourceful AI-embedded system with excellent UI design. This system needs high performance computing platforms to execute intricate software modules and complex AI algorithms. Powerful graphic processors are needed to support the high resolution required to accurately demonstrate detailed outfits. Using sophisticated algorithms, this system recognizes customers' movements and renders virtual reality images. These complex activities need to be processed instantly and accurately. Any lag or latency are intolerable during the service flow. Likewise, the digital cameras, sensors, and computers implemented in this system must perform flawlessly.
A comfortable physical environment plays an important role in the marketability of high-end clothing stores. Therefore, comfortable fitting rooms are not compatible with noisy computer systems. To bridge this gap, small footprint low noise solutions are crucial considerations in system design.
Advantech's AIMB-U233 palm-sized motherboard is aimed at varied smart applications including smart fitting rooms. As the first Core-i platform in Advantech's UTX motherboard family, AIMB-U233 features a small form factor design powered by a powerful 8th Gen. Intel® Core™ i7-8665UE processor. This motherboard combines high computing performance with diverse I/O ports and M.2 expansion slots, yielding an ideal solution for sophisticated digitalized applications — specifically those that require a small footprint computing systems. AIMB-U233 supports fanless operation to achieve low-noise operation.
This motherboard is features M.2 M-key/B-key/E-key, compatibility to support diverse applications and drastically boost computing performance. Combining the M.2 M-key interface with 4-lane NVMe PCIe increases storage read/write speeds by up to 400% compared to a traditional SATA 3.0 SSD. It avoids lag and latency during highly intricate computing. Moreover, the M.2 E-key connector supports the use of Advantech Movidius™ modules for enhanced graphics computing required in smart fitting rooms. Furthermore, Advantech solid RD resources improve development processes. From BIOS configurations to mechanical designs, Advantech's RD teams are ready for consultation.
IoT Application Remote Management and Monitoring
Using Advantech's WISE-DeviceOn, retailers can upload new product information to their distribution networks easily. Additionally, they can analyze regional differences in shopping trends. This fast and simple setup enables intelligent edge onboarding, data acquisition, and status visualization in operation centers. Retailers can adjust inventory according to data analysis results.
Additionally, in the event of a system failure, retailers can monitor the system and address the issue via WISE-DeviceOn at the tap of a button. To resolve minor computing glitches, embedded USB controls are available to discontinue the device's power supply. Likewise, the OTA BIOS system offers seamless updates and backup recovery mechanisms that greatly reduce the need for equipment-servicing.
Advantech AIMB-U233, a high-end CORE-I industrial fanless motherboard with remote management software is an excellent choice for innovative retail solutions. It enhances in-store shopping experiences, and helps retailers remain competitive.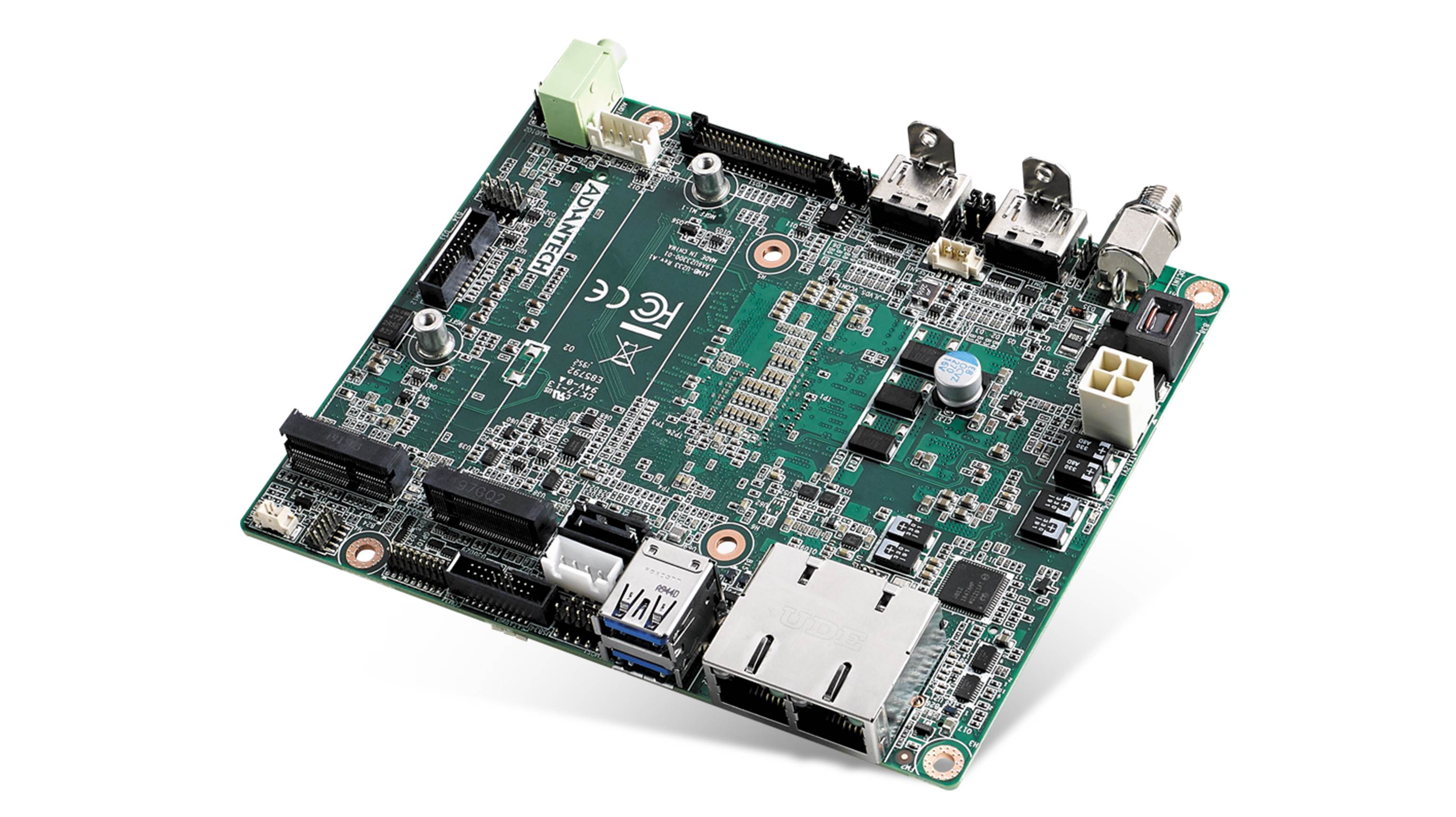 AIMB-U233
Palm-sized motherboard design (112 x 137 mm)
Powerful 8th generation Intel® Core™ i processor for fanless operation
Diverse I/O and system expansion slots: 4x COM, 4x USB, 2x HDMI, 2x GbE LAN, 16-bit GPIO, and 3x M.2 expansion slots
Pre-installed Advantech DeviceOn software for remote monitoring and managemen