Automotive Inspection Center Uses WISE-PaaS End-to-Cloud IoT Total Solution for Remote Video Surveillance and Device Status Monitoring and Control
6/19/2018
Introduction
Automotive inspection and verification centers are the quality gatekeepers for new vehicles coming off the production line. In order to rigorously inspect and verify a vehicle assembled from tens of thousands of parts, the center must occupy a large site to provide various types of test tracks and a variety of test equipment in environment simulation chambers, whilst deploying multiple cameras to monitor everything. Traditionally, such a large number and variety of devices would require huge manpower to maintain and manage, but the center realized they could effectively reduce maintenance costs and improve management efficiency if they were willing to manage everything remotely using an Industrial Internet of Things (IIoT) infrastructure allied to a cloud platform.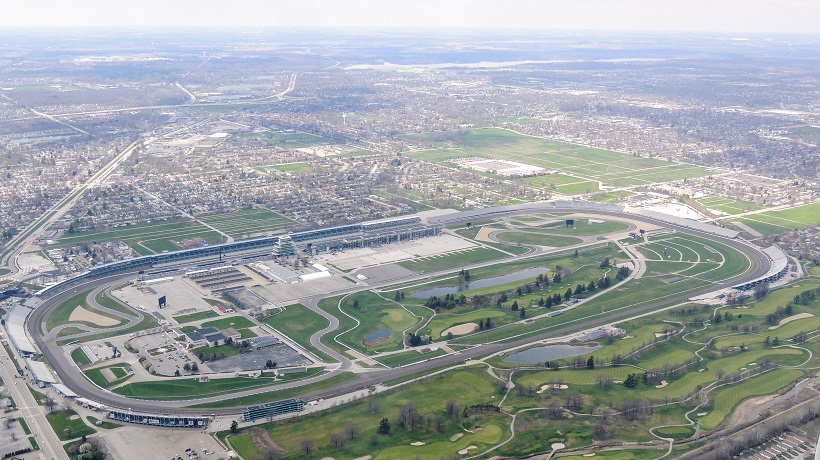 They needed to know whether to use a public or a private cloud structure to support the system? How to integrate the underlying devices with the cloud platform? Which kind of IoT software would be best suited for this specific purpose? And finally, how to solve compatibility problems between various software and hardware products? These were some of the questions that needed to be addressed and resolved before the project could go ahead.
Advantech WISE-PaaS industrial IoT cloud service software platform provided the required software and hardware products for remote video surveillance and device status monitoring and control. This edge-to-cloud total solution enabled users to collect video and device data which was uploaded to the cloud. Furthermore, Advantech's consulting services helped the system integrator to overcome various problems and accelerate system implementation so that they could see the results as soon as possible.
System Requirements
A full-service automotive technology company in China which provides vehicle design, development, testing and verification, has two existing professional vehicle testing grounds in Guangde County in Anhui Province, and Heihe City in Heilongjiang province. A variety of environmental simulation chambers were set up in the two sites to carry out quality inspection and qualification testing for vehicles. But their maintenance management is time-consuming and laborious, because both areas are quite large and testing equipment for vehicle inspection is dispersed in various workspaces across the site. As a result, the company wanted to build a management system with remote monitoring and control capabilities using IIoT and cloud platform technologies in order to reduce costs and improve efficiency.
Since there were already numerous testing equipment on the two sites, they decided to implement cloud-based applications covering several processes. For example, one part would carry out remote video surveillance and equipment status monitoring and control in the high/low temperature environmental chambers. They also planned to build a public cloud-based management system using a total solution provided by a single vendor. Such a solution would save time and effort in the assessment and selection of vehicles, but it would also eliminate the need for compatibility testing of multiple products from different suppliers.
In order to meet the above requirements, the solution connected edge applications to the cloud under the following conditions:
A stable and secure PaaS service platform to integrate underlying devices and provide information to the public cloud app.
A video capture and management software tool to collect image data.
Centralized management software to manage and control the status of all IoT devices.
A high-performance gateway to acquire and upload camera images and underlying equipment data.
System Description
Advantech's edge-to-cloud WISE-PaaS IoT total solution includes WISE-PaaS/EnSaaS IIoT cloud service platform, WISE-PaaS/VideoCMS intelligent video management core module, and EIS-D150 high-performance edge intelligence server. The two software products are installed on the WISE-PaaS/EnSaaS platform and are responsible for providing all remote video surveillance and device status monitoring and control. As an edge computing platform, EIS-D150 communicates with the computer installed in the environmental chamber to acquire equipment data via Modbus over TCP/IP, charging pile data via the serial private protocol, and providing live video via the cameras in the environmental chamber and charging pile area through the ONVIF protocol. All data is then uploaded to the WISE-PaaS/EnSaaS platform through the 4G mobile network.
Through the WISE-PaaS total solution, users can utilize the public cloud app on the desktop PC, tablet, or mobile phone and log into the management system at any time. The system allows users to remotely watch over the workspaces, get the current status of equipment in each area, as well as set environmental chamber test conditions.
WISE-PaaS/EnSaaS bridges all underlying equipment with the public cloud. It breaks the barrier between the Information Technology (IT) layer and the Operating Technology (OT) layer, and easily realizes the functions of data collection, device networking, and device control from the public cloud. Moreover, it provides a stable and secure operating environment for the IoT PaaS software (like the WISE-PaaS/VideoCMS and WISE-PaaS/RMM used in this project).
WISE-PaaS/VideoCMS provides a variety of functions such as modifying image quality parameters, playing video and searching video recordings from the designated camera. Meanwhile, it has powerful features for video management, including simultaneously playing videos of different workspaces, multiple intelligent video analytics (IVA) used to identify special events and send alerts, and various search modes to improve access and much more. At present, users mainly use the WISE-PaaS/VideoCMS to access real-time videos and historical video data from the cameras installed in each work area. They also make good use of this software to improve the safety and security of the work areas.
In terms of centralized device management, WISE-PaaS/RMM monitors and remotely controls all networked devices. Taking the two vehicle testing grounds as an example, managers use this monitoring and control management software to keep track of all testing equipment information and fault information. They also use the software to set warning conditions for high and low temperatures in the environmental chambers and they can turn the equipment on and off remotely.
EIS-D150 was installed at the network edge end is a high-performance edge intelligent server. The built-in WISE-Agent software module provides an open development kit, data integration plug-in, industrial communication protocol support, and other IoT connection functions. It makes the EIS-D150 easy to connect with various sensors, and test equipment and devices, and it also performs data pre-processing which it then uploads to the cloud. EIS-D150 fully met the needs of this project to collect large amounts of device data and conversion of data formats.
Project Implementation
WISE-PaaS/EnSaaS: IoT Cloud Platform / Industrial PaaS Solution for the Edge to Cloud Services
WISE-PaaS/VideoCMS:Intelligent Video Management Core Module

WISE-PaaS/RMM:Remote Device Monitoring and Management Platform (classified as WISE-PaaS/EdgeSense edge intelligence computing services)

EIS-D150:Open High-performance Edge Intelligence Server

Advantech IoT.SENSE team:Professional Consulting Aervices for IoT Applications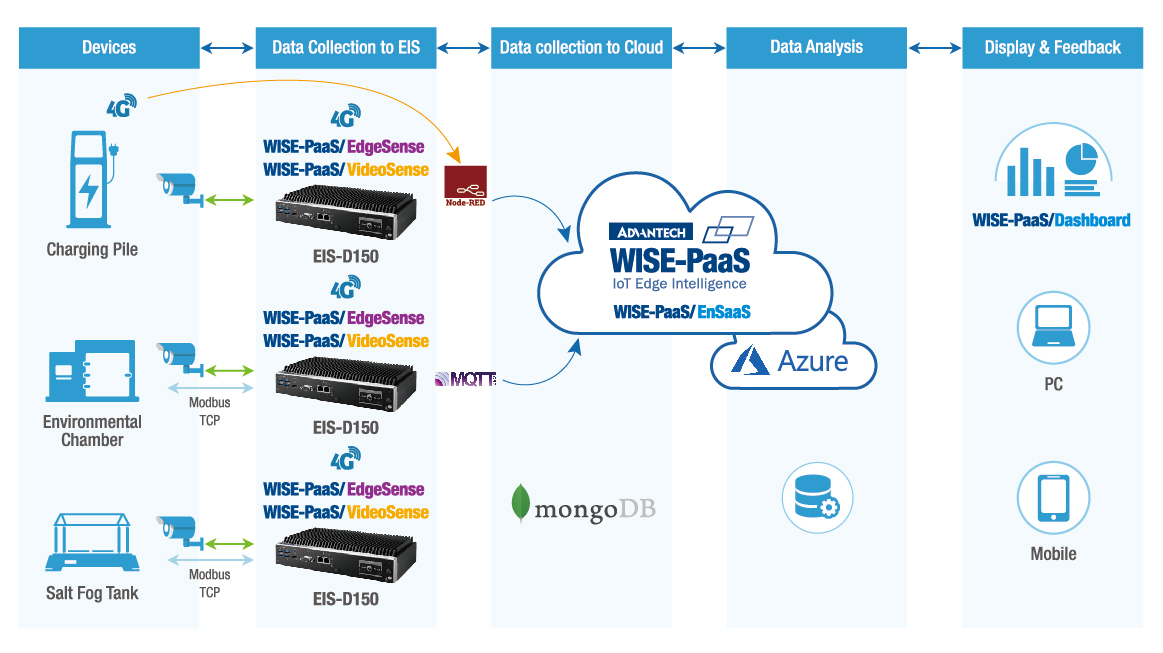 As a leading provider of intelligent IoT applications, Advantech provides the most complete software and hardware integration solutions and professional technical consulting services for cloud applications. Through Advantech's edge-to-cloud WISE-PaaS IoT total solution, this project introduced the hardware and software required for remote video surveillance and device status monitoring and control in the shortest possible time. Also, Advantech's solution and our technical support simplified the project and reduced development complexity, allowing the first phase of implementation to be completed in a timely and labor-saving manner. Next, the automotive technology center will gradually implement other testing equipment in the vehicle testing grounds into the cloud management system using Advantech's WISE-PaaS platform to enhance overall management performance.