Building Passenger Information System with Advantech's Railway Panel PC in Qatar, Doha Metro
5/10/2019
Located in the eastern part of the Arabian Peninsula and adjacent to the Persian Gulf, Qatar is a wealthy Middle Eastern country rich in oil and natural gas. With an area less than one-third that of Taiwan and a total population of just over two million, Qatar has repeatedly been appraised by Global Finance Magazine as the richest country in the world. In 2013, the country launched a comprehensive metro construction project in the capital city of Doha. The project aimed to complete four metro lines (Red, Gold, Green, and Blue) across several phases. The Red Line was the first to be completed this year, and tests and trial rides have now begun.
A passenger information system (PIS) featuring detailed pictures and independent operation
Titan Hou, product manager of Advantech, said that most PIS applications catering to the railway market offer either LED caption or simple displays. Until Advantech's ARS-P3800, there were no LCD display systems for large-scale railway transit systems that could be independently operated. The Taipei MRT, as one example, uses a dot matrix LED that only displays a limited number of words while making characters appear as jagged particles. In this case, the images on display are far less detailed and comprehensive than those appearing on Advantech's strip-type LCD system. The high-resolution ARS-P3800 color display not only provides passengers with maps and arrival information, but also plays advertisements. As a multi-purpose machine, it maximizes device efficiency.
In most cases, metro trains display passenger information using one or two controllers paired with multiple displays in each car. If a controller fails, all of the displays throughout the entire car can follow suit and will not be able to show any information. The ARS-P3800 is different; it is not just a display screen but also a computer. Display in one car does not interfere with displays in other cars, so problems arising in one metro car will not affect the entire train.
IP65 rated and reinforced glass to guarantee optimal protection from both water and dust
Because the Doha MRT Red Line is both underground and outdoors on an elevated track, measures had to be taken in order to prevent desert dust and sand from affecting system operation. In response to Doha's shortage of rain and its scorching sun, the Japanese contractor responsible for handling the metro project placed many restrictions on computers placed directly above car doors. Some of these restrictions included: product size, vibration, shock, waterproof, dustproof, screen brightness, and operating temperature.
Overcoming the project's strict requirements proved to be no challenge for Advantech given its considerable experience in developing railway transit applications. Advantech used its rugged ARS-P3800, featuring the highest degree of protection, to meet the contractor's requirements. For example, the strip size (1065 x 342 x 63mm) and thickness of the display had to avoid the door shaft motor above the door, while the length and width ratio needed to be perfectly mounted in limited space. The display complied with the EN 50155 railway application standard to provide adequate shock and impact resistance. The system was IP65 rated and used reinforced glass to guarantee optimal protection from both water and dust for the ARS-P3800. This was particularly important given Qatar's location in the Middle East.
In terms of screen brightness, railway applications — subways, metros, and light rails — need at least 700 nits to allow passengers to see the screen display under strong light. General displays with only 300 or 400 nits are not up to standard. The ARS-P3800 offered 800 nits for clear and beautiful images with high brightness. Using the ARS-P3800, image details were clearer than ever and readability under the Doha strong sunlight was assured. The EN 50155 T1's operating temperature class (-25°C to 55°C) allowed for a wide working temperature range. When the computer overheated, the system automatically shut down to protect against computer and component damage.
This project deployed a managed Ethernet switch to connect the six ARS-P3800s in each car to the upper layer train control and management system (TCMS). Once connected, the TCMS server sent commands to the ARS-P3800 to display information or play ads. The Ethernet reacted faster than hardware and the systems connected via RS-485. Moreover, the train adopted a high IP-based network management mode so that the control center and driver could easily control the display status of each ARS-P3800 and PIS from a remote location. By using the ARS-P3800, finding and addressing issues as they arose became substantially easier.
ARS-P3800: EN50155-certified 38" railway panel PC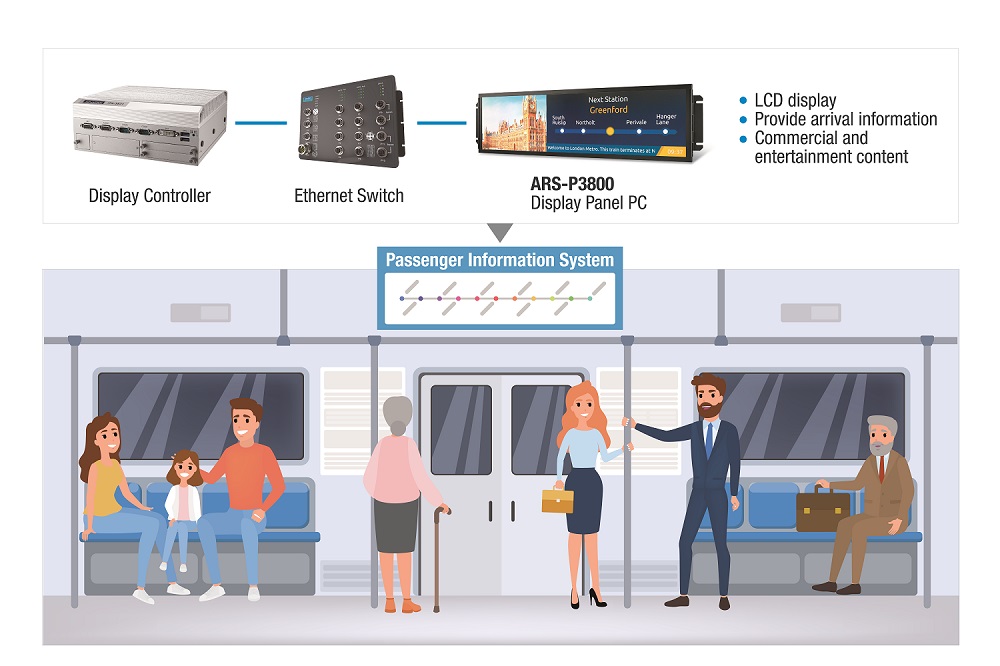 After affirming Advantech's strength, railway project cooperation continues
The Doha MRT Red Line, which begins operation in the second half of this year, now features more than one thousand ARS-P3800s installed across 75 trains. The Doha MRT plans on continuing to introduce this product in future railway extensions. Advantech has now successfully built railway applications in many countries. The Japanese contractor also adopted ARS products when it built Hong Kong's MTR Red Line extension in 2015. As such, they are quite certain of Advantech's system integration and R&D capabilities. Not only was the ARS-P3800 selected for the Qatar project, but a major European project currently under negotiation is also expected to use similar Advantech products. In the future, both sides will continue cooperating closely on railway transit projects.