Driving the Automotive Industry Forward with Complete Smart Factory Solutions
3/25/2020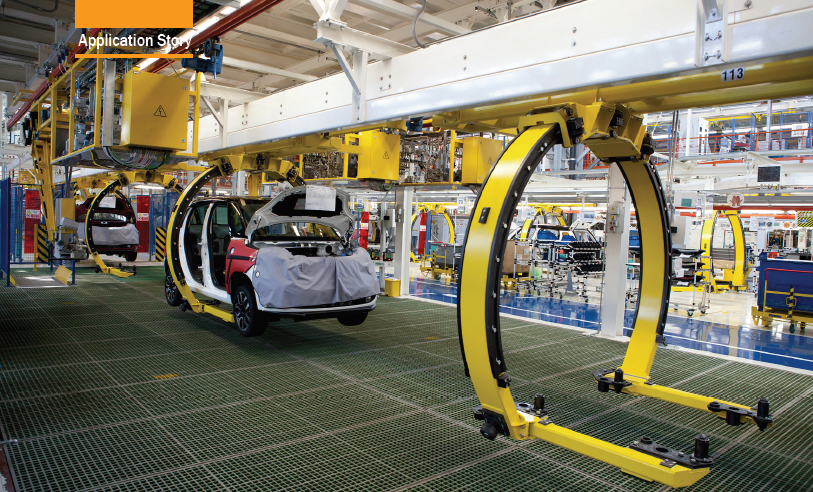 Photos provided by Advantech
Interview with Andreas Baumann, Business Development Manager, Advantech
One of the world's largest industries by revenue is the automotive industry. The considerable price tag of cars create high expectations among consumers for product quality and customization, which in turn contribute to the complexity of the manufacturing process. Smart factory solutions are the perfect way for automotive manufacturers to ensure that the quality of their products meets consumer demand.
With the advent of personalized consumption, customization has become a key aspect for consumers when buying cars. Customization has been responsible for exponential growth in the types and numbers of components.
For example, a single series of a premium German automobile brand can reach over 1,000 possible variations. With cars' long lifespans, the supply of spare parts is very important for after-sales services, which constitute an essential aspect of customer satisfaction. Certain German automobile manufacturers supply original spare parts for discontinued car models that are well over 30 years old.
The management of such complex products and their innumerable components and spare parts presents a lot of challenges in terms of manufacturing and logistics. Therefore, manufacturing automation and industrial computing have become critical throughout the automotive supply chain from the allocation and storage of raw materials and components to production and delivery and to timely spare parts procurement.
Smart optimized production logistics
The complexity and variety of automotive parts and components have caused serious issues in production and management. The challenge is to deliver the correct individual parts to each workstation in the production line and assemble cars in a carefully designed sequence. If a necessary component is not supplied in time, the scheduled work sequence of all subsequent workstations in the production line has to be changed accordingly.
A renowned German automotive manufacturer has implemented smart factory solutions and launched an extensive project to improve its spare parts logistics. An SAP-based after -sales parts project has been implemented at warehouse locations in various countries since 2013, improving parts availability throughout the network, reducing operational costs and inventory levels, and increasing productivity. All of this has contributed to enhancing efficiency in the manufacturing process and operational management.
Indeed, implementation of smart factory solutions ensures standardization and integration of the spare parts logistics process throughout the supply chain. It fosters a complete supply process from car dealers' orders all the way to payment; strengthens forecasting and planning of future spare parts demand; connects all partners to the spare parts logistics system; and bolsters warehouse management of incoming and outgoing goods, including stock transfer and annual stocktaking.
High-performance, durable computing solutions
Automotive manufacturing is a very demanding environment for computing hardware. The computing terminals are exposed to substances that are harmful for electronic devices. One example is carbon, a material that is growing more and more popular in automobile design. Carbon dust is highly electrically conducting and prone to cause short circuits if settling on a CPU. This is not the case for Advantech terminals. For this reason, the German automotive manufacturer's implementation of smart factory solutions consisted of many of Advantech's products, including Advantech's DLT-V83 series, the brand-new DLT-V72 Facelift series, and the UTC series.
Advantech's DLT terminals are used to build a hybrid automated guided vehicle (AGV) solution, in which DLT terminals are integrated into an autonomous tugger train as a control and/or fallback solution. Some parts of the factory cannot be reached by the autonomous driving tugger trains (e.g., narrow areas or areas restricted because of safety reasons), thus requiring manual operations by staff. Terminals are needed for navigation.
The DLT-V83 and DLT-V72 series are extremely robust vehicle-mounted terminals designed for harsh environments, boasting IP66-rated water and dust resistance; 5M3 certification for shock and vibration resistance; and IK08-rated, impact-tolerant, and abrasion-resistant touchscreen displays. Owing to these advantages, the German automotive manufacturer installed them on the AGVs to make sure that spare parts and components are delivered to the production line on time and in the proper sequence.
The rugged UTC series information terminals are used for displaying important information, so that operators can mount individual parts and components at each assembly station. The series can also be used on the shop floor to highlight important production data as well as changes to production steps and components.
Advantech uses various service resources to provide comprehensive local services to its customers in the automotive industry.
Other products Advantech offers to automotive manufacturers include ARK (digital signage solutions) for worker guidance and control; Rugged PCs or Panel PCs that serve as equipment control computers within body shops or paint shops; LEO-S wireless IoT sensing devices; and LEO e-paper displays for flexible and editable digital labeling.
Advantech's complete global services and smart factory solutions are helping automotive manufacturers around the world realize the goals of lowering operational costs and improving management and efficiency.