Austco Adopts Advantech's HIT-W121 for IP Nurse Call Solution
6/27/2017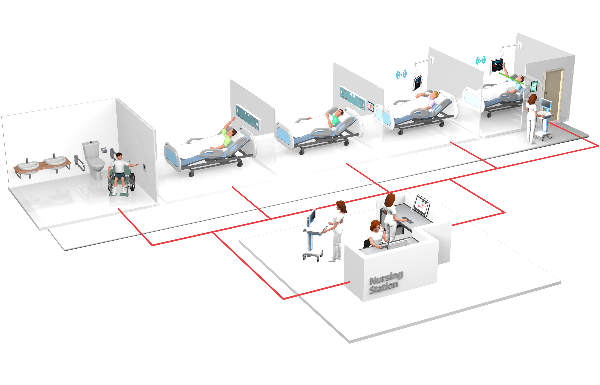 Hospital beds in acute-care settings are typically equipped with nurse call buttons, pull cords, or intercoms at the head of the bed to allow patients or bedside caregivers to alert nurses or other remote care staff members of their need for assistance. However, occasionally, due to human negligence or poor management of manual practices, such alerts are not answered quickly, leaving patients at risk.

Today, with advancements in technology, patient bedside devices such as nurse call buttons, pull cords, intercoms, and even patient infotainment terminals can be integrated into an IP-based management and control system to enable real-time messaging, centralized management, and many other potential functions.
Advantech's North American customer Austco is one of the world's forerunners in providing advanced technologies for nurse call systems. Austco's Tacera Nurse Call System is an integrated hardware-software solution for healthcare communication that connects all devices in a hospital infrastructure using Internet Protocol (IP) technology.At the core of this solution is an IP connect server that uses either wired or wireless communication methods to connect and integrate diverse hardware, software, and database systems throughout a healthcare network, including nurse call devices in wards (buttons, pull cords, intercoms, patient handsets, etc.), over-door lights, annunciators, nurse station terminals, staff pagers and phones, management PCs, and databases. Real-time locating and Wi-Fi-based communication technologies are also included for connecting IP phones, badges, and pagers to enhance healthcare mobility.

Advantech's HIT-W121 healthcare infotainment terminal with speech handset is employed in the Tacera solution as nurse station terminals. Equipped with Austco's Tacera Nurse Call software, these HIT-W121 devices display all calls received from ward/bed/corridor devices within the monitored area in real time, allowing nurses to take action according to emergency priority and, if necessary, notify physicians and relevant staff members.
Nurse station terminals enable the centralized management of nurse calls within specific areas by providing nursing staff with a real-time overview of all alarms and events on a single screen in order to streamline workflows and provide more efficient care. This is expected to improve nurses' situational awareness, alleviate staff fatigue, minimize unanswered calls, and limit searching for caregivers, ultimately leading to increased clinical and patient satisfaction.

"We chose Advantech's terminal because of its featured touchscreen, clear display, and sleek appearance. Additionally, HIT-W121 is easy to clean, install, and use," said Austco's Thomas McCrorie.

Featuring a slim (43 mm), fanless design and IP65 rating for water and dust ingress protection, HIT-W121 is especially suitable for use as a medical terminal because of the ease of sanitizing the system. The all-in-one structure with touchscreen also minimizes peripherals and wiring, making the system easy to install in diverse environments with limited space.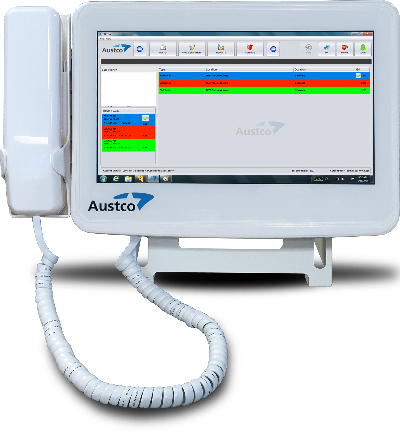 According to a report by market research firm Markets and Markets, the global nurse call systems market is expected to reach US$1.75 billion by 2021, up from US$1.12 billion in 2016, with a CAGR of 9.3%. Additionally, the integrated communication systems segment is expected to account for the largest market share in 2016, driven by new product launches and an increased number of hospitals adopting nurse call systems.

In addition to hospitals, assisted living centers, nursing homes, and ambulatory service centers are potential users of integrated digitalized nurse call systems. The market is also expected to experience high growth due to the increasing geriatric population across the world.

As observed by Austco, abilities for integration and interoperability with other healthcare systems, centralized answering and reporting, and expansion are important market trends for nurse call systems.

IP technology, which is based on open standard network protocols, ensures the long-term benefits of a nurse call system because of its high scalability. Users can easily add additional devices and applications to systems with "plug-and-play" functionality and incorporate newly emerged technologies into existing infrastructure with seamless backward and forward compatibility, thereby minimizing overlapped investment and maximizing ROI.

"At Austco, we believe that healthcare facilities must invest in technology that provides long-term benefits, such as integration with future technologies and communication methods. Today's IP-based nurse call systems are part of an interoperable healthcare system, which enables cost-effective future proofing for healthcare organizations," Thomas McCrorie commented.

"Austco's Tacera nurse call system is an IP-based communication system that comprises fully IP-configurable components to enable real-time healthcare communication from the time of admission to discharge. This results in measurable improvements to patients' experience and quality of care."

With ever-growing aging populations, many countries are facing increased medical care needs, nurse shortages, and financial constraints. In the United States, approximately 55% of all registered nurses are predicted to retire between 2011 and 2020. New technologies enabling automated procedures and intelligent functions are expected to help resolve or alleviate problems such as manpower shortages and nurse fatigue while improving medical care quality and outcomes.

In response to trends in the intelligent healthcare, Advantech has developed dedicated IT products certified to relevant safety and security standards (CE, FCC, CCC, CB, ITE UL, EN 60950 & EN 60601-1 approved) for application in clinical environments. Advantech has tried to strike a balance between performances, functionality, and cost with its healthcare IT products in order to empower healthcare institutes with new technologies that improve healthcare, while still offering affordable, future-proof solutions.