A Total Solution for Fully Optimizing Manufacturing Execution System of Food Industry
12/18/2014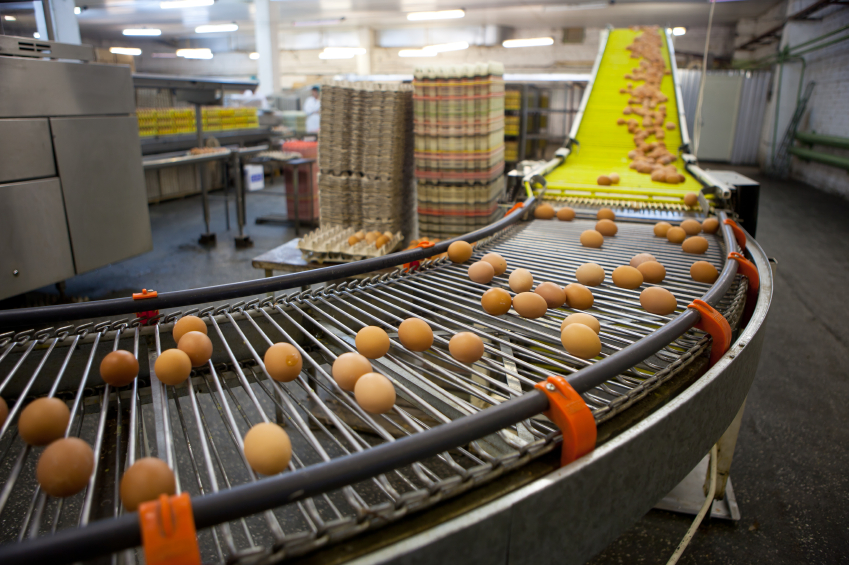 Project Introduction
Manufacturing Execution Systems (MES) have become a necessary tool in providing visible and controllable management for the manufacturing industry. However, expanded product portfolios, growing product complexity and increasing globalization are propelling the need to update traditional MES so as to effectively manage evolving challenges. In terms of food processing and manufacturing, the complex process needs Information and Communications Technology (ICT) to fully monitor and control production line while maximizing the effectiveness of MES functions. Advantech not only offers a variety of hardware products to take on the important task of data collection in the production line but also provides software platform to serve as a data gateway between the front-end equipment and MES application. Through this total solution, System Integrator can design the required management systems for food processing and manufacturing factories, and food manufacturers can upgrade their existing manual work into the paperless and automated operation, thus establishing product traceability system to achieve the goal of safe manufacturing.
System Requirement
A System Integrator was helping a well-known Asian food manufacturer to implement an advanced MES which contains several subsystems e.g. Work In Process (WIP) management, Statistical Process Control (SPC) management, alarm management and equipment management. In order to strengthen control over production materials and manufacturing process, the new system had to provide full recording and real-time monitoring functions. Therefore, it required the deployment of superior software and hardware at the manufacturing site (the bottom layer) such as rugged tablet computers to improve the operational efficiency of field crews, multiple data acquisition modules to collect diverse input and output signals, stable network equipment to transmit data from the manufacturing site to the control center.

It also needed other indispensable tools for the application layer in the control center, including a server-grade industrial computer with high-computing power and RAID function (JBOD) to deal with huge data, a powerful software platform to connect tablet PCs and devices as well as gathering and displaying all kinds of production information, and device management software to remotely monitor terminal devices. With these software and hardware products, the MES of System Integrator was able to seamlessly integrate a variety of instruments and equipment in the food processing and manufacturing factory.
System Description
To meet the needs of the food factory, Advantech provided a full-featured solution in accordance with the system requirements. At the manufacturing site, a PWS-770 Industrial Mobile Tablet PC - enables a touch-sensitive digital method of inputting data via Bluetooth at the feeding and mixing station. This tablet computer can also check the identity of data entry clerks to ensure the credibility of data sources by equipping them with a RFID scanner and fingerprint identification technology. Its embedded camera can also immediately take a picture for future audits when an abnormal condition occurs. In terms of data collection, high density and hot-swappable APAX data acquisition modules, compact ADAM data acquisition modules with the diversity of input/output features and EKI serial device server with Modbus RTU/TCP protocol conversion functionare able to upload the analog and digital signals of production line status while having wired and wireless options for network connection to provide more flexible system integration.

For the server grade industrial computer used to connect equipment and collect production information Advantech provided a HPC-74424U rackmount chassis, ASMB-922I high performance computing power motherboard - with Intel dual Xeon E5 processor and ASR-1400 industrial storage appliance - (JBOD) (up to 24x Hot-swap 3.5'' SAS/SATA Drives) to make the most of the system functions.

For the application layer, Advantech's AVS-840 is a video wall controller which has been validated by Matrox and can support a plurality of video streams (up to 40 inputs/outputs) as well as providing greater storage capacity and redundant power supply as the central backbone of the control room. The EKI-7600 Series Industrial Managed Switch is capable of ensuring the reliability and stability of network due to using Advantech's unique X-Ring technology.

The core of this solution is Advantech WebAccess which is a web browser-based configurable software for HMI and SCADA, and the software is installed on the ACP-4340 4U rackmount chassis - and AIMB-784 motherboard with Intel 4th Haswell processor. Benefiting from its excellent functionality, the system can connect all major PLCs to easily obtain the required information without purchasing or self-developing drivers. Supporting thousands of web clients allows multiple users to simultaneously access the system and save licensing fees. The HTML5 dashboard function offers cross-platform and cross-browser data access services, and the browser-based feature allows users to supervise the production line status or view the analysis data and reports anytime anywhere. Through using the included tools or equipping with free intelligent management software - SUSIAccess, the system can also monitor remote devices that are supported by the software to keep the system operating smoothly.
Project Implementation:
| | |
| --- | --- |
| EKI-7659c | 8+2G Combo Port Gigabit Managed Redundant Industrial Ethernet Switch |
| APAX-5017 | 12-ch Analog Input Module |
| ADAM-6017 | 8-ch Isolated Analog Input Modbus TCP Module with 2-ch DO |
| ADAM-6217 | 8-ch Isolated Analog Input Modbus TCP Module |
| ADAM-4572 | 1-port Modbus Gateway |
System Diagram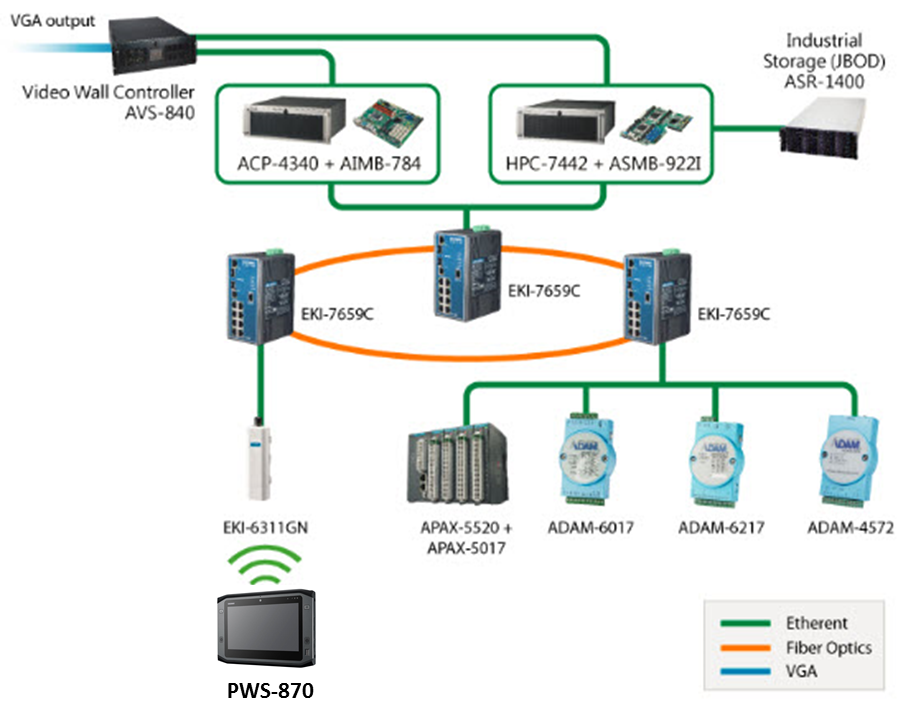 Conclusion
Advantech has extensive product linesto meet the software and hardware needs of System Integrators and food processing factories. Taking WebAccess as the core, our cost-effective solution can reduce developers' costs and time while accelerating the speed of system implementation. For food industry, complete data collection, screen display with friendly and graphical user interface, real-time statistics and historical analysis reports, cross-platform and mobile management, all of these characteristics facilitate manufacturing processes more transparency and openness to prevent malpractice while letting users properly solve the abnormal problem at the first moment, and thus indeed doing food safety checks.