Eforel and Advantech's Cooperation Helped a Canned Tuna Factory Take the First Step into Industry 4.0
10/26/2020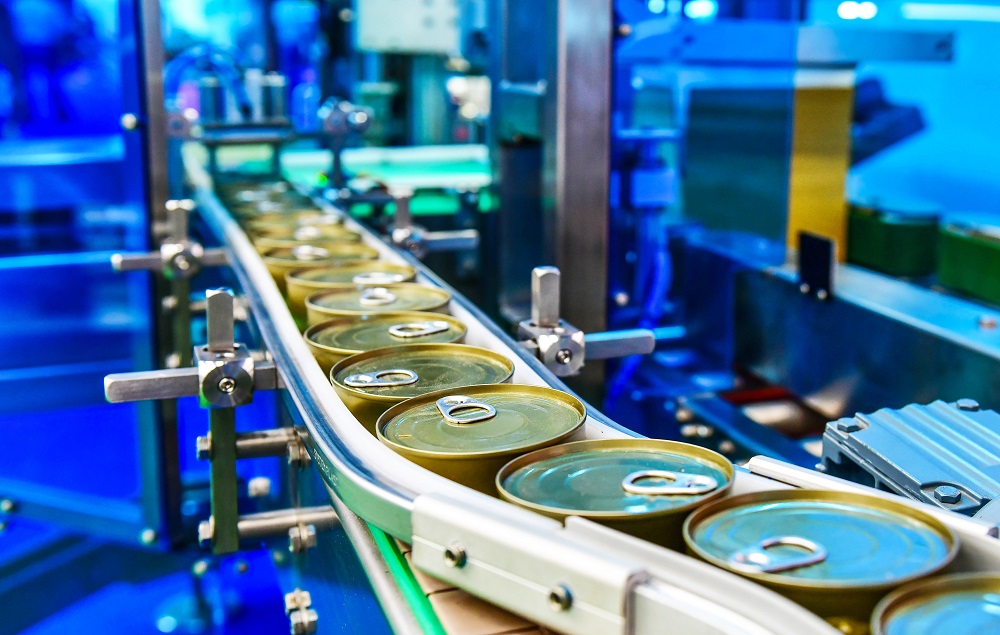 Approaching one of the canning factory's production lines, an on-site monitor clearly displayed visualized numbers and graphs of its real-time operations. The scene changed to the supervisor's office where another monitor shows not only data captured from all facilities in the factory, but also the machine status and capacity of each production line. The system which Eforel implemented, stores and analyzes data and generates production reports at the same time. Comprehensive monitoring optimizes the utilization rates of the factory, resulting in better on-time deliveries and maximization of the client's profit and production capacity.
Due to Advantech's strategy for localization of smart manufacturing applications, similar scenes like the above can be found in many factories. In Indonesia, the first step into Industry 4.0 for this Japanese owned canned tuna factory was to boost its production capacity by deploying real-time control and data analysis solutions co-created by Eforel and Advantech.
Solving Production Line Pain Points with Real-time Monitoring
The food and beverage industry applied automated production equipment earlier than many other industries, and Eforel's client introduced automated systems early on, but the main function of these earlier systems was only to automate the production of tuna cans. Management duties such as calculations of machine downtimes and production capacities, and the generation of reports were all conducted manually, which has unexpected downsides. Manually producing reports led to inaccurate equipment records with frequent human errors. Even when production records were accurately presented, management could merely review already outdated reports and the moment for fixing issues had already gone by then, which had little effect on raising the efficiency of the factory.
Hence, the Japanese owned business approached Eforel, hoping to address the above issues by deploying smart manufacturing solutions. Eforel is Advantech's domain focused system integrator (DFSI) and is a seasoned industrial automation solutions supplier specializing in applications for transportation, energy, mining, and automated production; and therefore, is the best candidate for offering services to the canned tuna factory.
Mr. Hanggar Cahya Kusuma, Eforel's CEO pointed out, "Advantech has the industrial automation products we needed to meet the needs of the four vertical markets that we focused on, which allowed us to deliver solutions quickly to fulfill clients' requirements every time." In the case of the Japanese canned tuna factory, in order to build a real-time equipment monitoring system, Eforel integrated Advantech's MIC-7700 Compact Fanless Modularized System, WebAccess/SCADA Browser-based Software, and the ADAM-6051 Industrial Ethernet Remote I/O module with Eforel's Production Line Monitor system (PLM).
ADAM-6051 is connected to production machines and serves as a data acquisition module, which supports 3 KHz pulse count rate inputs, used to collect real-time production line data which is then passed onto MIC-7700 and WebAccess/SCADA. MIC-7700 is able to process data in real-time, as well as connecting to high resolution displays. WebAccess/SCADA provides an intuitive management dashboard and overall analysis and visualization of the production data, which gives the management a comprehensive view of the real-time situation of the entire factory. Furthermore, thanks to WebAccess/SCADA's on-line access, supervisors can log into the management dashboard from any browser-enabled device and monitor production lines remotely.
Mr. Hanggar Cahya Kusuma commented, "Advantech has always been dedicating to R&D. Both performance and reliability of their software and hardware are well-received. Food production uses continuous flow manufacturing method; thus, when there is unexpected downtime, semi-finished products on the production line would have to be scrapped. Therefore, the stability of the system is highly important to food factories. Advantech's products not only have outstanding performance, but also meet the stability requirements from food manufacturing clients, as well as providing the best support to Eforel's PLM.
Intelligent Platform Increases ROI
The outcome of implementing the real-time monitor system in the canned tuna factory is highly praised by Eforel's client. Advantech's products and technical support played key parts in the project.
By deploying this smart manufacturing solution, the client's production quality and quantity have both been improved. Due to ADAM-6051's real-time data acquisition function, not only the uptime and downtime of production lines are recorded accurately, other parameters such as production quantity and machine errors are also recorded and sent through the reliable industrial Modbus communication protocol to the WebAccess/SCADA platform. The canned tuna factory has European and Japanese made automated production machines, which use various protocols. Integration of multiple protocols is always one of the major challenges in factory upgrades and digitalization projects. Advantech's solution seamlessly connected all the different machines and integrated the various protocols, as well as digitalizing production data and passing it onto the monitoring platform.
The management get real-time data and can immediately execute any necessary SOPs if the situation requires, which largely decreases damages due to machine errors. Analysis of recorded production data allows on-site supervisors to shorten maintenance times and improve utilization rates. The management of the factory can also benefit from better use of information by identifying the bottlenecks in production, planning a more proactive and preventative strategy, and eventually maximizing their return on investment (ROI).
Co-creation Speeds up Localization of Smart Manufacturing Applications
Apart from software and hardware products, Eforel benefits from Advantech's in-depth knowledge of vertical markets. Mr. Hanggar Cahya Kusuma commented, "IoT is a global trend, but different industrial and commercial practices require various professional solutions. In order to fulfill the needs of different practices, Advantech shares their IoT platforms and carries out its co-creation strategy to join forces with global partners, resulting in an extensive IoT ecosystem." Connecting partners from different specialized areas strengthens the promotion of IIoT
Due to the promising results from the canned tuna factory project, Eforel and Advantech decided to strengthen cooperation by signing a DFSI agreement. In the future, both parties will provide more IoT solutions to clients from different industrial and commercial areas in Indonesia. For instance, if Eforel has projects for power and energy applications, they will source specialized suppliers through Advantech's IoT ecosystem and build solutions that meet clients' specific needs. Furthermore, Eforel will make more use of Advantech's platform and resources to develop more Industry APPs (I.APPs) to accelerate the localization of smart applications.