Health and Beauty Retailer Gets an Exciting New Look with Advantech's DS-082 Digital Signage Players Powered by AMD Ryzen™ Embedded V1000 Processors
7/7/2021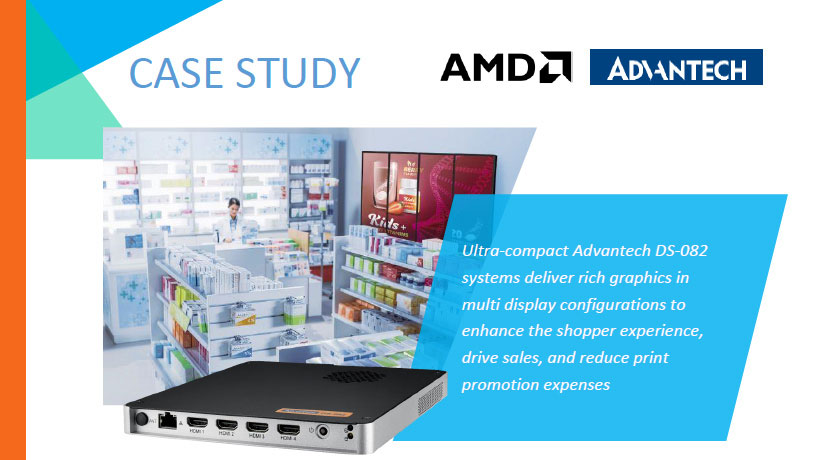 The health and beauty retailers and pharmacies lining our high streets and shopping malls compete fiercely for customer foot traffic. Particularly in neighborhoods where available real estate is in short supply – and expensive to occupy – these retailers look for every opportunity to grow their razor thin profit margins while simultaneously growing a loyal base of satisfied customers. In metro environments where competing retailers are often closely situated – sometimes directly across the street from each other – the competition is even greater. The visual aesthetic of the retailer can make a huge difference in enticing foot traffic, and the quality of the shopping experience inside hinges in large part on optimizing available space with eye grabbing promotional content that drives sales and efficiently guides shoppers on their way through the store aisles.
Digital signage is playing an increasingly vital role in helping these health and beauty retailers sharpen their competitive edge, enabling rich, dynamic multimedia content displays that enhance the overall shopping experience. But the advantages of digital signage compared to static, print marketing displays don't stop there. For any business, printed sales collateral can be an expensive proposition. For retailers cycling their signage on an almost daily basis to advertise special product offers, the cumulative print costs can be a significant concern, as can the environmental waste.
DAZZLING GRAPHICS TO DRIVE SALES
The digital signage platforms optimized for health and beauty retailers and pharmacies require a careful balance of graphics processing power, energy efficiency, and display configurability, among other key attributes. For more upscale retailers promoting premium beauty and wellness products, high quality graphics is an especially important consideration. When you're selling glamour, dazzling digital displays can help to capture brand and product essence in ways that low-resolution, slow performing graphics simply cannot. These design ambitions were top of mind for Advantech during the development of its DS-082 Ultra-slim Digital Signage Player portfolio – systems that were put to the test in a recent wide-scale, in-store implementation for a premier UK-based health and beauty retailer and pharmacy chain. Servicing Europe and parts of Asia with over 2,300 locations, the retailer maintains a strong presence on the high streets and in shopping centers where every square inch of available space must be optimized with effective and eye-pleasing promotional content.
ULTRA THIN, ULTRA POWERFUL
Advantech's expertise in advanced digital signage systems has been cultivated over decades of experience deftly catering to its customers' unique business and technology challenges. Performance and scalability are key attributes when it comes to customers' digital signage implementations, and they're every bit as important at the hardware solution level – particularly the processing layer.
For the DS-082 Ultra-slim Digital Signage Player portfolio, Advantech chose AMD Ryzen™ Embedded V1000 and R1000 processors to achieve its aggressive design goals for a seamlessly scalable digital signage product portfolio targeted for retail environments of all sizes and budgets. Measuring just 19 millimeters thick, DS-082 digital signage players are among the slimmest in the industry – but Advantech didn't compromise performance or versatility features to achieve this ultra-compact form factor. Packed inside the DS-082's impossibly small enclosure are a host of features that distinguish it as one of the most robust and versatile digital signage players one can find – and perfect for space-constrained retail environments.
ADVANTAGES ON EVERY AISLE
Thin and powerful DS-082 Ultra-slim Digital Signage Players deliver AMD Radeon HD graphics quality to enable a premium visual experience when graphics performance really matters. For Advantech's health and beauty retail customer deployment in the UK, the DS-082 is the ideal digital signage platform for enticing shoppers with rich, dynamic graphics at crisp 4K resolution. And it enabled the customer to phase out some of its costly and shelf-life-limited print advertising content, replacing it with high-definition digital content that can be updated and administered with push button ease, in a low power footprint.
DS-082 Ultra-slim Digital Signage Players designed with AMD Ryzen™ Embedded V1000 and R1000 processors support multi-display configurations spanning up to four independent HDMI™ 2.0 displays with up to 4K UHD resolution (3840 x 2160 @ 60Hz). This capability enables Advantech's retail customer to flexibly deploy its digital signage in a wide range of configurations – from aisle-way signage to point of sale (POS) displays to full video walls, if desired. All of this can be powered with an elegantly designed and ultra-compact signage player that readily tucks behind shelving, endcaps and the display monitors themselves for minimal space consumption and view obstruction.
The AMD Ryzen™ Embedded V1000 and R1000 processors at the heart of Advantech's DS-082 Ultra-slim Digital Signage Players enable power profiles as low as 15W CPU TDP. This not only helps to enable efficient power usage and lowered energy bills – it also allows for fanless system designs that prevent against the ingress of dust and debris common to high-traffic retail environments, thereby improving overall system reliability by reducing maintenance and downtime. At the facility level, low power digital signage can also help to minimize heat dissipation and air conditioning expenses – a valuable attribute in hot weather and warm climates. Fanless designs further enhance the shopping environment with silent operations that don't distract from in-store audio programming.
FLEXIBLE PROCESSING, FLEXIBLE SIGNAGE
With Advantech's DS-082 portfolio, customers can select from a wide range of performance, power and multi-display configurability options based on their unique needs and use cases, at price points optimized for even the tightest of budgets. This is made possible by the breadth and scalability of the AMD Ryzen Embedded processor portfolio, which in turn gives Advantech broad flexibility to customize its digital signage players for the wide-ranging needs of the retail domain. DS-082 Ultra-slim Digital Signage Players designed with AMD Ryzen™ Embedded V1000 and R1000 processors afford a seamlessly scalable platform for Advantech customers in search of highly effective, dynamic, revenue generating signage for all manner of in-store deployments. And the UK-based health and beauty retailer outfitted with Advantech's DS-082 digital signage players now has a powerful new means to compete for shoppers' attention and sales amid the hustle and bustle – and glamour – of high street.