Institute for Information Industry Adopts WISE-PaaS to Lead Metal Fabrication Industry into Fast and Smooth Digital Transformation
1/29/2021
Project Introduction

Smart manufacturing and digital transformation have been the hot trending topics in industrial automation recently. The application of smart solutions in the high-tech industry is hailed as big success story. At the same time, traditional manufacturing industries still face difficult challenges whereby management systems are unable to communicate with other information management systems as well as staff. While the potential of smart automation and digitalization is apparent, unlike their high-tech counterparts, traditional businesses are caught in a void and don't know where to start—the metal fabrication industry is just one of them.

In light of this, the Institute for Information Industry (III) stepped in and took on the role of digital transformation enabler in the hope they could lead traditional industries through this new digital revolution. The metal fabrication industry was a key client receiving counseling from the III. The III chooses Advantech's WISE-PaaS industrial IoT cloud platform from Advantech as the bedrock technology, and also tapped into the potential of Advantech's WISE-PaaS/IoTSuite, one-stop IoT development kit and cloud-native IoT platform . With the solid backing from Advantech, III helped the metal fabrication plant start their transformation by building a network of production equipment which was integrated into the cloud-based system giving the business a visual overview of all equipment and production. In addition, the Enterprise Account Management Mechanism of WISE-PaaS/EnSaaS 4.0 Cloud Platform was also used to assist III to release and resell services, thus achieving business distribution and resale. Together all these upgrades helped accelerate the transformation of the metal fabrication business.
Mr. Chi-Kai Chen, the manager of IoT Device Management Section at the IoT Cloud Platform Center in the Smart System Center at III, points out why WISE-PaaS was considered as an ideal choice for them. First, Advantech started their business as a hardware supplier, and has been supplying metal fabrication plants with equipment for data acquisition and sensing. Advantech's long history in this space enables WISE-PaaS industrial IoT cloud platform to effortlessly incorporate their own hardware, making it possible to provide a seemless range of services via the platform. III used the platform to connect and coordinate key components, such as equipment networks, data acquisition devices, and visualization tools.

Advantech's solution uses Low-Code Development to replace conventional customization development, which accelerates the import of various application solutions and creates an out-of-the-box experience for end users. Advantechs' one-stop-shop WISE-Marketplace IoT industrial app (iApp) market provides all kinds of AIoT-dedicated apps, allowing III to build a solution by simply putting all the needed applications together like stacking Lego bricks. They also customized a selected I.App instead of starting from ground zero, which saved development time.

It is also worth noting that the upgrade of the core data platform for WISE-PaaS/EnSaaS from version 3.0 to version 4.0 added new application features for publishing, and enterprise account management, providing a complete support package for reselling developed industrial applications to partners. The huge potential in turning development effort into revenue perfectly explains why the III and various other Domain Focus System Integrators (DFSIs) have chosen to work with Advantech.

WISE-PaaS product director Ning Kang says that version updates of WISE-PaaS/EnSaaS entail two major strategic development directions: the first is to build a cloud-native application-based platform having high availability and scalability, such that DFSI partners in every field can establish solutions at the snap of the finger. The second is to continuously strengthen and expand the industrial IoT ecosystem by facilitating an exchange of value towards that goal. That's why Advantech provides the I.App publishing service and enterprise account management to provide solid support to partners contributing to the ecosystem and building up their business operations, making commercialization of cloud services on the WISE-PaaS platform better for all concerned.
Chi-Kai Chen compares the application publishing and enterprise account management functions of WISE-PaaS/EnSaaS 4.0 to how a sublease works. Using these functions, III can create an enterprise account, assist the metal fabrication plant's clients to subscribe to I.Apps published by III, and let their client run operations by themselves. In addition, an operation and maintenance team was made available 24/7 to respond to any issues they encountered, and the usage and bill of each client was clearly and accurately recorded, such that III could easily achieve service distribution, resale, and consignment for the client.
Another analogy of using WISE-PaaS to build a metal fabrication industrial solution is likened to that of an enterprise. Advantech's WISE-PaaS is the central HQ if you will, and WISE-PaaS/EnSaaS 4.0 cloud platform is the building that contains everything. WISE-PaaS/IoT Hub and MongoDB are the building systems and utilities, and WISE-PaaS/DataHub, WISE-PaaS/InsightAPM, WISE-PaaS/Dashboard, WISE-PaaS/SaaS Composer are the interior design and furniture that make it all work practically. Finally, WISE-Marketplace enables sharing of international marketing and sale resources to bring in more customers. Furthermore, WISE-PaaS/EnSaaS 4.0 is capable of assigning resources, deployment (meaning developed once and deployed across multiple devices), and monitoring systems, as well as handling any issues when they arise. In other words, WISE-PaaS has all software and hardware configured and ready to go, so III could just focus on creating valuable I.Apps that can quickly be developed and implemented in the field for the client.
Ning Kang adds that the key to WISE-PaaS being an ideal tool for helping III or other service providers quickly build and expand their businesses lies in a number of outstanding components. One of them is WISE-PaaS/IoTSuite, which is an underlying general industrial IoT platform. It encapsulates cloud-native applications and a data management platform, data transmission and storage services, asset performance management services, and data visualization services. This accelerates I.App development for partners, and enables cross-cloud or cross-domain deployment and seamless migration. In addition, WISE-PaaS/EnSaaS 4.0 has an enterprise account management function for enterprise accounts and subordinate subscription accounts, such that service providers can quickly meet service and solution requirements of each client through automatic delivery, which instantly integrates order placement, billing, metering, and other supporting services, thereby completing the entire value exchange in one go.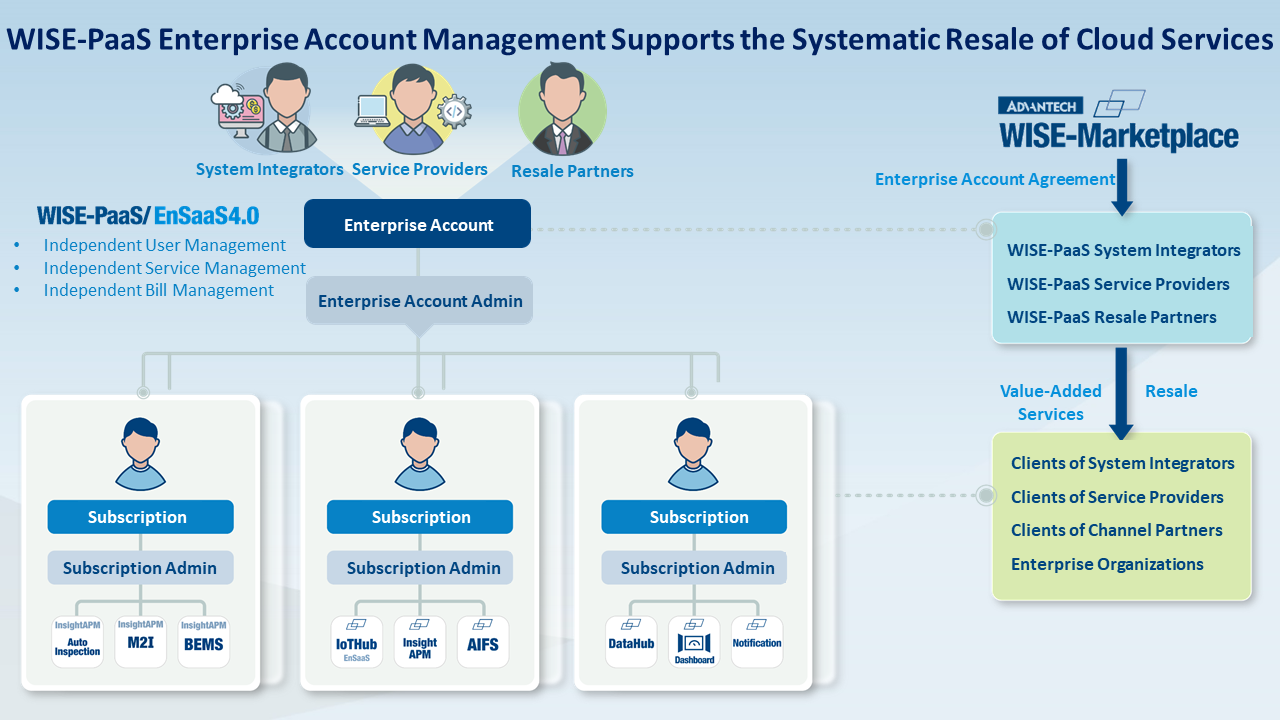 Lee-Feng Lee, a manager in Advantech, concludes that the benefits of using WISE-PaaS for digital transformation of traditional discrete manufacturing-based plants are two fold. First, to simplify visualization for domain focused system integrators (DFSI). Though skilled at OT deployment, they lack the capabilities to design and implement a user-friendly visual UI like professional UI designers can. Advantech has a WISE-PaaS/Dashboard low-code visualization tool, which has standard visualization templates and complete back-end OT/IT couplings. In this way, when DFSI arrive at the site for deployment, they can send data acquired on-site to WISE-PaaS by following just a few steps. In addition, the existing plant blueprint of the metal fabrication plant, or other traditional manufacturing clients, can be directly used as a base for superimposing equipment information and data onto, which allows real-time plant information to be displayed in a situation room or a mobile phone. This enables business owners of the client to quickly get an overview of the progress of each production project, status of equipment, and abnormal events from anytime at anywhere, thus improving the accuracy and efficiency of critical decision making.

The next tools available on WISE-PaaS include a 3D imaging tool (WISE-PaaS/SaaS Composer), an equipment asset performance management tool (WISE-PaaS/InsightAPM), and a one-stop industrial AI platform (WISE-PaaS/AIFS), which enables DFSI to create advanced applications on the basis of WISE-PaaS-acquired data.
The WISE-PaaS data application platform end-to-cloud architecture provides a comprehensive development environment for data collection, analysis, management, and applications, while promoting interoperability between I.Apps via the WISE-Marketplace and accelerating the development of industrial solutions.