Improving Efficiency and Patient Experience with a Custom Diagnostic Imaging Solution
6/7/2022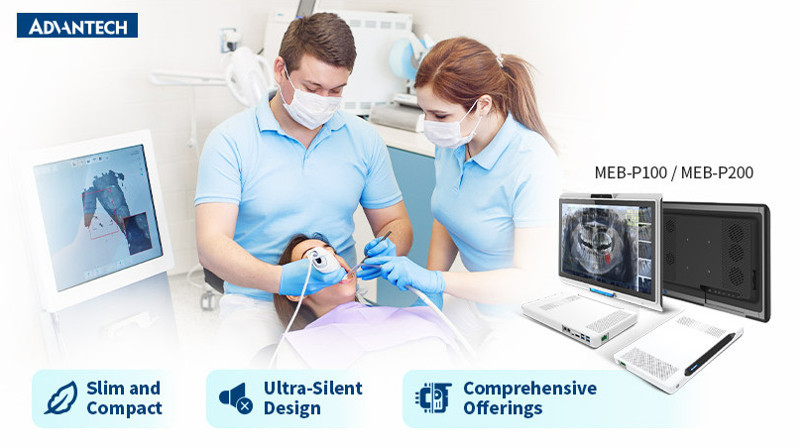 A global medical device company that develops its own specialized software to create innovative products was seeking to introduce a system that better integrates their digital scanning technology into a complete digital treatment application that generates high-quality patient scans and improves the patient experience.
A dental clinic was looking for a high-end color scanning solution so they could deliver a cutting-edge dental service to their customers. The system needed to perform rapid color scanning with an auto calibration function that facilitates a range of restorative and implant workflows.
The solution needed to provide precise and fast diagnostic image processing, explicitly with a hybrid CPU/GPU setup for maximum performance and specialized form factor support. Two storage devices were also need so that the OS and diagnostic data could be stored separately for better information security and management. It also needed a slim all-in-one (AIO) design with high-thermal performance so as to accommodate the limited space for installation while still maintaining stable operation.
Key challenges were that the solution required complex integration of different system components as well as reliable power and battery design support to make power management more flexible. Effective thermal design was also a key requirement, particularly given the need to balance power consumption from the high-performance system components while maintaining system stability. Other considerations included a slim design for flexible installation and low system noise for quiet operation.
Advantech provided a complete Panel PC solution with a high-performance CPU platform and customized thermal solution. The platform has a powerful GPU module with embedded specialized form factor support to ensure fast scanning speeds and stable performance with 3d modeling capability. Embedded computing modules leverage the processing power of NVIDIA GPUs to give energy-efficient, advanced graphics capability and the Intel processer enables fast processing of massive amounts of data.
A customized power management system with battery control was also included to ensure stable operation in a slim system design with low system noise, thus ensuring a comfortable, distraction-free environment for medical personnel. Collectively, this selection of components ensured the best possible product longevity. Furthermore, the design specifications were suitable for medical-grade certification in compliance with IEC 60601.
Working directly with Advantech throughout the system design process yielded many benefits for the customer. First and foremost, from discussing the design concept to conducting a feasibility study and proposing a final specification, the customer was consulted with throughout the entire process in order to ensure that the system would perfectly match their needs.
Second, having a customized power management system with battery control was critical to the success of the project as it ensured that the solution would operate reliably when not connected directly to AC power. The embedded specialized form factor for the GPUs also meant that the system would be sufficient to handle image processing tasks, which was a major point as the design was aimed at performing scans more quickly and displaying them in 3D in order to enhance the patient experience.
Finally, the system was designed to be compact, generate low noise levels, and deliver optimal thermal performance for clinical use, all with reliable, long-life components to ensure the maximum product lifetime.
With more than 30 years of experience in medical IoT, Advantech now cooperates with an extensive ecosystem of global partners to deliver innovative solutions for dental professionals. From system design through to implementation and after-sales service, our solutions are enabling more accurate imaging in dentistry, as well as improving the patient experience.