In-Vehicle Artificial Intelligence Enhances Driving Safety
7/29/2019
Driver distraction is a serious public safety issue. A high number of drivers still send text messages while driving,the distraction has lead to the steady increase of road accidents year on year. The U.S. Center for Disease Control and Prevention estimates that nine people are killed every day in the U.S. as a result of vehicle accidents involving a distracted driver Texting while driving is no longer the only distraction. Numerous other instances can and do lead to safety issue.
What Is Distracted Driving?
Distracted driving is defined as driving while not paying full attention to the road. Many people think of texting and or talking on the phone when driving, but there are many other situations that lead to distraction.
The following are some common distracted driving behaviors :
Reaching for a phone/mobile device
Changing music/radio stations
Using an app
Checking a GPS device or map
Checking email or posting on social media

Voice Recognition Technology
As listed previously, the majority of distracted behavior coincides with the use of mobile devices, specifically manual operation of a touchscreen. By altering the way data is entered on a device, a reduction in distracted behavior is possible.
Advantech's voice command software frees drivers from manual operation of mobile devices or in-vehicle terminals. Driver scan simply call out a function, and the software automatically activates the required function.
In the U.S., driver distraction is the leading cause of vehicle accidents, accounting for approximately 40% of all accidents according to some studies. Thus, reducing distracted driving behavior is the logical answer for reducing the risks of road accidents, insurance costs, and repairs.
Benefits
Multi-language support for English and Mandarin Chinese

Accent localization capabilities

Can withstand noisy environments (110 dB volume)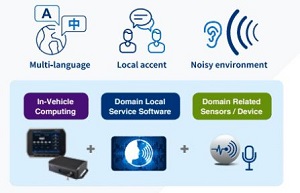 Video Analytics Technology
Advantech offers trusted video analytics solutions including forward collision and lane departure warning, driver behavior recognition, and blind spot detection, which provides advanced alerting to avoid potential accidents and enhance driving safety.
Driver Behavior Recognition Algorithm
With the number of global automobile accident fatalities reaching 1.25 million annually, 80% of which are related to driver distraction, Advantech offers video analytics technology to identify diverse distraction scenarios and alert a driver to re-focus on driving
Eyelids Closure Detection
When the driver's eyelids close for over a second, a driver alert is triggered notifying the driver of possible drowsiness. Detection is extended to the acting of changing music/radio stations
Food consumption, drinking and smoking detection
Beneath Ear and Cheek Detection
Phone usage detection
The solution provides an easy and flexible way to manage driver behavior. It provides easy and flexible way to manage driver behavior. SI partners are able to initiate video recording by an event trigger. Date, time, location, and related vehicle data stamping, which can be stored in the on-board computer or sent back directly to the back end management server, is supported. That provides fleet owner an efficient management function.

Forward Collision Warning Algorithm
The vision-based safety solution for vehicle accident prevention by using unique vision recognition technologies. It detects and measures forward vehicle distance alerts the drivers and estimates a high risk for collision through audible and visual alerts.The system is activates the warning function when the vehicle speed reaches to 60kmh (37.2mph)
The function warns the driver who does not turn left and right signal on or change lane in a high speed situation, it will alerts through vision and audio-based warning (LDWS complies with testing specifications and verification requirements from ISO 17361)
The function warns a driver who fails to maintain a safe distance with the front vehicle, when the collision risk occurred, it will alert with vision and audio-based warning (FCWS comply with testing specification and verification requirements from ISO 15623)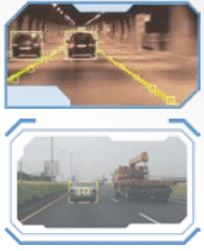 Blind Spot Detection Algorithm
Advantech blind spot detection technology supports 180°degree ultra-wide angle. It is capable of detecting various moving objects within the blind spots of both sides (with 100% accuracy of pedestrian detection), and real-time alert once detect object.The system overcomes the high contrast to show a clear picture quality,Its high sensitivity feature allows the system to maintain a clear vision and genuine colour. It can effectively reduce accidents at the blind spots.