Taiwan SECOM Utilizes Kiosk to Optimize The Soup Spoon's Customer Dining Experience
10/27/2020
For restaurants, around 6 p.m. typically marks the beginning of the busiest period of the day. As crowds of hungry people pour in, restaurants that have adopted a pay-first business model are generally packed with long queues. This often places immense stress on all restaurant staff. However, during this peak rush, The Soup Spoon, which is located on the second floor of the Breeze Taipei Station, does not have customers waiting in line to place their order, despite the restaurant also having adopted a pay-first model. This is because they have implemented Advantech's UTK-751Self-Ordering Kiosk at the entrance of the restaurant, which customers can easily and swiftly use to place their orders. They even scan QR-codes to order from their tables.
Improving operational efficiency and the customer dining experience through self-ordering
According to AC Neilson, Taiwanese people can consume an incredible 91.2 billion bowls of soup every year. Optimistic about the demand for soup in the Taiwanese market, Taiwan Setcom Group's Living Plus Food & Beverage Co., Ltd. introduced the Singaporean restaurant brand The Soup Spoon to Taiwan in 2019. Currently, there are five branches in the Taipei and New Taipei City regions. The restaurant's flagship store at Breeze Taipei Station is the first among these branches to implement a self-ordering kiosk system.
"Originally, there was no plan to implement a self-ordering kiosk when the restaurant first opened," said Airly Chang, Deputy & Marketing Manager at Livingplus Food & Beverage Co., Ltd. However, to lower the risk of cluster infection by minimizing human contact during the COVID-19 pandemic, the company decided to implement such a system starting from its flagship store at Taipei Station.
As far as the application process is concerned, the kiosks are integrated with Taiwan Secom's cloud-based ordering system and installed at the restaurant entrance. Once an order is confirmed, the order information is automatically transferred to the back-end ordering system for kitchen staff for preparation while the kiosk prints out a bill for payment at the front counter. After the order has been paid for, a machine in the kitchen prints out a receipt and the kitchen staff serve the meal accordingly.
The implementation of this self-ordering kiosk brought several significant benefits. First, it has reduced staff workload, allowing them to focus on other duties. Second, it has helped reduce the rate of order errors and food waste, while also reducing the possibility of payment errors. Third, it has accelerated the speed at which orders are fulfilled while optimizing the customer experience. Demonstrating the improvement in order efficiency, customers can enjoy their meals within two to three minutes after paying their bill and being seated.
Three key advantages from choosing Advantech
According to Brian Chang, there are three key reasons why they chose Advantech: because of the company's reputation, their ability to meet requirements regarding hardware specifications, and their high-quality services.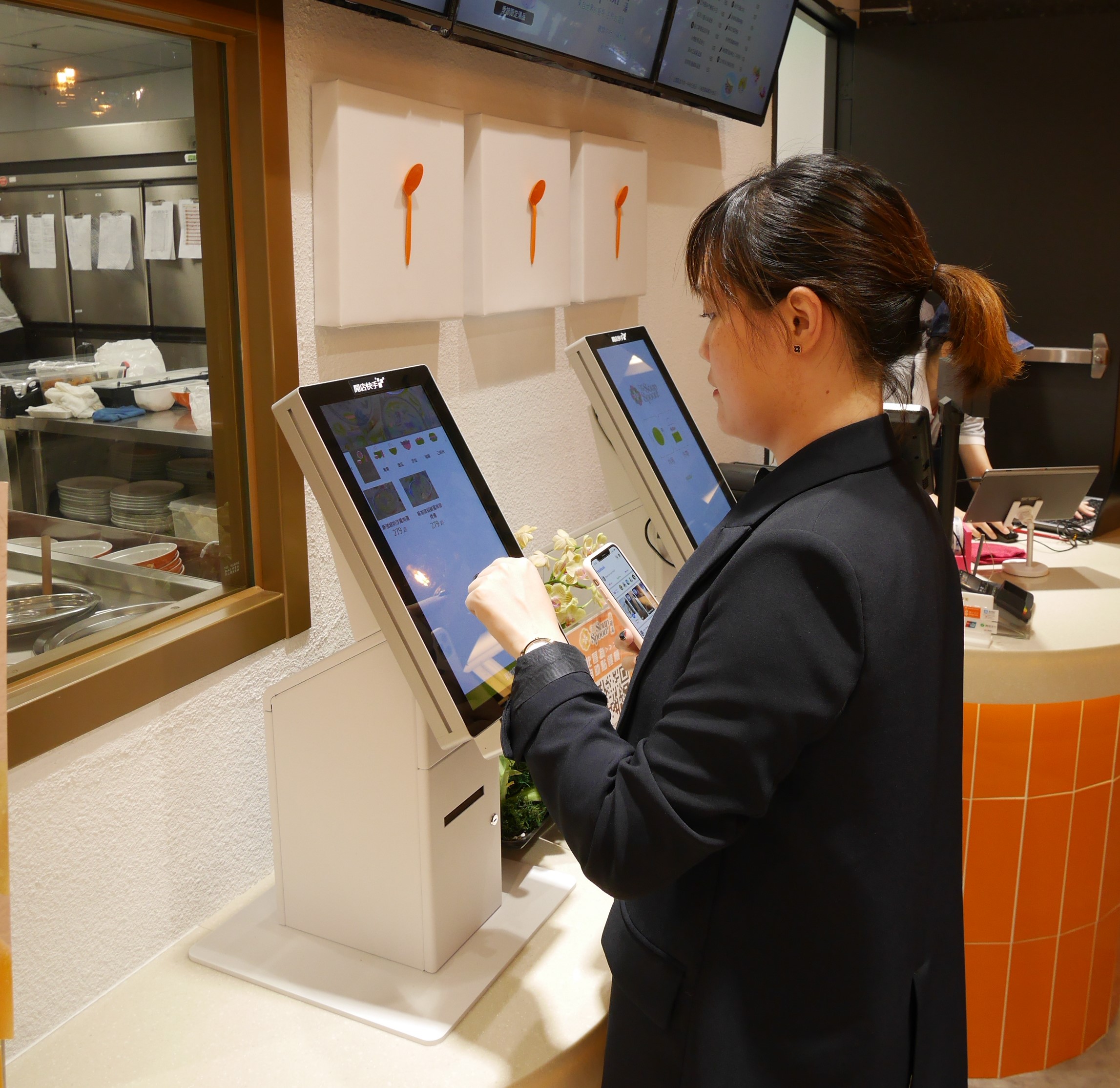 When Taiwan Secom started looking for hardware, they considered opting for an iPad-based system. However, the iPad does not have industrial-grade specifications and is not designed for long-hour operation, so they considered it unsuitable for application in ordering meals. As such, the company started looking into other solutions. Because of the aforementioned reasons, Advantech was listed as a major option during the evaluation process. Upon further understanding products available from various vendors, Advantech was chosen for its industrial-grade 15.6-inch Tabletop UTK-751. It provides high stability and integrability, which are critical considerations when integrating peripherals such as printers, card readers, and barcode scanners.
In the communication phase of implementing this solution, Advantech listened carefully to the customer's opinions and developed new chassis specifically to accommodate The Soup Spoon's requirements. In the end, the UTK-751was furnished with a pure-white design for a simple, clean, and elegant feel, which is in line with the high-quality brand image of The Soup Spoon. "I'm deeply touched by the spirit of this kind of service," affirmed Airly Chang.
More importantly, all components in the UTK-751 are made by renowned manufacturers. This means that if more information is needed in the process of system integration, relevant documents can be found quickly on the internet or even through Advantech, which provides a single window for hardware information by assisting in providing related documents so that system integration is more seamless.