Televisual Rehabilitation Program Developed by Advantech and Linari Medical Offers Tremendous Benefits for Patients
5/17/2021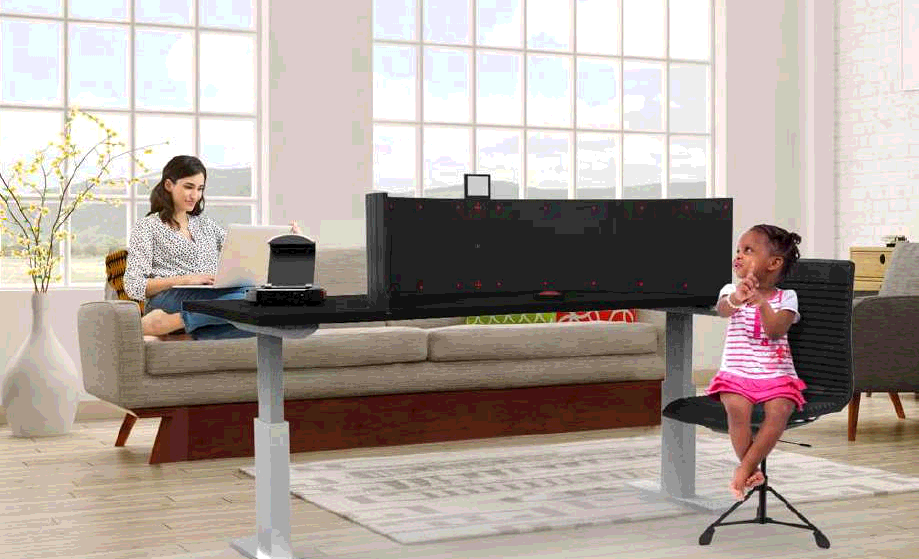 Photos provided by Linari
Hemianopsia and quadrantanopsia are the loss of, respectively, one half or a quarter of the visual field in one or both eyes. These conditions can be caused by neurological diseases, strokes, epilepsy, or trauma. For example, visual field loss occurs in about 50 percent of stroke patients, making everyday activities such as reading, watching television, shopping, and cooking much more difficult. For patients with visual field defects, making regular trips to hospitals, clinics, or rehabilitation centers for assessments and visual training can also be challenging. Due to vision loss, many such patients cannot drive and have difficulty using public transportation. Unfortunately, rehabilitation programs usually take weeks, months, or even years.
To make rehabilitation more accessible and convenient, Linari Medical—an innovative maker of medical devices—adopted IoT technologies to create its patented AvDesk™ tele-rehabilitation device, a unique multi-sensorial device for stimulating the untouched subcortical structures throughout the brain. Leveraging Advantech's embedded computing platforms and IoT software, Linari Medical's development team was able to realize AvDesk™ as a turnkey package solution suitable for use at clinics or in private homes.
The right combination of capabilities needed to guide projects to completion
With in-house solution architects, software developers, business development managers, and solution experts, Advantech's European IoT Select Team can guide new projects through the pre-sales, proof-of-concept, and mass rollout stages. Therefore, Advantech was ideally suited to serve as a development partner for Linari Medical.
Linari Medical's strengths lie in the conception and development of the AvDesk™ therapy program and its ability to bring together and certify a team of neuroscience specialists, ophthalmologists, and tutors who support the care process. However, to accommodate the AvDesk™ therapy program, many non- core competencies were needed to develop the hardware platform powering the graphics and data-collection system, configure cloud services, securely connect remote devices, and manage devices throughout their lifespan.
Linari Medical also took advantage of Advantech's WISE-PaaS industrial cloud platform. The WISE-PaaS platform offers a comprehensive edge-to-cloud toolkit that can streamline customer projects and accelerate development by encompassing database services and data analytics functions and including machine learning tools, visualization dashboards, and secure data acquisition.
Furthermore, Linari Medical subscribed to the WISEPaaS/DeviceOn service, which solved important device management challenges related to device on-boarding, management dashboard visualization, security, device monitoring, troubleshooting, and over-the-air (OTA) software and firmware updates.
WISE-PaaS services provide added value to both patients and medical staff
The compact desktop device comprises a curved horizontal screen and a data collection and processing unit. Visual stimuli are displayed onscreen and the patient presses a wireless button to indicate detection. Illuminated arrows guide the patient's gaze towards the center of the screen to gently direct them through therapy. An Advantech embedded industrial computing terminal running Windows and powered by an Intel® Core™ processer with integrated HD graphics is built into the AvDesk™ data collection and processing unit and handles all patient-facing tasks and functions.
WISE-PaaS enables AvDesk™ to deliver personalized remote assistance and supervision by qualified doctors. Doctors define the therapy, retain control of the program, and adapt the therapy plan depending on the results of each session. The Linari Medical cloud software continuously updates new therapy algorithms on all AvDesk™ devices through the WISE-PaaS/DeviceOn dashboard.
WISE-PaaS services have enabled Linari Medical to offer its innovative AvDesk™ treatment solution on an equipment-as-a-service basis to healthcare practices, with competitive rental terms that ultimately increase patients' access to effective restorative therapy.
As a result, evident recovery of visual skills is accomplished within the first few days and reading speed increases 100 percent after just 20 hours of treatment. Patients can build on these initial improvements to further improve their visual range and navigate busy streets, avoid unexpected obstacles, and even obtain a driving license.
Advantech is devoted to delivering the best possible outcomes to patients, medical staff, and hospitals using the latest IoT technologies backed by system integration experts in the medical field. Linari Medical's AvDesk™ televisual rehabilitation solution co-created with Advantech gives medical professionals a powerful tool that can make a real difference to patients' quality of life.