Texpro Cooperated with Advantech to Promote Eco-Friendly Manufacturing and Set a New Precedent in Textile Industry
8/28/2020
The textile dyeing and printing industry is the earliest internationally competitive legacy industry in China. This industry is also highly competitive, produces excessive pollution, and is energy intensive. In the wake of a market shift towards manufacturing high-quality products, the printing and dyeing industry is due for an upgrade. The industry needs to improve production competitiveness and increase profit margins while embarking on a sustainable "green" environmentally conscious path.
Texpro and Stentex Machinery Technology Co., Ltd. (Texpro), a leader in the dyeing and finishing equipment manufacturing industry, has addressed difficulties in the upgrading of dyeing and finishing equipment manufacturing. By cooperating with Advantech, Texpro took the lead in developing an informative, digitalized, and intelligent dyeing and finishing manufacturing solution. Additionally, Texpro proactively promoted the digital transformation of printing and dyeing production procedures.
Promoting Eco-Friendly Development via Smart Manufacturing Solutions
For 20 years, Texpro has remained one of the leading suppliers of high-end dyeing and finishing equipment solutions. Texpro has focused on the R&D, production, and promotion of various textile manufacturing products — including dyeing machines, setting machines, open-width continuous scouring machines, bleaching machines, and mercerizing machines. Due to this innovation-centric focus, Texpro gradually became one of China's iconic brands. Shuai Wei, the Technical Director of Texpro, commented, "The textile dyeing and printing industry is a legacy industry, and the digital transformation of dyeing factories is an opportunity for the industry to be rid of its former labels — these being 'outdated', 'labor-intensive', 'highly-polluting' and 'energy-intensive'. He added, "Only by eliminating outdated production procedures and equipment, utilizing high-tech innovations, and adopting energy-efficient cutting-edge equipment, can we promote technological progress in the printing and dyeing industry."
Shuai Wei further pointed out that the industry's problem is obvious — it is highly polluting and energy-intensive. In recent years, the government has been promoting eco-friendly manufacturing and the elimination of low-end production capacities. Nevertheless replacing outdated industry production strategies with high-end green manufacturing opportunities will inevitably create challenges for low and mid-end small to medium sized enterprises. Many micro, small, and medium sized companies were forced under because they could not meet the national energy consumption regulations. Similarly, many enterprises have endured a profit squeeze and difficulties surviving. In sum, environmental factors have become paramount to the survival and development of printing and dyeing factories.
Additionally, this industry is also unpopular for job seekers. Due to concerns about industrial pollution and harsh working environments, most young people are reluctant to pursue careers in this industry. At present, most of the factory workers are over 40 years old, creating new problems. Quality control in traditional printing and dyeing factories is typically conducted by experienced personnel. This loss makes it difficult to guarantee product quality. Stymied by this dilemma, many companies approached Texpro for a solution.
"Texpro is a customer-oriented equipment provider that offers core equipment and consulting services. "Many customers asked if we can solve these (the above mentioned) problems", Shuai Wei said bluntly. He added "Customers' inquiries are often very fragmented. For example, they'll ask 'is it possible to obtain production and operation data and energy consumption data?' or 'Is it possible to check the status of factory equipment via a mobile phone?'". The process of constantly addressing customers' demands, has helped Texpro develop a systematic solution.
Shuai Wei added that for Texpro, the research and development of intelligent dyeing factory solutions meet their own needs. As a leading manufacturer of dyeing and finishing equipment, Texpro's equipment is sold within China and to global markets. Previously, manufacturing equipment couldn't provide real-time equipment health and production capacity information. Likewise, maintenance costs were high. In an effort to address these issues, Texpro worked with Advantech to create a comprehensive intelligent solution.
An Intelligent Dyeing Solution Reduces Energy Consumption by up to 20%
Wei Shuai explained that by deploying this intelligent dyeing factory solution, users have an effective mechanism for monitoring production statuses through a cloud platform. This solution improved energy management, overall equipment efficiency management, intelligent monitoring, work order management, operation analysis, and predictive maintenance to reduce production costs and energy consumption. This solution simultaneously enabled highly efficient operation and ensured environmental protection. Similarly, companies that deploy intelligent dyeing factory solutions have benefited from them.
One such case is a medium sized printing and dyeing factory in Guangdong which suffered from very high energy consumption. To obtain energy consumption data, the factory previously relied on the manual recording of meters— these being water, electricity, and steam meters. The staff needed to spend every morning recording readings from more than 200 meters. This data was manually coded into a computer; a process that was time-consuming, labor-intensive, and suffered from frequent human errors.
After adopting the intelligent dyeing factory solution and using Advantech's edge data acquisition devices and intelligent data gateway, energy consumption data was automatically collected at fixed points according to a schedule. This data was uploaded to the WISE-PaaS cloud platform in real-time to create a visualized cloud management dashboard. Additionally, this system offers continuous in depth analysis of energy consumption data, tags abnormal equipment, and provides energy consumption traceability for each work order. It improves the overall management and production capacity for printing and dyeing factories.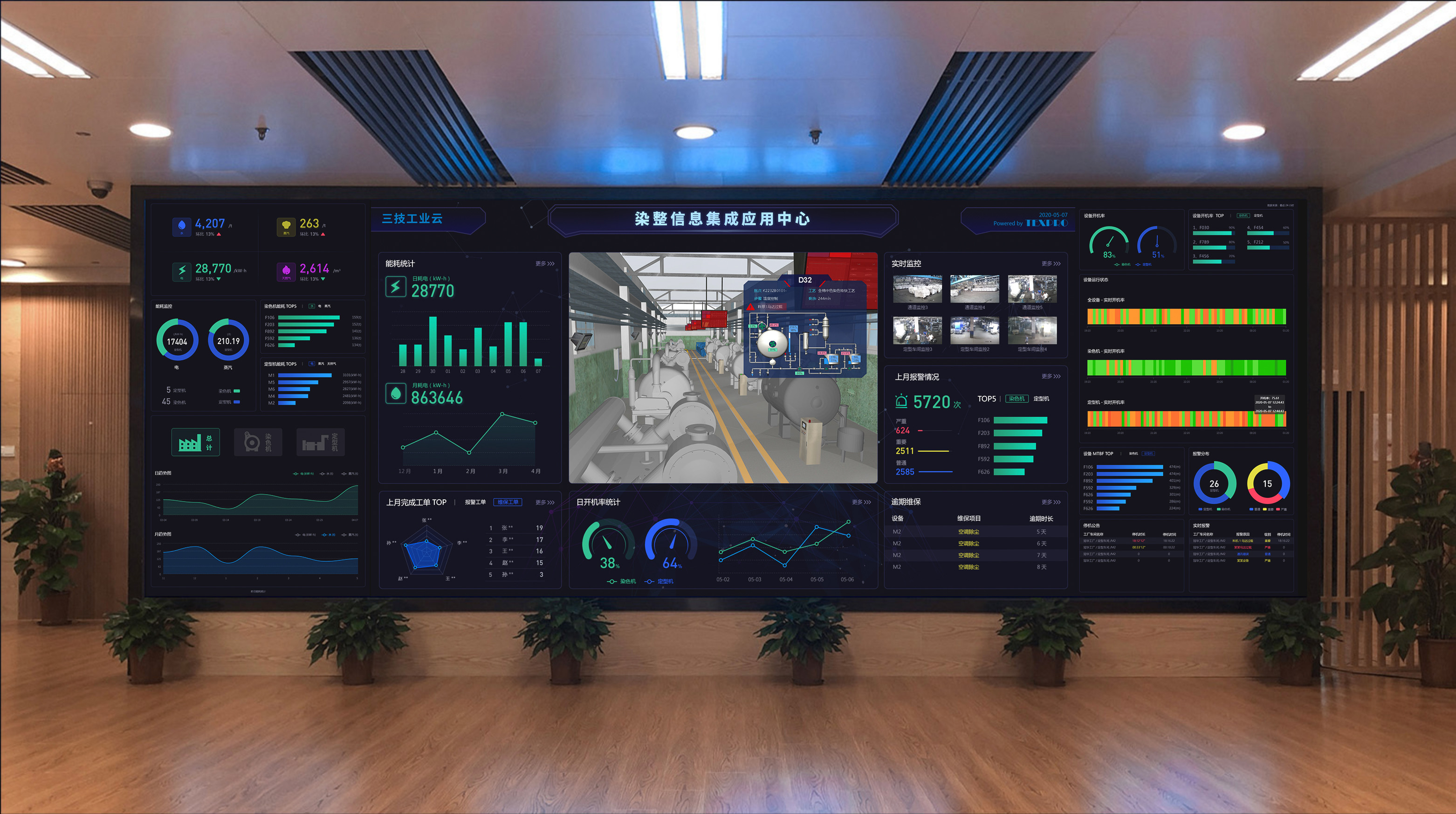 Shuai Wei said that monitoring the entire factory's energy use and improving production management, dropped overall energy consumption by up to 20%. This is an impressive figure in printing and dyeing factories where energy costs comprise about one quarter of total production costs. The customer remains extremely satisfied with the systems' performance.
As workers did not want their production result to be affected by other employee's shifts, production bottlenecks occurred during shift changes. Utilization rates indicate an 80% equipment shutdown rate during these periods. Therefore, by collecting equipment power on/off and operation data, and identifying low operation periods, factories made adjustments in management and the system to optimize production procedures, improve utilization rates, and increase efficiency by more than 30%.
Shuai Wei said the solution's situation room function was well received by customers. The key production process data is displayed on a large screen in a control room. This improves the efficiency of factory management, and enhances the factory's brand image.
Of Texpro, Shuai Wei said frankly, "The previous after-sale services for nation-wide and overseas markets were limited by costs. Therefore, It was difficult to solve problems in a timely manner." For example, in the Middle East, Pakistan, and other locations, after the equipment was sold, problems that occurred during production could not be solved until the following equipment purchase. By implementing this intelligent dyeing factory solution, users can diagnose problems as soon as they arise and provide remote guidance. This helps customers solve problems in timely manner. Because of this, this solution proved to be a good tool for domestic and international after-sale services.
WISE-PaaS IoT Cloud Platform Fuels the Future of Smart Manufacturing
Shuai Wei indicated that in order to meet demands for digital transformation, Texpro evaluated many companies and settled on Advantech. He stated, "At the time, we had no IoT understanding. In the beginning, we just wanted to solve machine automation problems. Therefore, we sought access to Advantech's automation equipment, industrial computers, and other hardware products. Soon after, we tried the WISE-PaaS cloud platform. After in-depth research, we found that WISE-PaaS met all of our needs, and was the ideal solution".
In his opinion, Advantech provides high-quality software/hardware products and services. Thanks to more than 30 years of intensive cultivation, Advantech has a very diverse product range. Advantech's WISE-PaaS IoT cloud platform has comprehensive functions — including dashboard visualization, AI model training and deployment, asset performance management, and other framework services. These products are highly expandable and scalable; yielding a reduction in development difficulties and cycles.
"In sum, whether it is a hardware or software platform, we always try Advantech's new features as soon as they are released." Shuai Wei said that the deployment of Advantech's software and hardware solutions has accelerated the transformation of Texpro, from an equipment manufacturer to an equipment service provider. Through the integration of Advantech's platform and hardware, project development can be completed swiftly and save precious time during development periods.
In the future, Texpro will collaborate with Advantech to develop I.Apps with four elements. First is the use of big data and deep AI learning to enable analysis and optimization of energy use. Second is the use of predictive equipment maintenance. Third is the digitalization of information to create a database to solve the human resource problems. Fourth is the ability to undergo defect inspection and apply functions on the WISE-PaaS platform. These functions include AI /machine vision, and quality inspection procedures.
Finally, Shuai Wei said that following an industry transformation, business models are constantly evolving. A transformation towards the construction of intelligent dyeing and printing factories through automation, digitalization, and intelligent technologies is inevitable. Apart from developing I.Apps, Texpro will also improve market distribution while co-creating with Advantech to develop Texpro's Industrial Cloud platform. This platform will hasten the printing and dyeing industry's digital transformation.
In the future, Texpro will collaborate with Advantech to develop I.Apps with four elements. First is the use of big data and deep AI learning to enable analysis and optimization of energy use. Second is the use of predictive equipment maintenance. Third is the digitalization of information to create a database to solve the human resource problems. Fourth is the ability to undergo defect inspection and apply functions on the WISE-PaaS platform. These functions include AI /machine vision, and quality inspection procedures.
The WISE-PaaS data application platform end-to-cloud architecture provides a comprehensive development environment for data collection, analysis, management, and applications, while promoting interoperability between I.Apps via the WISE-Marketplace and accelerating the development of industrial solutions.