The Slim, Rugged and Fanless Box Computers Adopted for Semi-Outdoor Application at CPC Gas Stations, Taiwan
8/10/2018
The CPC Corporation is Taiwan's leading enterprise, with approximately 14,977 employees and various functional units around the island. As a state-run enterpriseresponsible for the development and supply of petroleum and natural gas, CPC is a corner stone of Taiwan's petrochemical industry.

As the No. 1 gas supplier in Taiwan, CPC gas stations must provide speedy and comprehensive services. To ensure operational efficiency in semi-outdoor environments, and considering the environmental challenges associatedwith gas stations, a high-performance POS system with sufficient resistance/tolerance to water, dust, shock, and oil is essential. The CPC Corporation required a fanless POS system with the durability to withstand outdoor environments in order to limit mechanical failures. However, because theCPC also needed to protect their customer database from unauthorized employee access, traditional POS systems were inappropriate.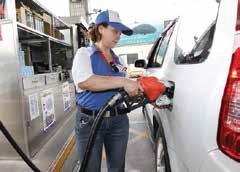 After evaluating the CPC's requirements and use environments, Advantech recommend its ABox computer withdiverse I/O for connecting an external monitor and keyboard to provide a system that could function as a POSterminal. This strategy would enable managers to lock the computer in the checkout counter and thereby preventunauthorized access to confidential financial information.After conducting extensive tests and evaluations, the CPC was satisfiedby the performance of Advantech's ABox solution. The system's fanlessaluminum housing ensures not only ruggedness and increased heatdissipation, but also water, dust, shock, and oil resistance/tolerance,making it the ideal solution for outdoor environments. The ABox Seriescomputers are equipped with the latest Intel processor to deliver theextreme performance required, and their ultra-compact design savesinstallation space.

Powerful computing performance facilitates the provision of excellent customer service
Fanless design ensures sufficient water, dust, and oil resistance for outdoor applications
Aluminum housing increases ruggedness and heat dissipation for an extended product life
Rich I/O supports various media outputs for diverse applications