Performance Boost With COM-HPC: The Computer-on-Module Revolution
9/24/2020
Taipei, Taiwan, September 24, 2020 — Advantech, a leading embedded computing solutions provider, is pleased to introduce a series of upcoming high-performance Computer-on-Modules, the COM-HPC series. Cloud Computing has been utilized to process high volumes of data from various IoT applications for many years. In order to transmit and analyze large amounts data quickly, cloud computers must be extremely powerful, offer high performance, and deliver wider bandwidths for data transmission. As data processing requirements increase, edge computing is emerging as the key solution for effective data management. Additionally, edge solutions make computing processes significantly more efficient and reduce latency. Advantech's popular COM Express solution has been used for over a decade — the "Type 7" COM Express was created to meet growing demands for edge computing solutions.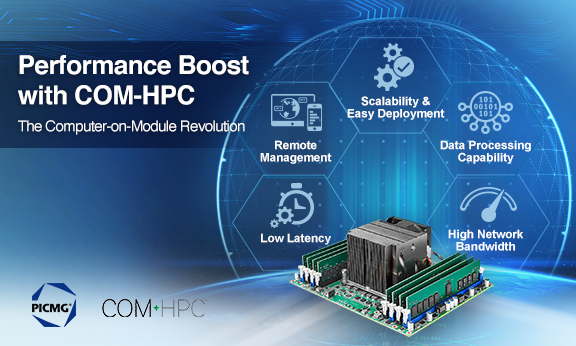 At present, advanced analytics and massive data processing is placing greater burdens on local edge computers. Advantech's COM-HPC is an innovative Computer-on-Module that delivers excellent CPU performance, diverse pin definitions, and new connectors in a selection of board sizes for super-speed interfaces and faster Ethernet. COM-HPC, complements a range of COM Express models to fulfill the next decade's extreme performance demands in edge computing. As a member of the PICMG COM-HPC subcommittee, Advantech has been designing COM-HPC for over two years. Advantech's newest solution meets mobile server design requirements for instant efficient service and accelerates the deployment of 5G micro base stations.

Edge Computing Performance Demands

Advantech's COM Express — with its diverse form factors and expansion capabilities — has set a benchmark for computers on modules for many years and has been widely adopted in numerous industries. The growth of edge computing, AIoT applications, and 5G networking has led customers to seek multi-core and high-speed I/O throughput in the form of 16 Core products. These customers are also seeking more PCIe expansion bus and at least 10G Ethernet to cope with the massive data flow at the edge. To meet these demands, designers have pragmatically integrated multiple computer-on-modules to yield more PCIe bus. Some have even built cluster computers to handle heavy loading and massive data processing. While these measures are often successful, they are subject to certain physical limitations caused by the 440-pin board to board connectors and finite bandwidth.

Modularized Server Level Computer Eases Deployment
To satisfy diverse applications, computer-on-modules must feature a full range of processor options, quick I/O expansion capabilities, and enable easy migration/maintenance. These key characteristics help customers deploy products in particular target markets quickly. COM-HPC has unified Server/Client pinout types in two board to board connectors, helping customers easily configure their systems with different COM-HPC modules and painless optimization when migrating to next generation solutions. Advantech's computer-on-modules provide reliable advanced performance for long term system operation. Both COM-HPC and COM Express deliver superior performance and "Super-Speed" expansion for further bandwidth requirements to supplement the computer-on-module product family.
High Core Count Processor and More DIMM Sockets
COM-HPC is designed with 800-pins via 2x 400-pin board to board connectors. This power input and I/O interface pin assignment provides a stable power source for energy intensive applications and maximizes expansion bus usage.

Similarly, COM-HPC Server pinout supports TDP 100W processors, and the largest board size E supports up to 1TB memory capacity with 8pcs long DIMM memory for excellent data processing and transmission. These pinout types further enable a total system power of over 300W for the COM-HPC Server models (sizes D & E) that meet the demands of high-performance computing.
Super-Speed Data Transmission and I/O Expansion Capabilities

The COM-HPC's newly designed board to board connectors provide more pinouts and increase signal bandwidth to support new generation I/O interfaces. COM-HPC supports PCI Express connectivity up to Gen 5 (32GT/s) and a maximum 65 lanes. It provides 4x ports USB 4 or USB 3.2 Gen 2 x2, and 8x ports 25G Base-KR with sideband signal. Additionally, it features more low speed I/O pins for function communication with12x GPIO, SPI, IPMB, I2C, and SMBus.
COM-HPC Overview

There are two COM-HPC interface formats and 5 board sizes to serve varied embedded edge applications. The larger COM-HPC Server boards in sizes D & E, define headless applications and a 25Gb network with 4 to 8pcs long DIMM sockets, providing 512GB and 1TB of memory expansion respectively. The smaller COM-HPC Client boards in sizes A, B, & C, provide graphics and digital displays with 2 to 4pcs SODIMM sockets in a lower profile than the COM-HPC Server models. Advantech's COM-HPC offers large scale of I/O expansion compared to COM Express. For detailed information, refer to the comparison I/O support and board size chart: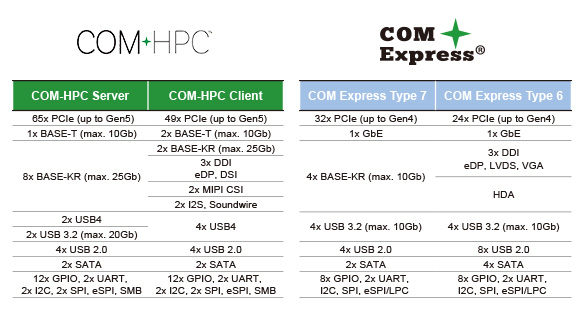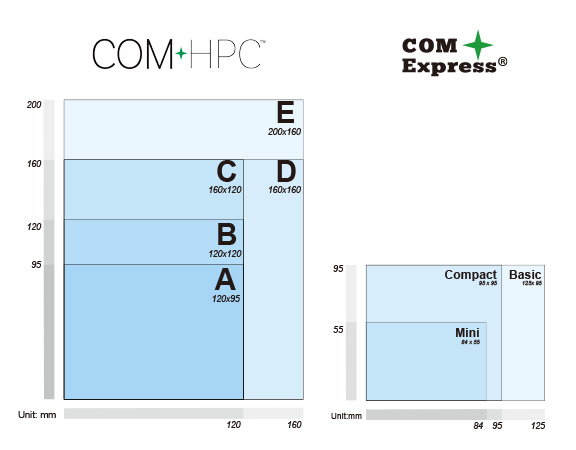 Advantech will release a COM-HPC evaluation kit in the fourth quarter of 2020. Please contact Advantech Sales Representatives for detailed information or to reserve a sample.
About Advantech
Founded in 1983, Advantech is a leader in providing trusted, innovative products, services, and solutions. Advantech offers comprehensive system integration, hardware, software, customer-centric design services, embedded systems, automation products, and global logistics support. We cooperate closely with our partners to help provide complete solutions for a wide array of applications across a diverse range of industries. Our mission is to enable an intelligent planet with Automation and Embedded Computing products and solutions that empower the development of smarter working and living. With Advantech, there is no limit to the applications and innovations our products make possible. (Corporate Website: www.advantech.com).
About Embedded-IoT Group
As a global leader of the embedded computing market, Advantech Embedded-IoT Group not only offers a wide range of embedded design-in services but also provides diverse integrated IoT solutions that assist customers with IoT adoption while minimizing uncertainty and risk. Advantech's integrated IoT solutions include sensor nodes, gateways, Edge Intelligence Server (EIS), and the WISE-PaaS IoT software platform. Embedded-IoT.advantech.com