WISE-PaaS/EdgeSense: Strengthening Edge Computing and Software/Hardware Integration from Systems to the Cloud
1/15/2018
Author │ Chia-I Liao, Digitimes
Interviewees│ Chi-Wen Lin, Director; Louis Lu, Director, Advantech IoT Embedded Platform Division
Under the latest requirements of the Internet of Everything, the total number of end devices has multiplied exponentially and the utilization of big data is becoming increasingly critical. Although cloud computing has become a mainstream trend, industries have tended to focus on how to avoid the overloading that can result from over-reliance on the cloud for the processing of large amounts of data. Edge computing has thus received increased attention in recent years due to its emphasis on distributed computing, which can ease the stress placed on cloud computing. Regardless of the industry, people involved in IoT must focus their efforts on the development of edge computing.
As a person who follows industry trends closely, Chi-Wen Lin, Director of Advantech's IoT Embedded Platform Division, believes that edge computing is a critical for Advantech's future IoT business strategies. Therefore, to introduce the concept of edge computing into IoT solutions, Advantech launched its Edge Intelligence Server (EIS) product range in 2016 to significantly enhance the functionality of conventional gateways. Software packages were also included to strengthen the overall computational capabilities of end systems.
An EIS targets base-layer equipment to conduct sensing, data collection, and lightweight data processing. To expand the application of smart edge computing, Advantech has revamped all related services and strengthened its software/hardware integration from end systems to the cloud, culminating in the launch of WISE-PaaS/EdgeSense, a software service platform that integrates connected equipment with wireless sensors.
Edge Intelligence Server (EIS)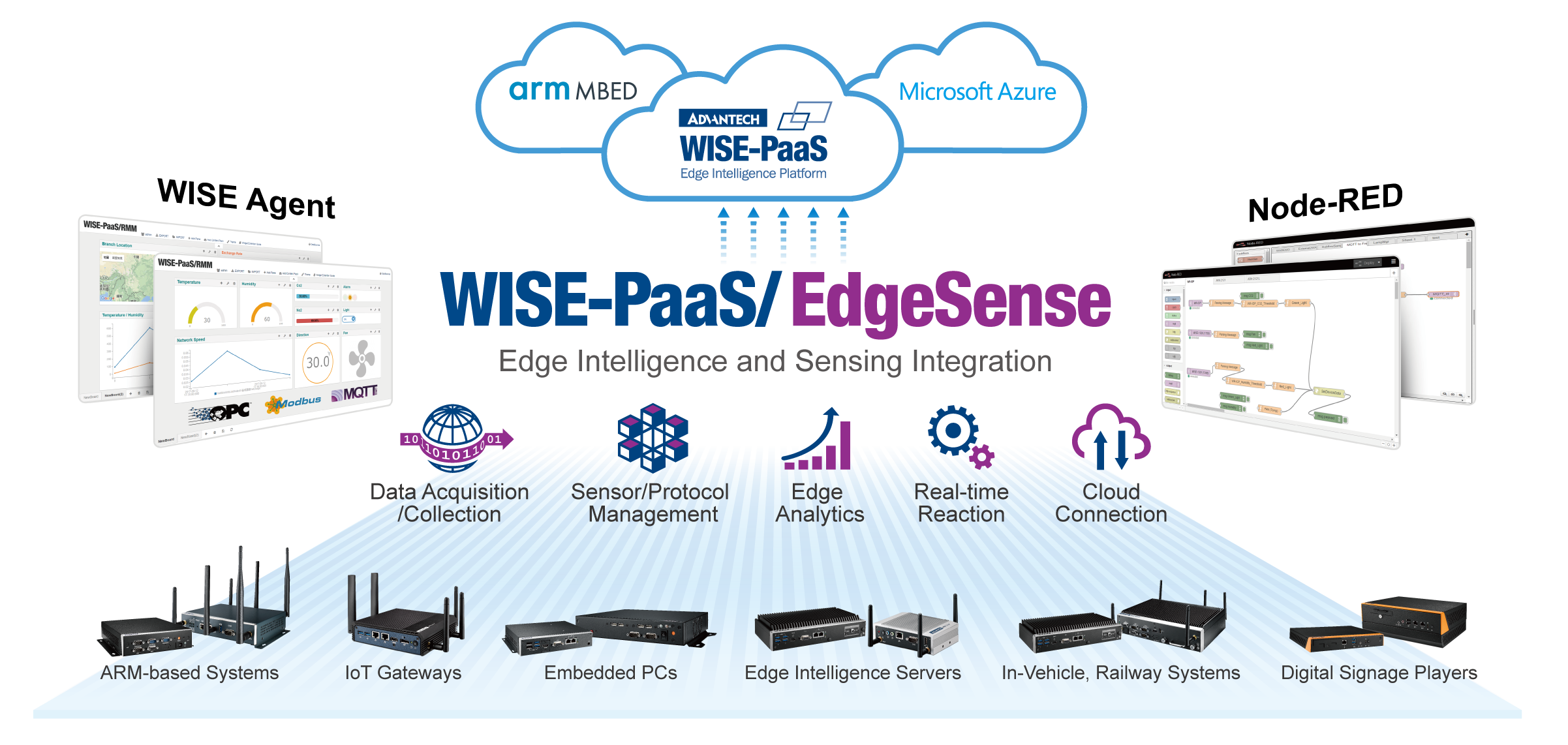 Mr. Louis Lu, Director of Advantech's IoT Embedded Platform Division, explained that with respect to WISE-PaaS/EdgeSense, layers in the overall structure have become even clearer. In addition to the launch of the EIS series and implementation of smart edge computing services, software for edge computing has also been reinforced. This includes improvements to the operation of base-layer systems, the integration of communication protocols for wired/wireless sensors, and the strengthening of connections and interactions between end systems and the cloud. WISE-PaaS/EdgeSense has thus widened the scope of smart edge computing services. It provides solutions that are no longer targeted at stand-alone applications to enhance software value. Instead, all features and services related to edge computing are incorporated into the platform so that in the future, clients will be able to reduce the time required for development and integration tasks by utilizing the highly modular software stack architecture.
WISE-PaaS/EdgeSense has opened the door between end systems and the cloud to facilitate smooth communication. The role of WISE-PaaS/EdgeSense can be divided into two aspects: 1) integrating and connecting downstream equipment sensors (including the network connection between devices) as well as collecting data; and 2) making edge equipment smarter. Through the WISE-PaaS/EdgeSense platform, value can be added to software designed for upstream cloud management and data analysis in order to realize various applications including data visualization, AI analysis, and machine learning. It is also possible to return commands to end systems on the basis of cloud analysis results, which will allow the EIS to perform local computations or operations, thus fully optimizing smart edge computing.
According to Mr. Lin, current IoT development trends indicate that edge computing will be the focus of development for future embedded devices. Any IoT-related solutions should include smart edge computing services. Thus, Advantech plans to expand smart edge computing-related services from stand-alone solutions to become a set of "standard services" included with all Advantech products. In the future, regardless of the industry, people will be able to incorporate smart edge computing services into solutions provided by Advantech according to their own application requirements.
When faced with the requirements of different industries, WISE-PaaS/EdgeSense showcases a high degree of integrability. In the future, clients will be able to combine relevant application services in different application fields. For example, in smart retail applications, integration with WISE-PaaS/VideoSense can introduce image analysis and other related applications, whereas in manufacture settings, this system could be integrated with WISE-PaaS/RMM and WISE-PaaS/OTA.
Advantech has announced future plans to further upgrade and develop WISE-PaaS/EdgeSense by targeting different product content. Because of its modular and standardized structure, the platform will remain open to enable integration with many applications and services. The content of WISE-PaaS/EdgeSense will become even more diverse.