Advantech Promotes WISE-PaaS/EdgeSense Helping Industries to Realize the IoT Vision
1/15/2018
In the past, whenever upper management or entry-level personnel would make decisions on IoT planning, they would mostly be based on their own perspectives. However, with cloud–network–end systems and edge architecture having now been well-defined, the IoT trend is heading toward network edge development. For this, clients can use Advantech's WISE-PaaS platform to build exclusive applications, and WISE-PaaS/EdgeSense can be used in field environments.
Author │ Hua-Yu Yen, Digitimes
Interviewees│ Chi-Wen Lin, Director, Advantech IoT Embedded Platform Division; Chia-Yu Ou, Product Manager
In addition to the maturation of communication networks around the world, recent advancements in sensor and computing technologies indicate that the objective of connecting everything to fully realize the IoT era is finally on the verge of being achieved. However, in terms of practical industrial applications, the prominence of IoT combined with recent discussions on AI is helping to realize the vision of a brighter interconnected future. In reality, actual cases of IoT applications and solutions are actually relatively uncommon in both industry and personal life. Thus, for Advantech, the most important work for promoting smart system applications includes determining how to help clients discover their actual needs and then combining them with IoT via the easiest and most convenient methods, applications, and services. The aim of WISE-PaaS/EdgeSense is apply the combination of IoT and AI in professional domains to maximize benefits for the client.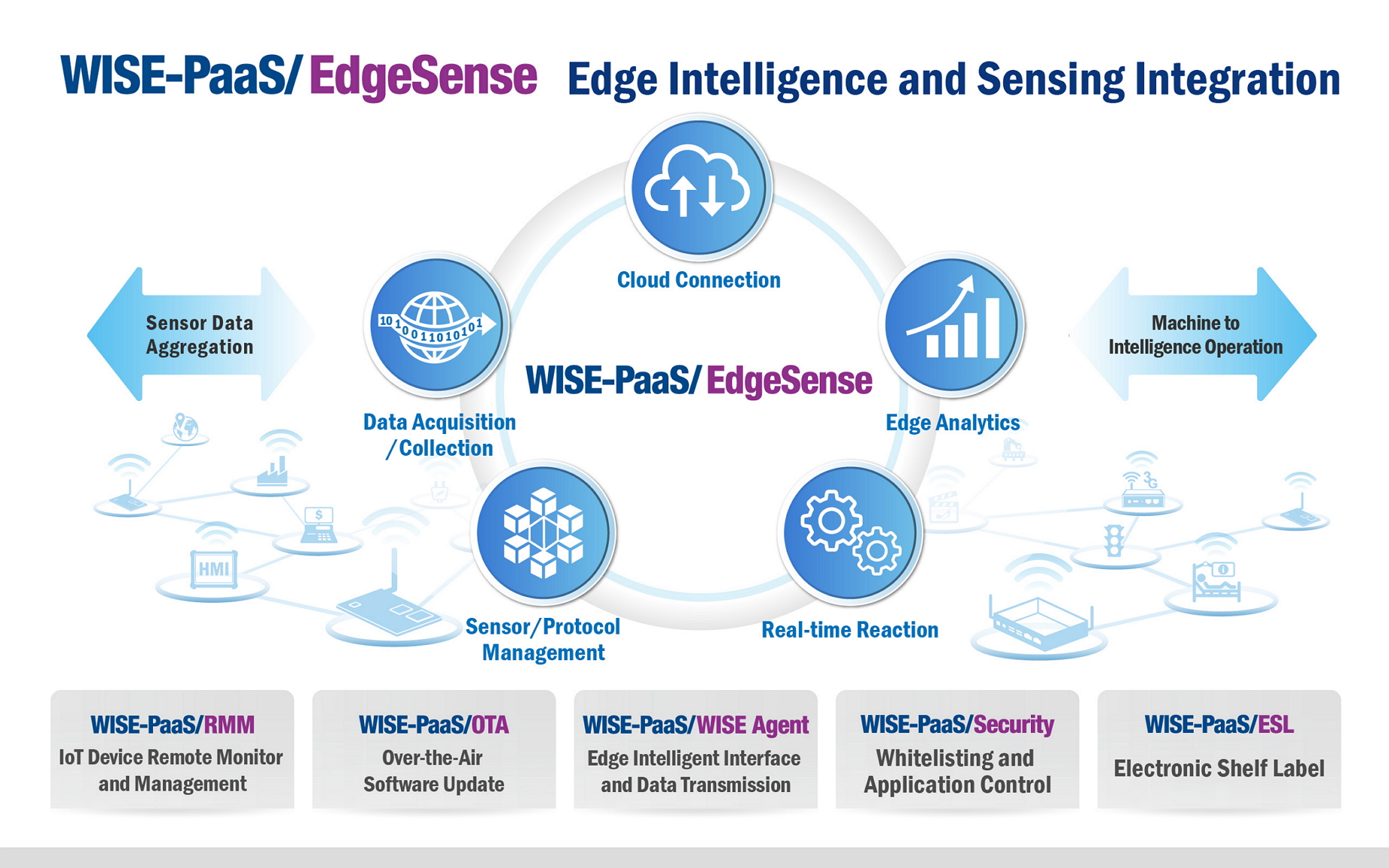 The Challenge of Connecting the Cloud, Networks, and Edge Systems
In the current IoT trend, determining the most appropriate method for clients to adopt in order to be able to properly leverage IoT and AI-related technologies is critical. According to Chi-Wen Lin, Director of Advantech's IoT Embedded Platform Division, despite systems being interconnected through IoT, AI must be incorporated to further enhance the benefits that can be derived from applications and services related to production and business operations. For AI technology to generate real benefits for end users, big data is essential. In addition, a series of analytical models must be created to optimize an ongoing cycle of data collection, analysis, correction, and feedback. Advantech can build the basic structure for this through the connection and combination of the cloud, networks, and end systems.
In actual field environments, Advantech has found that when making general IoT plans during the implementation phase, the cloud–network–edge system structure often creates application problems. Mr. Lin expressed that although most major international vendors are gaining a better understanding of IoT and are also starting to pay more attention to the relationship between the cloud and edge systems, there is generally little awareness of the best approach to their application. However, market awareness on edge computing and smart technologies has been reestablished due to questions pertaining to whether all site data should be uploaded to the cloud for processing, and whether there are any special considerations involved in having a direct online connection in the field.
Many on-site machines and equipment generate large amounts of data that can be both complex and redundant. Even if the original data size is relatively small, the additional cost of having a permanent network connection can be a significant burden for end users, especially small to medium-sized enterprises, and it even remains debatable as to whether the collected data actually have any practical value. For some machines that require commands for instantaneous feedback, it is not always necessary for the commands to be issued via the cloud. Another consideration is that some application sites cannot permit real-time network connections for data uploading due to environmental or security factors. Under these considerations, Advantech's WISE-PaaS/EdgeSense software service for integrating connected equipment and wireless sensors is the best solution for operations that require real-time, rapid, and lightweight calculations.
WISE-PaaS/EdgeSense Offers Effective Solutions to Meet Vendor Demands
With the defining of cloud–network–edge systems and architecture, edge development has become a trend among major cloud service providers seeking to improve their equipment infrastructure. Similarly, even though Advantech's strength is establishing connections between different end systems or bottom-layer equipment, the company continually seeks to evolve with industry trends in order to provide cutting-edge solutions for connecting to cloud services. For equipment used in IoT applications, Advantech has launched the WISE-PaaS/EdgeSense software service package for customers seeking to integrate connected equipment via wireless sensors. The WISE-PaaS/EdgeSense solution is designed to help clients deal with problems pertaining to data acquisition, setting up equipment connections, executing edge calculations/smart operations, and uploading data to the cloud. In addition to the original value-enhancement software applications provided with Advantech's embedded systems, the solution also includes various IoT communication protocols for both wired and wireless sensors, thus ensuring highly integrated connectivity from devices to the cloud. By completing the framework construction for IoT's most valuable features (e.g., preventive maintenance and routine inspections), clients will be able to simplify smart IoT applications from subordinate end devices to the cloud and conduct a more advanced analysis of big data.
By leveraging Advantech's complete product line, clients will be able to connect equipment and collect data effortlessly. Additionally, once the acquired data are stored, Advantech's devices can also work with WISE-PaaS/EdgeSense in different applications while supporting a range of hardware specifications. For example, they satisfy the high-speed calculation requirements of edge intelligence servers (EIS) and low-power Intel Atom®/Arm-based gateways while matching the demands of MCU-grade endpoint sensing devices. Three device classes are available to meet varying application requirements. For example, high-performance computing devices with the computation power of GPUs can be used for machine-learning front-end processing, and low-power devices can be used to function purely as protocol-switching gateways. Such solutions can also be connected to cloud platforms through pre-integrated services. Advantech is thus helping users with upstream cloud requirements to overcome equipment/processing challenges and thresholds, as well as quickly connecting data with key cloud service providers by offering a convenient shortcut for connecting to the cloud.
Based on current industrial development trends, each company has a different plan for IoT or edge applications. For example, a large company such as General Electric (GE) has created its own PaaS and SaaS applications for the GE Group through cloud service provider platforms. However, not every company can build such a platform from scratch. Therefore, under the concept of IoT, determining how to benefit end users and help them leverage these same advantages by providing an edge computing platform has become Advantech's development goal.
For architecture, WISE-PaaS/EdgeSense is currently used to bridge the connection between Advantech and cloud service providers. Through WISE-PaaS/EdgeSense, an objective of cloud service providers is to obtain data via its software services. On the other hand, through the solutions provided in WISE-PaaS/EdgeSense, Advantech hopes to provide a channel for clients to upload their data to the cloud and to accelerate the realization of smart applications. With the company's strong background in manufacturing hardware products, all software/hardware integration solutions offered by Advantech can be used on existing systems to facilitate integration and accelerate the development of field applications.
For industrial applications where there is no network access or where rapid or real-time responsiveness is required, Advantech believes that by integrating the EIS of WISE-PaaS/EdgeSense into the cloud, the cloud can be utilized as an auxiliary tool by acting as the system core's relay station. The EIS will thus be responsible for managing end systems for real-time or rapid services while the cloud handles mid- and long-term analysis tasks. Based on the concept of combining WISE-PaaS/EdgeSense with EIS, Advantech can aid in accelerating the implementation of user applications.
Continuing to Build Successful Application Modes through Cooperation with Partners
The construction of the WISE-PaaS platform began in 2014. During the process, Advantech has gained a clearer understanding of providing WISE-PaaS/EdgeSense software services for the integration of connected equipment with wireless sensors, thus responding rapidly to client demands during IoT deployment. In the future, Advantech plans to introduce even more smart solutions through collaborative creation with its partners. By creating effective application modes and strengthening users' experiences with development tools, Advantech will continue to assist clients in creating customized smart applications by utilizing even faster development methodologies.