Does having a lot of equipment pose a problem for IoT management? The Advantech WISE-PaaS/DeviceOn addresses multiple pain points simultaneously
4/11/2019
Author: M.D Wang, Digitimes
Photos: Advantech
Interviewee:
Advantech Software Director | Louis Lu
Advantech Senior Manager | Rison Yeh
IoT is the backbone of smart systems. Data is captured and transmitted via underlying sensing networks, collected, and then streamed to the upper cloud platform for storage and analysis. Following this stage, smart vision of the system architecture is implemented. Looking at the system holistically, all IoT processes are initiated by the front-line equipment. The administrator's understanding and control of the status of front-line equipment therefore determines the operational results of the overall system. In February 2019, Advantech launched WISE-PaaS/DeviceOn as an equipment maintenance and management software solution that comprehensively enhances the management efficiency of IoT terminal devices through a simple, optimized interface.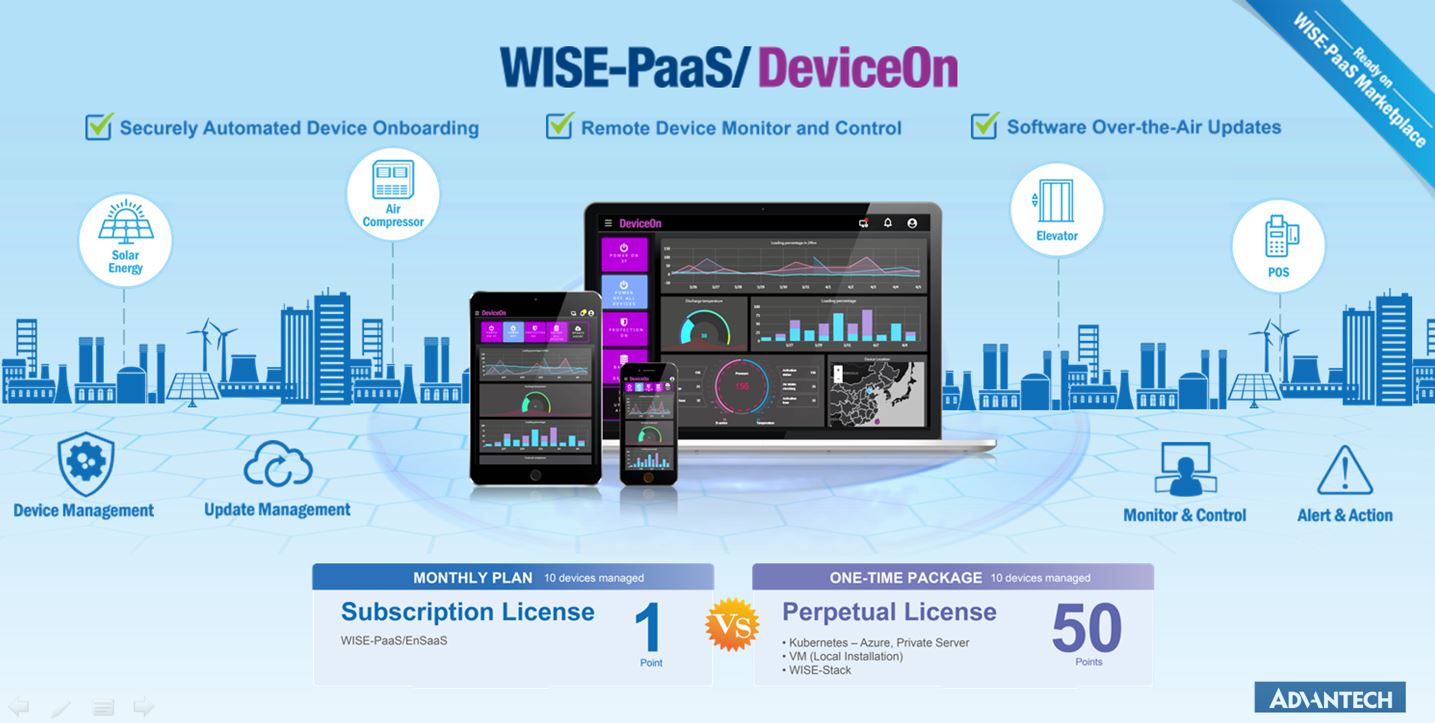 Deployment and Management: The two major pain points
During the deployment process, remote monitoring and device management do not rely on new technology. Technology for retrieving the status of each terminal device has appeared on the market for many years. However, systems in the past were limited in scale — a small number of devices required remote monitoring and only simple management systems were needed. However, the pace of IoT implementation is now increasing rapidly; the field of applications has widened, system architecture has grown, and the number of underlying devices has gone up substantially. The amount of front-line equipment for industrial IoT and smart building systems can easily exceed 1,000 units while the amount of equipment for smart cities and smart transportation often approaches 10,000 units. Given this new dynamic, an astonishing amount of time is required for the layout, adjustment, and management of existing equipment management mechanisms. This presents a serious challenge for operators.
In terms of industrial IoT usage behavior, most customers have a fairly complete solution in place for connecting equipment and data. Relevant connections — such as Modbus, OPC, and BACnet — have corresponding IPCs for data conversion. Relatively speaking, the Gateway system composed of these IPCs plays a very important role. WISE-PaaS/DeviceOn manages the operating system, monitors IPC hardware and I/O status, and ensures the managed IPC can be controlled so that normal operations are maintained 24 hours a day.
Since the deployment of terminal equipment is the first step in the architecture of the IoT system, overly complicated and difficult implementation steps often become one of the main reasons that companies give up in the initial stage. Even if the first difficult stage is overcome, once the system is live equipment management becomes another tricky area for companies to navigate. If issues are unresolved, system performance suffers.
The current pain points for the enterprise management of IoT equipment often revolves around two major problems: the first-step deployment threshold and the difficulty of subsequent management. Although only two problems, they are not easily solvable. In addition to difficulties arising from the initial building phase, there are a large number of devices and the setup range is too broad. Different communication interfaces between devices must be integrated, posing a rigorous test for system manufacturers. Advantech's WISE-PaaS/DeviceOn equipment maintenance and management software solves all of these problems.
Advantech is one of the pioneers of global IoT. In 2010, the company began developing various IoT applications. Since equipment management is the foundation of IoT, Advantech attaches great importance to relevant software and hardware development. The company regularly — once every two years — launches equipment management solutions that meet system requirements at the time of launch. Advantech's WISE-PaaS, which integrates management functions of the IoT system, went live in 2016. WISE-PaaS/DeviceOn is one of the WISE-PaaS software tools.
Advantech launches the WISE-PaaS/DeviceOn software solution with two major features for easy equipment management
WISE-PaaS/DeviceOn was the first to adopt the zero–touch technology connection for software and hardware integration that solves complicated problems arising during the initial deployment phase. After its release in February, subsequent Advantech hardware products are pre-loaded with WISE-PaaS/DeviceOn, including a hardware security certification and parameter settings required by the relevant application domain. Doing so ensures that it is no longer necessary to set configurations one-by-one between equipment. As long as the equipment is enabled, WISE-PaaS/DeviceOn will automatically connect — making industrial IoT implementation easier than ever.
WISE-PaaS/DeviceOn uses an intuitive image interface that allows administrators to manage in batches. In IoT systems, repairing malfunctions in each terminal device often requires manual troubleshooting. However, most faults can be solved by simply restarting the equipment. Moreover, when upgrading equipment firmware, the administrator must keep an eye on the screen to confirm upgrading progress. This causes an unnecessary workload and burdens the administrator. WISE-PaaS/DeviceOn has designed a quick restart function that allows maintenance personnel to restart remote equipment from the back end. For firmware upgrades, batch management can be used to simultaneously update a large number of equipment for significantly reduced worktime. Furthermore, through AI integration, WISE-PaaS/DeviceOn predicts the operational status of the equipment to avoid unanticipated shutdowns while making maintenance inspection scheduling more accurate.
After years of market education and technological R&D, the application of IoT has grown rapidly. According to the research institute BI Intelligence, the number of devices used in the global Internet of Things will reach 24 billion by 2020. The management of this huge volume of equipment has become a focal point in the design of IoT systems. In 2018, investment in the management of equipment by enterprises around the world reached US$1.5 billion — a number that is predicted to double in 2019. One key takeaway from this massive industry growth, however, is an uncomfortable one: equipment management is an urgent pain point for enterprises that requires prompt action. Advantech's WISE-PaaS/DeviceOn provides improved results through comprehensive software/hardware integration. It is available for subscription via WISE-PaaS, Alibaba Cloud, Azure, and other container platforms. WISE-PaaS/DeviceOn, with its easy deployment and intuitive visual interface, simplifies equipment management. The software platform ensures the stable operation of the IoT system so that the benefits of IoT can be realized in the shortest possible amount of time. WISE-PaaS/DeviceOn creates a new smart device management model that reduces the workload of administrative and maintenance personnel.