Symtek Automation Asia and Advantech's Collaboration Overcome the Obstacles to Industry 4.0
4/1/2021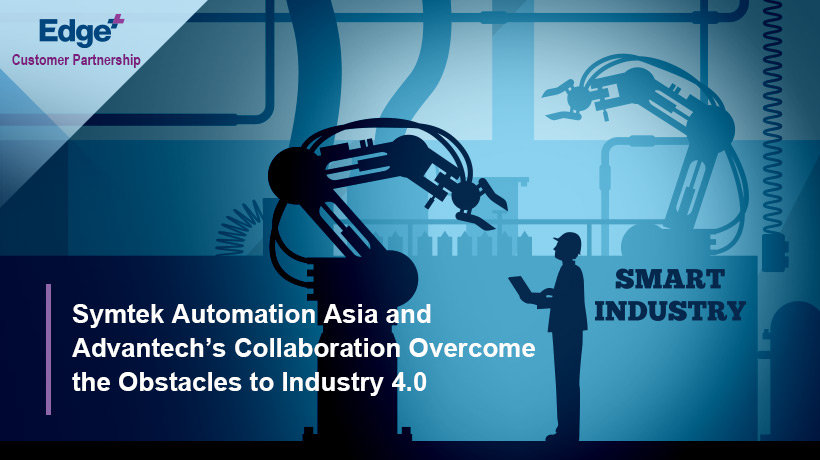 Leveraging Symtek Automation Asia (SAA) and Advantech's industry experience and technical strengths, SAA recently developed several innovative smart manufacturing machines that utilize Advantech's Edge Intelligence Server and DeviceOn/iEdge to provide customers with an Industry 4.0 end-to-end manufacturing solution.
Industry 4.0 is driven by a synergy of technology advancements in IIoT, smart manufacturing, AI, wireless communications, and robotics. McKinsey's Digital Manufacturing Global Expert Survey indicated that 68% of the participant companies consider Digital Manufacturing a top priority, but only about 29% of companies are capturing value from Industry 4.0 solutions. The main roadblocks to their adoption of Industry 4.0 is related to a lack of resources and implementation know-how, as well as the time and costs required for digital transformation.
SAA fast-tracks transformation of digital manufacturing
Established in 1999, SAA is a renowned supplier of manufacturing logistics solutions for many industries including the ceramic substrates, the LED assembly, the IC packaging and testing, and semiconductor industries. To meet digital transformation challenges in manufacturing, SAA set up a digital manufacturing R&D center, and started researching commonly encountered Industry 4.0 hurdles as early as 2013. Using customized services, SAA gained a leading position in the global smart manufacturing sector. Eight out of the world's top ten PCB manufacturers are SAA customers.
By integrating SAA's expertise and know-how in production automation and cutting technologies such as machine vision, edge computing, robotics, autonomous vehicles, and rail-guided vehicles, SAA has transformed from an automation machinery manufacturer to a fullservice digital manufacturing solution provider. Its innovative three-axis robot arm sold more than 5,000 units. SAA pointed out that there are many technologies involved in the operation of smart factories. Therefore, it is impossible for a single supplier to provide everything. Because SAA's resources are limited to manufacturing logistics solutions, co-creating digital manufacturing solutions with a trust-worthy solution partner like Advantech is essential.
Having complementary advantages accelerates the implementation of Industry 4.0
In 2016, SAA collaborated with Advantech to facilitate OT and IT system integration for several smart manufacturing solutions. Advantech played an important role in SAA's journey towards becoming a total solution provider. As a leading provider of industrial computers, Advantech's brand awareness, complete product lines, and R&D capabilities augmented SAA's Industry 4.0 offerings.
Leveraging SAA and Advantech's industry experience and technical strength, SAA became a pioneer of smart manufacturing solutions for the Taiwanese PCB industry. Utilizing Advantech's Edge Intelligence Server (EIS) and DeviceOn/iEdge (iEdge) industrial app, SAA's technical team were able to develop several dedicated smart manufacturing solutions based on the end customers' production line and application requirements. Being able to develop solutions quickly using Advantech's industrial app hastened the implementation process.
As a manufacturing logistics solution provider, many SAA machines are applicable to diverse production line workstations. They improve procedures, quality control processes, and product traceability. The most important factor in project success is the ability to handle various communication protocols from different legacy machines while meeting varied customer demands. Thanks to EIS' edge-to-cloud integrated architecture design and iEdge's support for commonly used protocols such as Modbus and OPC-UA, SAA can focus on the development of customized applications that interface with the customers' existing systems. These applications convert raw data into meaningful information, instead of integrating protocols from scratch. In addition, iEdge helps users monitor and diagnose systems remotely, as well as update mass edge devices over the air. These functions significantly, reduce service times and costs. EIS's pre-installed software tools support IoT applications, cloud ser vices, system integration, and system MyWISE-PaaS sustainability. Similarly, DeviceOn/iEdge leverages integrated McAfee and Acronis for threat protection and backup recovery. These security features empower remote system recovery for production machines.
Dynamic partnership led to innovative solutions
SAA and Advantech have collaborated successfully over many years. Advantech has responded to problems as they emerge and made necessary changes to meet project requirements or adjusted specifications to keep up with the industry trends. Advantech regularly adopts the latest technologies and solutions that will benefit SAA's future projects and help them stand out in the competitive and over-saturated production equipment market. Indeed, this dynamic partnership has led to innovative smart manufacturing machines.
Through SAA and Advantech's innovative smart manufacturing solutions, end customers can enjoy fruitful outcomes without investing large amounts of time and money in research and development. SAA hopes to help more manufacturer's provide smart manufacturing machines in the future. SAA is also extending their services to monitor environmental risks that can lead to production downtime.