Advantech WISE-PaaS AI Solutions Redefine Smart Manufacturing
7/29/2020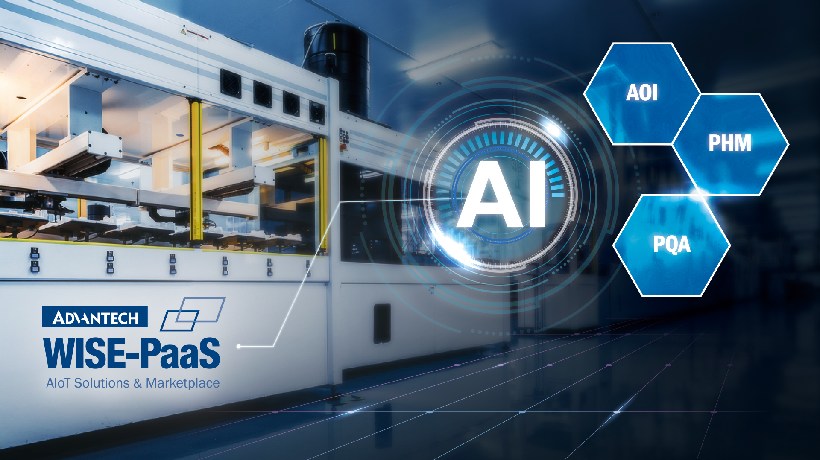 AI is the key to unlocking the potential of smart manufacturing. But determining how to implement AI solutions in order to solve real industry problems can be a challenge. To help businesses cross the AI threshold and realize Industry 4.0, Advantech has developed a series of AI solutions that leverage WISE-PaaS AI Framework Service (WISE-PaaS/AIFS) as a core solution, adding further utility with Automated Optical Inspection with AI (AI AOI), Predictive Quality Analytics (PQA), Prognostic and Health Management (PHM), as well as many other industrial apps and solutions.
AI-Powered AOI, PQA, and PHM accelerate smart manufacturing
According to Jamie Su, Advantech WISE-PaaS product manager, businesses typically conduct several processes when implementing AI: 1) choose valuable targets, 2) collect data, 3) annotate data, 4) store variable data, 5) build AI models, 6) deploy solutions, and 7) maintenance of system/IoT infrastructure (including retraining AI models).
Advantech can provide assistance for all but the first step, which is generally performed by each business. With over 30 years of experience in data acquisition and edge computing, Advantech has suitable solutions for all types of industrial sites. In particular, WISE-PaaS/ AIFS satisfies the need for data annotation and fusion, AI modeling, and model management.
Su added, "Advantech has demonstrated its technical strength by offering various solutions for improving work efficiency and reducing dependence on data scientists." For example, AI AOI can improve inspection efficiency in electronics, electric machinery, and metal processing factories. PQA is ideal for helping tool master craftsmen adjust machine parameters, ensuring product quality in textiles and molding manufacturing. Finally, PHM enables equipment diagnosis during key operations at metal processing and rotating machinery factories; this compensates revenue loss caused by production interruptions.
Using WISE-PaaS/AIFS as a cornerstone to scale up AI applications
AI AOI performance has been proven in printed circuit board assembly (PCBA) and passive component production. Advantech's PCBA Dual In-line Package (DIP) production line at its Linkou manufacturing center was used as a trial application to integrate Advantech's edge computing technologies and AI models with the system integration partner NEGU TECH AOI equipment. Together, they successfully delivered a DIP AI AOI solution. The solution included pre-trained models that enable on-site staff to improve maintenance efficiency and AI-assisted annotation. By using the AIFS platform's web interface, on-site staff can select AI training data, execute training sessions, verify training performance, and eventually deploy AI models to edge devices. Staff can even use it to notify relevant parties when model re-training has been completed. With the deployment of the AI-powered AOI solution for DIP PCB solder inspection, fault detection rates rose to 99%, while error rates fell below 10%.
SI partner Smasoft Technology has extensive expertise in fault detection solutions and passive component production line applications, but they lack the resources and platform for automatic model deployment and scheduled training. Consequently, together with Advantech, they co-created a passive component fault detection AI AOI solution that has been successfully deployed at many production sites and become a industrial app (I.App) product used by many businesses.
A PHM solution was adopted by a large- scale steelworks to conduct predictive maintenance of their large industrial fan motors. This was achieved by collecting vibration data and uploading it to the cloud. The AI model was co-created in collaboration between the company, the SI, and Advantech's data scientist teams using WISE-PaaS/AIFS. During the co-creation process, the WISE-PaaS/AIFS preprocess model (vibration sampling and analysis) and hyperparameter tuning function (accelerates model creation) were fully utilized. After initial verification, the PHM solution began detecting abnormal signals from the equipment and notified technicians to perform preemptive maintenance, thereby preventing motors from suddenly failing and causing production delays.
PQA solutions facilitate product quality control at textile or plastics processing factories. In the process of deployment, the PQA solution collects data from IoT devices, analyzes production quality data, and performs analysis to optimize processes and production quality prediction. Using WISE-PaaS/AIFS to deploy PQA solutions accelerates a factory's digital transformation and enables rapid on-site quality verification.
Advantech's AI AOI, PHM, and PQA solutions incorporate several software and hardware packages from the edge to the cloud, as well as corresponding consultancy services. PHM, for example, uses edge devices such as DAQNavi and WISE-2410 for data acquisition; combined with WISE-PaaS/AIFS, it offers AI models suitable for equipment fault prediction, fault classification, and equipment life expectancy prediction. It can also perform edge computing inferencing.
To realize large-scale AI solutions in any industry, businesses must rely on a manageable, expandable, and self-operating cloud platform. This is precisely what WISE-PaaS/AIFS achieves. Moreover, to enhance economies of scale, AIFS f unctions have been continuously improved.
Overall, WISE-PaaS/AIFS has aided in AI learning operations through its comprehensive model management functions, which support version control and performance analysis. In t he f ut ure, incremental lear ning, reinforcement learning, and federated learning models will be leveraged so that on-site technicians will not require assistance from data scientists to upgrade model retraining performance.
By taking advantage of WISE-PaaS/AIFS, businesses can easily manage low-level computing and data pooling, training data fusion, model development, retraining, and notification handling. WISE-PaaS/AIFS is truly a powerful force for accelerating AI implementation in smart manufacturing.
The WISE-PaaS platform end-to-cloud architecture provides a comprehensive development environment for data collection, analysis, management, and applications, while promoting interoperability between I.Apps via the WISE-Marketplace and accelerating the development of industrial solutions.
WISE-PaaS/AIFS is designed to serve as an AI framework service with multi-model training and multi-model deployment services for scale up AIoT solutions. It helps to speed up the AI applications: Going from 0 to 1 in POC smoothly, Quickly expanding from 1 to 100.