Advantech's New Integrated Range Fits Just Right
4/8/2010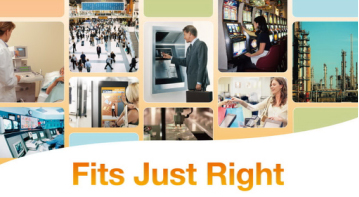 Advantech, the leading global ePlatform provider, is proud to launch an integrated new range of industrial computers developed specifically for vertical application customers who are looking for compact, innovative and cost-effective product solutions. The new compact range is targeted at space-limited applications in Digital Signage, ATM, KIOSK, POS, Transportation, Gaming Machines, Medical Equipment, and Machinery and Factory Automation. Together they offer the system integrator a comprehensive range of small Half-size Single Board Computers (SBC), versatile compact enclosures, and multi-purpose Mini-ITX embedded computers, each packed with features that will drive a diverse range of applications.

Cutting-edge Technology and Unique Industrial Features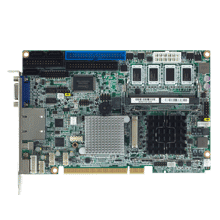 All these products feature the latest technologies and unique industrial features. PCI-7031 for example, is a Half-size PCI SBC which utilizes the new generation of Intel® Atom™ processors—the N450 and the dual core D510. These new processors feature a two-chip architecture that will result in smaller designs that are more efficient in terms of power consumption and cooling requirements. The fanless N450 processor and ruggedized DDR2 onboard memory give PCI-7031N higher anti-vibration capability and longer MTBF; ideally suited for applications that demand high reliability. The dual gigabit Ethernet viadedicated PCI Express x1 port also provides high throughput for heavy load network applications.
Meets Requirementsfor Space-limited and Harsh Environments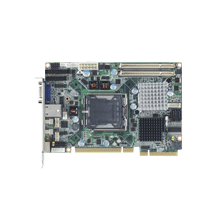 With the demand for new and emerging applications on the up all over the world, this new range of industrial products has been developed specifically with space saving requirements in mind. Industrial features like function scalability and ruggedized components are strictly considered. The PCI Half-size board PCI-7020 with Intel® Core™2 Duo processor is ideal for applications that require high computing power while PCI-7031 has balanced computing power and reliability features. The economic PCA-6743 also comes with same industrial features but supports legacy ISA devices.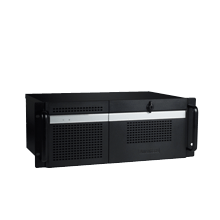 All Advantech chassis products are designed to meet superb anti-vibration and dust resistance. The other compact enclosure on offer, IPC-619S is Advantech's first 4U chassis for Half-size SBC, featuring a 10-slot backplane with additional 5-slot I/O expansion options, yet incredibly is only 274 mm deep—not the 450 or 480 mm found in most 4U chassis designs. Such ultra compact designis ideal for control systems in train stations, power plants, and any other mission-critical application environments. The6-slot IPC-3026 chassis is attractively compact and solid for embedded applications and is targeted at factory automation and machine builders that require chassis with less power consumption and good expansion ability for add-on cards like motion cards, control cards, etc. Alarm notifications and LED indicators are designed in to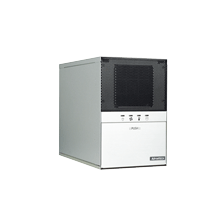 help monitor power, HDD, and normal temperature operation in plants and factories.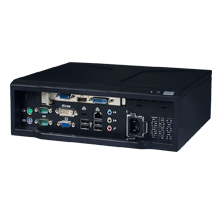 For customers looking for an even more compact but expandable solution, the ARK-6622 is offered as either a pre-configured system or a pure chassis with a variety of Mini-ITX board options, and has front I/O interface and a single expansion slot. ARK-6320 is an embedded system with a mini PCIe expansion slot and comprehensive I/O connectivity, and is powered by the dual core Intel® Atom™ processor D510 which integrates the Graphics and Memory Controller Hub (GMCH) onto a single chip. The fanless ARK-6320 enables much more power savings in smaller applications. BothARK-6320 and ARK-6622 are ideal choices for Kiosks, ATM and POS solutions.

Stylish, Flexible and Rich I/O Interfaces for Multiple Application Demands
Today's demanding applications demand maximum flexibility and connectivity. Advantech's industrial chassis and enclosure range deliver not only rich I/O features and room for expansion but also innovative industrial design. The IPC-619S compact enclosure supports a 10-slot backplane and additional five I/O expansion slots to provide plenty of scope for future expansion.The compact enclosure for Half-sized SBC—IPC-3026 has comprehensive I/O including dual USB ports on the front for easy access, containingan optional HDD tray module which enables 2 in 1 storage flexibility with two front access 2.5" SATA HDD trays that fit into the 3.5" drive bay, and two USBs, one 9-pin D-SUB, one 25-pin, and DVI cutouts reserved on the back plate.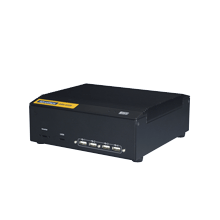 The fanless ARK-6320 Mini-ITX embedded computer incredibly provides eight USBs and six COMs for higher I/O connectivity and additional slots for expansion. PCI-7031—the new generation Atom™ Half-size SBC has built-in flexible serial ports including dual on-board RS-232 serialport plus optional four 422/485 add-on modules with auto flow control capability as well as multiple COM ports. These product selections are all adaptable to fit your application just right.

Worry-free Longevity Support and Services
As part of its commitment to the customer, Advantech provides longevity support and total-solution commitment to product quality that creates trust and fosters success.Recently in Hong Kong for example, one customer inquired about integrating the most reliable embedded platforms available for their interactive promotion systems about to be installed in a shoppingmall. The solution needed to be capable of high graphic performance, be reliable and rugged, and able to use 50-80 inch touch foils integrated with the solution. In the end, Advantech's ARK-6622 pre-configured system drew their attention because of Advantech's design features and their customization service. The customer was also impressed by Advantech's system assembly service, quality guarantee, and worry-free compatibility and after sales services. Moreover, Advantech's multi OS support plus a variety of intelligent software and API's bundled with the system helped the customer facilitate application development for quickertime-to-market delivery.

All products are available right now, they have long-life component longevity support and 2 year warranties— check out the website for more details or contact your local sales.