Advantech Holds Green Energy Forum to Bridge Efficient Power & Energy Technologies between China and Taiwan
4/30/2010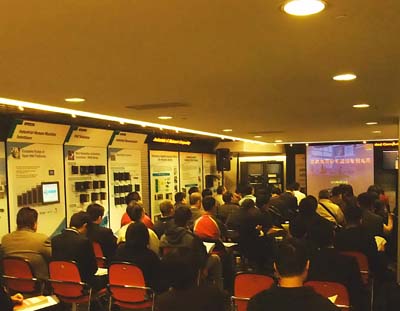 Taipei, Taiwan – April 2010 – Observing the global trend towards more energy-efficient technologies, Advantech held a green energy forum between China and Taiwan on April 16th, 2010 at its headquarters, in Taipei, Taiwan, with an effort to share the trends and technologies behind renewable energy, smart grids, building energy management and more. The forum attracted over 400 attendees, including many influential representatives in the power and energy field. At the forum, attendees discussed practical case studies to grasp the trends and business opportunities inherent within this new green energy era, and the forum was considered a great success by all involved.
Over the past few years, green energy has become a popular emerging trend in Automation. Supportedby governments around the world, power industries are enabled to redesign and upgrade power grids everywhere. Advantech is committed to making people's lives better and more convenient through innovation solutions. "There are three trends in Power and Energy development," explains Ming Chin Wu, President of Advantech's Industrial Automation Group, "which are clean energy development, energy efficiency enhancement, and aggressive energy saving."
The governments of China and Taiwan are planning to input enormous resources into the energy industry, with the basic objectives to develop new energy resources and institute laws for energy saving. Green energy developments not only are limited to China and Taiwan, but also throughout many global markets. In the next three to five years market growth is expected to exceed 20% growth per year.
Advantech is devoted to its customers and system component providers alike, providing vertical solutions based on their successful experience in power and energy industry, with successful applications across China in power generation, nuclear simulation, substation automation, renewable energy, building energy management, plug-in hybrid electric vehicle (PHEV) Charge station and more. Furthermore, Advantech plans to find more partners in the power and energy industry worldwide to further expand its work in vertical markets, with plans to continuously invest resources to drive the development green energy technologies.