【Product Change】HLDS ODD TUV Logo Change
3/15/2019
We have recently received product change notice from the manufacturer for the following products. This announcement takes effect immediately. Please review this notice carefully and contact the product manager or your regional PAPS representatives, should you have any question.

Description of the Change

TUV logo change: Change the TUV logo design on the main label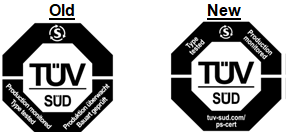 Milestone
Effective Date: 2019/4/1
Start Date: 2019/5/1
Last Shipment Date: Running Change
Cut-in Implementation: Running Change
Affected Products

*Should you have any question regarding products, please contact Advantech sales representative for purchasing information.