Advantech Launches Flex I/O Expansion Kits for System Functionality Upgrades
5/6/2021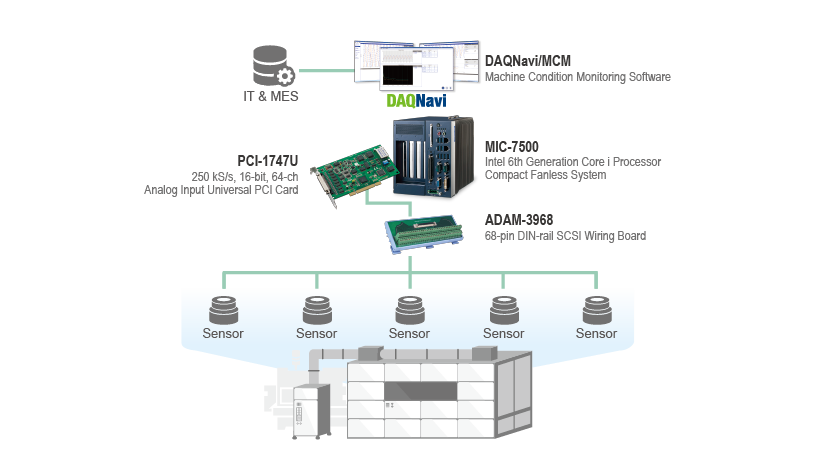 Taipei, Taiwan, March 2021
— Advantech, a leading provider of industrial computing solutions, is pleased to announce its Flex I/O expansion kits.
Designed for Advantech's MIC-7 series of compact industrial computers (IPCs), the Flex I/O kits offer flexible I/O expansion with various GPIO, GbE LAN, and high-speed PCIe Gen 3 options as well as DVI, HDMI, and DisplayPort support to upgrade the system functionalities. This allows MIC-7 IPCs to be connected to a wide range of additional devices while remaining compact and scalable. Flex I/O kits can be easily installed in MIC-7 IPCs via the reserved brackets on the front panel. The ease of integration and configuration, as well as the modular space-saving design, make these I/O expansion kits ideal for industrial applications. Moreover, Flex I/O kits allow MIC-7 IPCs to be integrated with Advantech's other i-Module and iDoor expansion kits to expand the system functionalities.
Rapid Transmissions for Enhanced Video Processing
With the provision of PCIe Gen 3 technology, Advanced [P1] Flex I/O kits enable MIC-7 IPCs to support an additional high-speed data transmission channel (1 Gbps per lane) that offers increased read/write speeds of up to 700% compared to SATA. This enhanced processing power facilitates real-time video processing and analysis applications. Moreover, if the MIC-7 IPC is equipped with an NVMe M.2 SSD and LAN, Advanced Flex I/O kits help to ensure bi-directional transmissions of big data between the front-end device, LAN, and SSD storage are fast and reliable. [P1]All of this is just really overwhelming technical detail that is hard to read through and understand.


Application-Oriented Kits for Greater Functionality
Aimed at industrial applications, the Flex I/O series kits are built to allow existing infrastructure to be easily upgraded and configured for specific usage requirements. The various Flex I/O kits support GPIO and remote switch expansion, additional display monitors, and connection with up to four PoE cameras (802.3af compliant) for enhanced control, remote management, and system power and status monitoring. Furthermore, the Flex I/O module with built-in TPM technology features a dedicated microcontroller that enables cryptography-based security for enhanced protection of sensitive and confidential data.



Modular Design Enables Flexible ConfigurationWith the ability to combine Flex I/O kits for increased communication speeds, control, display and/or security, customers can select the functions they require and flexibly configure MIC-7 IPCs according to their specific usage needs. This flexibility and support for diverse devices and interfaces means a single compact MIC-7 IPC can be expanded to cover the functions of multiple systems, thereby saving installation space and reducing equipment investment costs. Overall, Flex I/O kits provide a cost-efficient and convenient expansion solution for upgrading industrial computing infrastructure.



Key Features
Flexible expansion module for integrating additional I/O and functionalities

Front-facing expansion ports enable same-side cabling for easy maintenance

Retains the compact, fanless design and wide operating temperature advantages of the MIC-7 series IPCs

Supports NVMe M.2 SSD via PCIe x4 for drastically increased read/write speeds

Specially design NVMe heatsink with thermal pad is compatible with various NVMe

Supports Intel® i350 PoE capabilities with programmable power on/off control

Compatible with Advantech's iModule and iDoor expansion kits

Advantech's Advanced Flex I/O series expansion kits are available to order now. For more information about this or other Advantech products, contact your local sales support team or visit our website at www.advantech.com to search the
Advantech Flex I/O Series Portfolio
.
###

About Advantech Founded in 1983, Advantech is a leading provider of trusted, innovative products, services, and solutions. Advantech offers comprehensive system integration, hardware, software, customer-centric design services, embedded systems, automation products, and global logistics support. We cooperate closely with our partners to provide complete solutions for a wide range of applications in diverse industries. Our mission is to enable an intelligent planet by developing automated and embedded computing products and solutions that facilitate smarter working and living. With Advantech products, the application and innovation potential becomes unlimited. (Corporate website: www.advantech.com)