Advantech NVR Certified by AxxonSoft for In-Vehicle and Street Surveillance Applications
2/9/2017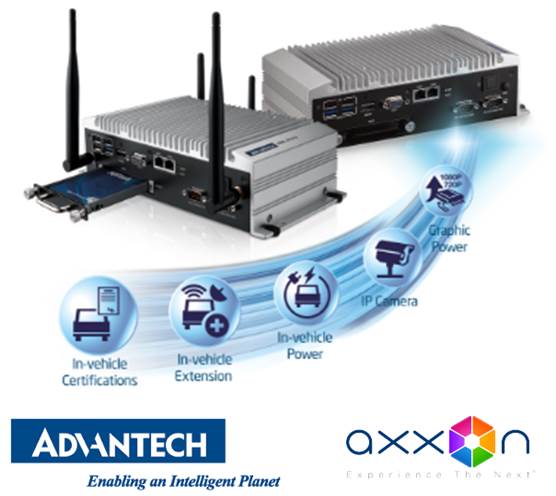 February 9, 2017, Taipei – Advantech, a global leader in the embedded system market, today announced it has Network Video Recorders ready to integrate with the AxxonSoft Video Management System (VMS). Customers can now get their surveillance projects up and running efficiently with hardware and software that has been pre-tested and validated for the AxxonSoft system.
Collaborating for In-Vehicle and Street Surveillance Projects
Advantech ARK-V, ARK-S series, and NVS-500 have all been tested and verified to be compatible with AxxonSoft VMS Axxon Next 4.0, which helps customers save time and effort when it comes to selecting and implementing a solution for surveillance applications in different vertical markets.

The ARK-V series incorporates designs unique for an in-vehicle environment, with ignition power management, 9 ~ 36Vdc wide power input with isolation, EMARK and IEC 60721 5M3 shock/vibration proof, and support for up to 4 IP ports, making it highly suitable for in-vehicle surveillance applications. The ARK-S series features wide temperature support (up to -30 °C ~ 60 °C) and rugged design, making it excellent for outdoor applications. These platforms also offer various wireless functions such as BT, 3G/LTE and GPS for wireless communication and location functions. With a flexible modular hardware design, we can quickly and conveniently meet customers' function and time-to-market requirements.

The unique Advantech NVS-500 design combines server, 4th-generation Intel® core based professional NVR, network switch, and camera power supply (PoE) into one system. It provides 16 or 24 ports of PoE LAN for camera links, with a high power budget, and also supports four 3.5" HDDs with up to 16TB storage capability. NVS-500 is an excellent fit for cases as diverse as banking, general building surveillance, as well as middle- to large-floor hypermarkets.
An Established Ecosystem Saves Customer Time and Effort
The demand for security and surveillance has increased dramatically in the past decade, particularly in the transportation and governmental sectors. Usually surveillance projects require the complex integration of many hardware peripherals and software applications.

Advantech works closely with professional ecosystem partners, like AxxonSoft, to ensure compatibility and reliability of our combined solutions, and provide building blocks required for delivering and innovative and integrated solutions for fleet management, mobile surveillance, passenger information systems, outdoor surveillance, traffic surveillance and management, and much more.

Advantech Product Offerings
Supports up to Intel® Core™ i5
E-13 certified with intelligent vehicle power ignition management
4 x PoE ports for IP cameras, supporting 720p/1080p @30fps live view & recording
GPS, G-sensor, Wi-Fi, 3G/LTE connectivity for wireless communication and vehicle tracking
28 vehicle-related SDKs and APIs for various applications
CANBus with OBD-II protocol for vehicle health status monitoring
Supports up to Intel® Core™ i5
Rugged, wide operating temperature range of -30 °C ~ 60 °C
4 x PoE ports for IP cameras, supporting 720p/1080p @30fps live view & recording
Rich I/Os for traffic signal control, gate control, ticket machines, and surveillance
Ideal platform for LPR, traffic counting, facial detection, and access control
Built-in high power 802.3at PoE Switch (16/24 ports)
10/100/1000Base-T and SFP combo uplink port
Supports Intel® 4th gen Core TM I processor (LGA1150) with Intel® Q87 chipset
Supports two 204-pin SODIMMs up to 16GB DDR3 1333/1600 SDRAM
Supports four 3.5" SATA HDDs up to 16TB storage
One 2.5" SATA HDD for OS storage
Features USB 3.0 & USB 2.0
Supports triple displays: 2 x HDMI/1 x VGA
About Advantech
Founded in 1983, Advantech is a leader in providing trusted, innovative products, services, and solutions. Advantech offers comprehensive system integration, hardware, software, customer-centric design services, embedded systems, automation products, and global logistics support. We cooperate closely with our partners to help provide complete solutions for a wide array of applications across a diverse range of industries. Our mission is to enable an intelligent planet with Automation and Embedded Computing products and solutions that empower the development of smarter working and living. With Advantech, there is no limit to the applications and innovations our products make possible. (Corporate Website: www.advantech.com).
About Embedded-IoT Group
As a global leader of the embedded computing market, Advantech Embedded-IoT Group not only offers a wide range of embedded design-in services but also provides diverse integrated IoT solutions that assist customers with IoT adoption while minimizing uncertainty and risk. Advantech's integrated IoT solutions include sensor nodes, gateways, Edge Intelligence Server (EIS), and the WISE-PaaS IoT software platform. Embedded-IoT.advantech.com
About AxxonSoft
AxxonSoft is a leading global developer of open VMS (video management software) and PSIM (physical security information management) platforms. The company has over 2,500 partners, which perform over 1,500 installations every month. With more than 40 offices around the world, the company provides its partners with fast response times and exceptional support in every corner of the globe. AxxonSoft is a Contributing Member of the ONVIF forum and offers integration for approximately 8,500 models of IP cameras, allowing security users to get the most out of on-board camera features. (Corporate Website: www.axxonsoft.com).