Multi-functional Handheld POS System Enabling Mobility Services in Retail and Hospitality Industries
9/13/2016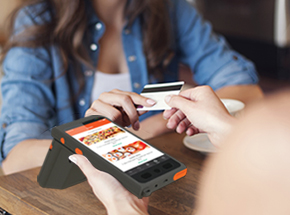 September 7, 2016 (Taipei,Taiwan) —Advantech, a leading provider of mobile Point-of-Sale (mPOS) payment terminals, today launched its latest terminal—AIM-33, which aims to satisfy demands for a lightweight yet rugged unit with an optimized price point to provide users with a versatile solution ideal for all kinds of mobile payment transaction applications. AIM-33 is designed for efficient and immediate order and payment processing operations in the retail and hospitality industries. AIM-33 supports integration with various peripherals such as 1/2D barcode scanners or 13M megapixel cameras for extending system functionality that enhances the customer shopping experience, helps streamline operations, and increases commercial transactions.
Android-based Mobile POS System Delivers a Secure Operating Environment
AIM-33 industrial grade Android-based mPOS provides a secure open-platform environment for mobile payments. To enhance data security, authorization is required by downloading the accompanying APP and installing the program package. Battery supports up to 10 hours of continuous operation for increased productivity and service.
Built-in MSR, IC Card Reader, and NFC Reader to Support Diverse Payment Options
AIM-33 can be integrated with diverse peripherals (MSR or NFC card readers) that support payment via membership cards, gift cards or ID card access, to further enhance mobile payment services in shops and hotels. AIM-33 supports all payment types like MSR, IC and RFID type cards, gift cards payments, NFC cards like Apple Pay and 3rd party payments using QR Code scanning.
Highly Configurable and Customizable Design
As a modular mPOS system, AIM-33 can be easily customized and configured according to specific usage requirements. For example, AIM-33 can be equipped with various optional peripherals such as a 1/2D barcode scanner, a 13M megapixel camera, or a PIN pad for application scenarios including, order taking and reservations in restaurants, goods and inventory checking in supermarkets and warehouses, and secure ID card access in banks or hospitals.

Finally, AIM-33 supports built-in wireless 4G LTE/Wi-Fi/Bluetooth technologies that can enable cloud-based database updates and management for real-time data protection. AIM-33 offers numerous benefits including enhanced business management, reduced maintenance downtime and lower overall system costs, making it the ideal mobile mPOS solution.
Key Features
Industrial-grade mobile mPOS with built-in Cortex Quad Core, 1.3GHz processor.

Stylish and slim design provides ideal hand-held operation. Memory up to 2 GB and storage maximum up to 16 GB.

Built-in MSR, IC, NFC Reader and 13M megapixel camera. Supports optional 1D/2D barcode scanner.

1 x MicroSD (up to 32 GB), 1 x Micro USB 2.0 client, 1 x unique connector with URAT and DC-in port.

Support. 4G LTE, Wi-fi, or Bluetooth.

Battery supports up to 10 hours+ of operation and Android 5.1 OS.

AIM-33 is now available on the early-bird program with a special price, and also will be available for order the end of October.
For more information about this or any other Advantech product,contact your local sales support team or visit our website at www.advantech.com.