Advantech ITA-5831/5231 EN50155 Certified Modular On-board Controller Featuring 6th Gen Intel® CoreTM Processor
2/10/2017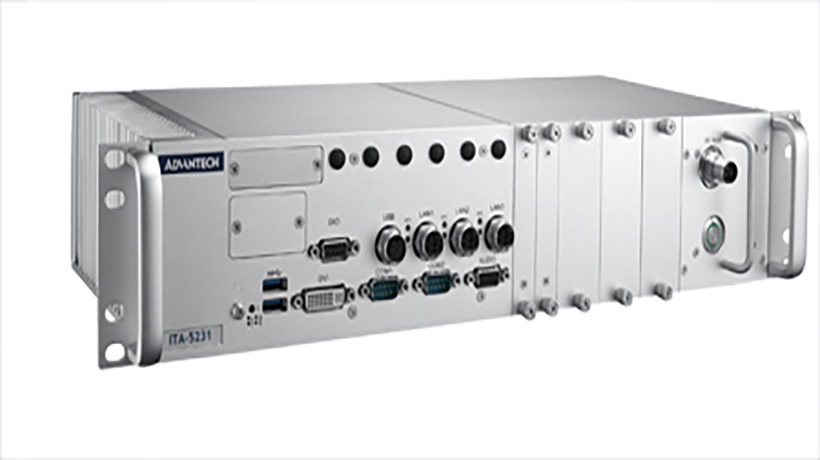 Advantech (Taipei:2395), a global embedded computing leader providing embedded platform solutions across multiple vertical markets, is pleased to launch the ITA-5000 series of industrial grade modular box PCs exclusively designed for rolling stock solutions. Rolling stock applications include in-train CCTV/NVR surveillance systems, Passenger Information System (PIS), and vehicle monitoring systems. These fully EN50155 certified in-train systems are intelligent, expandable, high-performance products for in-train CCTV surveillance, PIS, and vehicle monitoring applications, all of which require stability, accuracy, dependability, reliability and durability.
ITA-5831 and ITA-5231 are compact, fanless, fully EN50155 certified modular on-board controllers featuring 6th Gen Intel® CoreTM processors plus an array of M12 connectors which are rugged, compact, sealed connectors used for sensor/actuator connectivity in industrial control, ideal for meeting the rigorous demands of railway applications. Advantech's ITA-5831 and ITA-5231 rolling stock solutions are both EN50155 certified and undergo severe environmental testing under a range of power supply conditions such as variations in voltage, power outages, and changeover power supply. The standard also tests systems for wide temperature operation (TX level in EN50155), humidity, shock, and vibration. ITA-5831 and ITA-5231 offers flexible I/O expansion to fulfill different requirements with storage drive, PoE Ethernet port, CANbus, and COM port connections available, plus optional 24/48/72/110VDC power inputs that are EN50155 S2/C1 class certified.
ITA-5831 on-board modular controller is typically installed in train carriages. It is an ideal product design for Passenger Information Systems and surveillance applications.
Compact sized design for ease of integration in limited spaces

Built-in Intel® Skylake-H platform and QM170 chipset, certified to EN 50155 TX (-40 ~ 70 °C) and IEC 61373 body mount class B

Flexible configuration with PoE module or storage drive to record 24-hour Full-HD camera video over 90 days

Most flexible solution for WWAN/WLAN/CANbus/COM in a modular miniPCIe interface design

ITA-5231 on-board rackmount controller can be installed on/in locomotives. It is designed for in-train CCTV surveillance and as a vehicle monitoring system.
Diverse on-board 2U rackmount server for content & video, and vehicle monitoring system

Built-in Intel® Skylake-H platform and QM170 chipset certified with EN 50155 TX (-40 ~ 70 °C) and IEC 61373 body mount class B

GPS location tracking system and WWAN remote monitoring system through modular design

Supports up to 10 serial ports and CANbus to easily monitor train operating status