Advantech Launches UPOS-520 Efficient and Customizable POS System for Diverse Applications
3/14/2017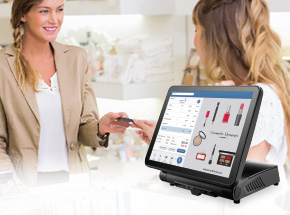 March 8, 2016 (Taipei,Taiwan) – Advantech, a leading industrial computing platform provider, is pleased to announce UPOS-520 – a slim and efficient point-of-sale (POS) system powered by an Intel® Celeron® J1900 processor for high-performance computing. Designed to satisfy demands for industrial-grade POS solutions with high installation flexibility, UPOS-520 features a customizable cover for enhanced branding and easy integration. The system's compact and modular design enables peripheral integration, installation on counter-tops with limited space, and deployment for a wide variety of applications. UPOS-520 also features an IP65-rated front panel that protects the system from water and dust ingress, while its fanless design ensures noiseless operation, easy maintenance, and convenient expansion, which is ideal for diverse applications in the retail and hospitality industries.
Slim, Fanless, Low-Power Design Reduces Energy Consumption
UPOS-520 is a slim and fanless POS system that features an Intel® Celeron® J1900 processor for efficient computing and stable operation. The system's low-power design enables offers cost savings and protects the environment by reducing the overall energy consumption without sacrificing features or performance. The IP65-rated front panel protects the system from water, oil, and dust, making UPOS-520 the ideal POS solution for retail and hospitality industries.
Supports Logo Customization for Enhanced Brand Awareness
Advantech's UPOS-520 is a functional POS system that can be easily integrated with the existing décor of any installation space. The customizable cover provides the ultimate flexibility for incorporating corporate branding and logos in order to strengthen brand identity and increase brand awareness.
Modularized Monitor and Peripherals Ensure Convenient Use and Maintenance
The UPOS-520's modular design ensures convenient maintenance and flexible expansion for future applications. The system monitor can be used as a secondary display for enhancing customer engagement and product promotions. UPOS-520 can also be integrated with various modular peripherals and I/O interfaces to facilitate the integration of diverse peripherals, such as a cash drawer, printer, and barcode scanner, to satisfy retail and hospitality usage requirements. Moreover, UPOS-520 is equipped with easy-access USB ports that enable easy upgrades and recovery as well as convenient maintenance.

Considering the benefits described above, Advantech's UPOS-520 provides an efficient and flexible POS solution with diverse features that enable retailers, restaurant and hotel owners, and service staff to conveniently manage operations and promote business growth through improved customer service.
Key Features
Intel® Celeron® J1900 with 8 GB of DDR3L memory

Fanless design ensures quiet operation and reduced power consumption

IP65-rated front panel protects from water and dust ingress

Reserve display hatch for integrating modular peripherals to support diverse applications

Snap-in rear cover and easy-access USB ports ensure prompt, stress-free maintenance