High Expandability AIMB-585 Micro-ATX with 6th Generation Intel® Core i Processors
7/29/2016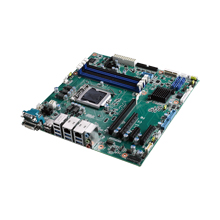 August 1, 2016, (Taipei) –
Advantech, a leading embedded computing solution provider introduces
AIMB-585
, a new industrial-grade Micro-ATX motherboard supporting the latest 6th generation Intel
®
Core™ I /Pentium/Celeron and E3 Xeon processors. Providing high computing and graphic performance with rigorous reliability (ex: ESD level 4 protection) and multiple expansion capability,
AIMB-585
is an ideal platform for a multitude of applications in medical equipment, surveillance, gaming machines, workstations and much more. Bundled with Advantech's own
WISE-PaaS/RMM
software suite that offers remote management and security features, the smart software boosts IoT applications from the edge to the cloud.
High Expandability and I/O Connectivity
AIMB-585
is equipped with multiple high speed I/O with reliable connectivity including: 12 x USB 3.0, 2 x USB 2.0, 4 x SATAIII, PCIe x16 or 2 x PCIe x8, PCIe x4, PCIe x1, and 1 x MiniPCIe (F/S x 1) supporting mSATA. It also supports 16-bit digital programmable I/O, 6 x COM (1 supportsRS-232/422/485) and a 6W audio amplifier (6W-2ch).
AIMB-585
also comes with dual Gigabit Ethernet ports (Intel I219LM + I211AT) delivering up to 1000 Mbps of bandwidth for network-intensive applications. All this high speed connectivity is packed into a Micro-ATX form factor which makes
AIMB-585
suitable for all kinds of high-end applications.
Enhanced Reliability & Compatible Design
AIMB-585
has a maximum of four PCI express expansion slots, and a unique PCIe x16 auto-split design. If a customer inserts a PCIe x8 card into the x8 slot, the bandwidth of the PCIe x16 slot will automatically be utilized as x8. (If a customer only installs one x16 card into the x16 slot, it will offer x16 bandwidth accordingly). This design creates more flexibility for different applications.
Moreover,
AIMB-585
offers one external USB controller for two independent USB 3.0 ports onboard to help customers separate USB ports for admin and non-admin use. This ensures USB devices will not crash or run at lower speeds due to bandwidth limitations.
Excellent Graphics Performance and Strict ESD Protection & Certification
With advanced HD graphics performance,
AIMB-585
Micro-ATX motherboard integrates Intel HD Graphics with DX11.1, OpenCL1.2 and OpenGL4.0 to deliver enhanced graphics performance.
AIMB-585
supports three independent displays, either inclone mode or extended mode using VGA, HDMI, DisplayPort1.2, eDP and DVI-D with high 4K2K resolution for HDMI, Displayport1.2, and eDP ports. With stunning graphics and imaging,
AIMB-585
is ideal for gaming and medical applications.
In addition,
AIMB-585
with enhanced ESD protection design passes ElectroStatic Discharge (ESD) level 4 ( contact 8kv and air 15kv) tests. For high end applications, for example medical applications, ESD level certification is an important feature to protect systems in sensitive environments.
AIMB-585
comes bundled with Advantech
WISE-PaaS/RMM
which provides remote device management and system recovery powered by
Acronis
, and system protection powered by
McAfee
; allowing users to easily monitor, configure, control, and even recover multiple systems through a single console from any remote site.
AIMB-585 Features
Supports the latest 6th generation Intel® E3 Xeon, Core™ i / Pentium/ Celeron processors
Supports dual channel DDR4 2133MHz 288-pin of non-ECC/ECC RAM up to 64 GB
Intel® Gfx support DX11.1, OpenCL 2.1, OpenGL 5.0
Supports triple displays: VGA, eDP, HDMI (upto HDMI 2.0), DisplayPort1.2, DVI-D
Rich I/O & expansion options: 12 x USB 3.0, 2 x USB 2.0, 4 x SATAIII, 6 x COM ports and 16-bit GPIO, 1 PCIe x16 or 2 PCIe x8, 1 PCIe x4,PCIe x1, 1 Mini PCIe sockets (F/S x 1 supports mSATA)
Up to 2 USB 3.0 controllers
ESD support to level 4
FCC/CB Class B Certificate
Supports Advantech WISE-PaaS/RMM
AIMB-585
is available now, for more information, please contact an Advantech local sales office.