Advantech Launches EtherCAT Remote I/O Modules for Distributed Control Systems
1/1/2022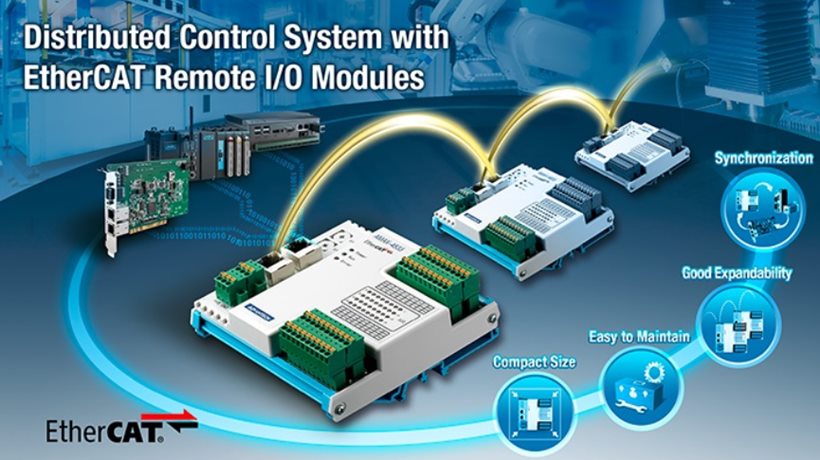 The AMAX-4800 series terminal type EtherCAT remote modules feature a high-density channel design for distributed control systems and deliver cost-effective performance. The AMAX-4800 series supports various I/O formats, such as isolated digital input, isolated digital output, photoMOS relay output, relay contact, etc. An analog input module and an analog output module are also available for data acquisition and device control.
The synchronization time between each slave module is an important parameter for motion control. AMAX-4800 series supports EtherCAT distributed clocks that can be used to calibrate a time difference of less than 1 us, for synchronized signal output.
Since up to 65,535 nodes can be connected per network segment, the number of I/O channels is no longer limited by the PCI/PCIE slot. And Ethernet physics allow a cable length of up to 100 m (300 ft) between two nodes, so expensive signal cabling can be avoided. This means less IPC, simpler wiring topology, and lower cost.
Terminal blocks, LED indicators, switch, and EtherCAT port are all accessible from the front panel, providing for convenient wiring, testing, debugging, and maintenance. In particular, the AMAX-4800 seriesis equipped with a Euro-type pluggable terminal block for wire insertion without screws or tools. Together these features help reduce maintenance time and costs.
Suitable for EtherCAT networks
Supports EtherCAT Distributed Clock(DC) mode and SyncManager mode

Wide input voltage range and wide output voltage range
Quick removable European type connector

LED indicators for I/O status

Compact Size

Front access

Isolation protection to 2500 VDC

AMAX-4800 EtherCAT Remote I/O Slave Module for Distributed Control Systems. Please visit www.advantech.com., or contact your local Advantech sales team for more product information.