Advantech Launches the World's First Industrial Isolated USB 3.0 Hub
3/19/2017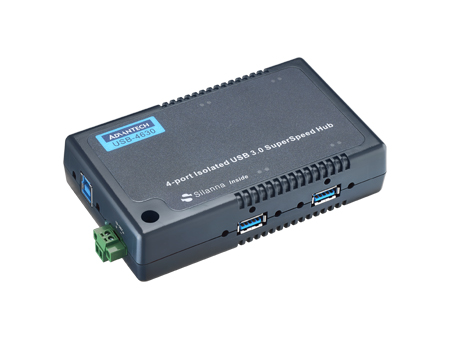 Taipei, Taiwan,March 20, 2017–Advantech (2395 TW), a global provider of intelligent systems and platform solutions across multiple vertical markets, today announced its launch of USB-4630, the world's first industrial isolated USB 3.0 Hub, which provides 4 SuperSpeed downstream ports for industrial or medical applications with 5 Gbps transfer speed and 2500 VDC isolation protection.

The USB-4630 provides the fastest data transmission between a USB controller and connected units, with isolation protection. Offering up to 5Gbps, with four ports, it is 416 times faster than a USB 2.0 isolated hub, and provides for ultra-high-speed transmission. Even when connected to USB 2.0 devices, it accelerates speed 40 times, up to 480Mbps. The USB-4630 brings ultra-high speeds to applications, industrial equipment testing, automotive manufacturing, and medical devices.
Isolation Protection
With its advanced isolation protection technology, USB-4630 saves you from ground loop worries. Moreover, it ensures data integrity, even in extremely noisy electrical environments, for instance, near an operating variable frequency motor, or near welding, or other large loads. Normally spikes between signal and ground line can be prevented by surge suppression. However, if the ground line rises beyond the limits of surge suppression, isolation allows the lines to float, maintaining proper ground and signal level on the local side. In this way, your data stream remains undisturbed, while the isolator simultaneously controls electrical flows.
Advantech's USB-4630 4-port isolated USB 3.0 SuperSpeed hub represents a breakthrough in isolation technology, achieving 5 Gbps data rates with USB bus power while still compatible with USB 2.0. The Silanna capacitive galvanic isolation provides the barrier that separates the logic between upstream and downstream devices.

"Silanna is extremely excited that Advantech chose to use our Isolated USB Product along with their industry leading USB Hub technology to create the industry's first SuperSpeed Isolated USB Hub for industrial and consumer applications," said Mark Drucker, CEO of Silanna Semiconductor North America. "Advantech and Silanna are jointly pushing the limits of USB with this product development. It is truly amazing what can happen when two leading innovators join together."
Key Features
The world's first isolated USB 3.0 SuperSpeed Hub

2,500 VDC voltage isolation for upstream ports

4 x downstream USB 3.0 SuperSpeed ports

Can be powered via a USB bus or 10 ~ 30 VDC external power source

ESD protection up to ±8 kV (Level 3)

Power status and downstream port speed LED indicators

Transfer speed up to 5 Gbps

Lockable USB 3.0 cable is included

USB 2.0 Compatible (High Speed 480M bps)


USB-4630 is 4-port isolated USB 3.0 SuperSpeed hub for machine automation and medical applications. Please visit www.advantech.com, or contact your local Advantech sales team formore product information.