Advantech Collaborates with GeoVision to Accelerate Surveillance Deployments
11/22/2016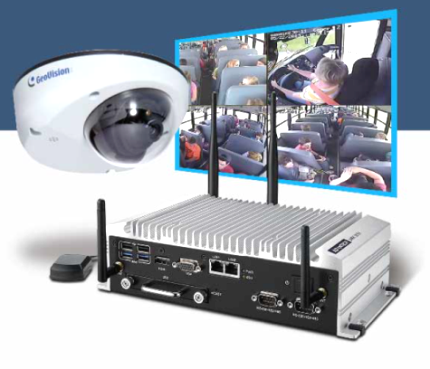 November 23, 2016, Taipei - Advantech, a global leader in the embedded system market, announced its collaboration with GeoVision, a leading video surveillance solution company, on the ARK-V and ARK-S series, to reduce integration effort and accelerate time-to-market for customers implementing in-vehicle and outdoor surveillance projects.
Accelerating Deployment of In-Vehicle and Outdoor Surveillance
In-vehicle and outdoor surveillance is growing, particularly in the transportation and governmental sectors. Key elements in surveillance projects can range from simple NVR with cameras and video management software, to more advanced systems that incorporate analytics and video back-up solutions. Projects usually require complex integration of many hardware peripherals and software, and customers find it challenging, especially when faced with compatibility issues.

Advantech and GeoVision have validated the compatibility of GeoVision's GV-VMS video management software and IP cameras on Advantech ARK-V and ARK-S series hardware. GV-VMS performs valuable video functions such as live view, recording and playback both from local and remote sites, two-way audio communication, centralized camera management, and supplies an active tampering alarm as well. Customers can now deploy surveillance projects more efficiently with a hardware platform that is ready for GV-VMS and IP cameras.

In addition, as part of its collaboration, GeoVision also provides video analytics functions which include, among others, license plate recognition, people counting, video stabilization, and video defog; these options help customers improve daily operation efficiency and optimize video surveillance capabilities. For large scale monitoring demands, GeoVision also presents central monitoring solutions that can connect thousands of cameras from numerous locations. Furthermore, GeoVision's GV-Backup Center, a software platform that can automatically back up video and audio recordings, is also available for those customers looking for reliable backup solutions critical for in-vehicle surveillance.
Saving Time and Money, and Facilitating Cloud Connection
ARK-V and ARK-S series acquires data from various environmental and vehicle health sensors via a variety of interfaces such as: PoE interfaces, serial, Ethernet, digital I/O, CANBus, OBD-II, or J1939 protocols. The collaboration with GeoVision broadens the series offering to include video management capabilities. Customers shorten their development times, reduce development resources, and save time, money, and reduce their times-to-revenue.

Additionally, in order to realize the value of IoT for surveillance, the ARK-V and ARK-S series is pre-integrated with Advantech's WISE-PaaS/RMM, an integrated IoT platform software service for remote management, system security, and pre-configured cloud services that mitigate development effort and empower IoT solutions.
Product Offerings and Features
ARK-2151V / ARK-2121V (In-Vehicle NVR)
E-13 certified with intelligent vehicle power ignition management

4 x PoE ports for IP cameras, supporting 720p/1080p @30fps live view & recording

GPS & 3G connectivity for wireless communication and tracking

28 vehicle-related SDKs and APIs for various applications

CANBus with OBD-II & J1939 protocol for vehicle health status monitoring

ARK-2151S / ARK-2121S (Outdoor NVR)
Rugged, wide operating temperature range of -30 °C ~ 60 °C

4 x PoE ports for IP cameras, supporting 720p/1080p @30fps live view & recording

Rich I/Os for traffic signal control, gate control, ticket machines, and surveillance

Ideal platform for LPR, traffic counting, facial detection, and access control
About Embedded Core Service
Advantech Embedded Core Services offers design-in oriented services. These streamlined solutions broadly integrate embedded boards, peripheral modules and software. This dedicated focus on Embedded Design-in services fulfills electronic engineering demands at their design-in phase, and brings benefits that shorten the design and integration cycle, minimizing uncertainty and risk. www.advantech.com/EmbCore
About Advantech
Founded in 1983, Advantech is a leader in providing trusted, innovative products, services, and solutions. Advantech offers comprehensive system integration, hardware, software, customer-centric design services, embedded systems, automation products, and global logistics support. We cooperate closely with our partners to help provide complete solutions for a wide array of applications across a diverse range of industries. Our mission is to enable an intelligent planet with Automation and Embedded Computing products and solutions that empower the development of smarter working and living. With Advantech, there is no limit to the applications and innovations our products make possible. (Corporate Website: www.advantech.com).

About GeoVision
Founded in February 1998, GeoVision is a leading security company providing high-end video surveillance products and solutions. GeoVision offers a wide variety of video surveillance products including megapixelnetwork cameras, NVR systems, VMS systems, capture cards, and DVR systems. GeoVision also provides total solutions for system integration such as central monitoring station, access control systems, POS, GIS, digital signage, and license plate recognition to fulfill surveillance demands for various end markets. Our goal is to integrate the industry-leading technology into our surveillance products and solutions and provide the maximum value through cooperation with our partners. GeoVision is dedicated to bringing reliable and effective services, products and solutions to create added value for our customers. (Corporate Website: www.geovision.com.tw)