Advantech Launches New Intel Atom, Celeron, and Pentium Embedded Platforms for IoT
11/3/2016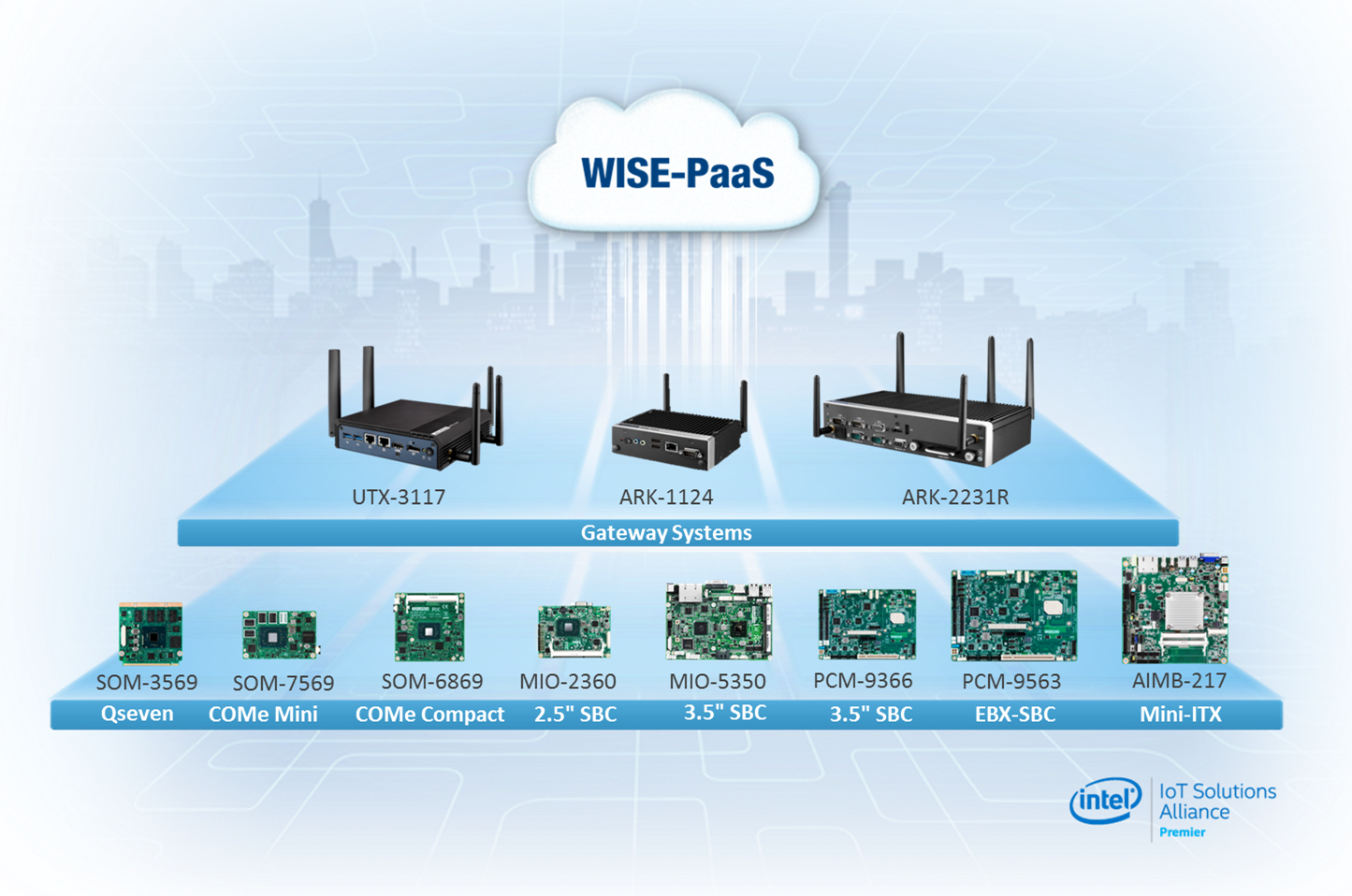 Taipei, Taiwan, November 3, 2016 –Advantech (2395.TW), a leading provider of embedded computing solutions, today unveils its new comprehensive range of embedded computing platforms with the latest Intel® Atom™ Processor E3900 series, Intel® Celeron® Processor N3350 and Intel® Pentium® Processor N4200 (formerly Apollo Lake). These platforms comprise of Computer On Modules SOM-3569, SOM-6869, and SOM-7569, Embedded Single Board Computers MIO-2360, MIO-5350, PCM-9366, and PCM-9563, and an Industrial Motherboard AIMB-217; as well as Intelligent SystemsUTX-3117, ARK-1124, and ARK-2231R. With the latest Intel Atom™/Celeron®/Pentium® processors and Advantech's exclusive WISE-PaaS integrated IoT platform software services, these Advantech Embedded products bring efficiency, security, and connectivity to embedded computing with essential features that balance cost, performance, and power; making them ideal for IoT, retail, industrial automation, digital surveillance, medical and more.
New Intel Atom/Celeron /Pentium Processors Enhance Advantech's Embedded Solutions
Based on Intel's 14nm tri-gate process with the new Goldmont microarchitecture, the latest Intel® Atom™/ Celeron®/Pentium® processor SoCs bring Intel's reliable compute performance, security, and powerful media processing performance to embedded computing systems. Enhancements include up to 30% computing and graphics performance, and up to 15% increase in battery life. Advantech developed its latest series of embedded boards and systems with Intel's technologies in a wide range of form factors, including the Qseven SOM-3569, the COM Express Compact Module SOM-6869, and the COM Express Mini Module SOM-7569. More form factorsinclude the 2.5" Pico-ITX SBC MIO-2360, the 3.5" SBC MIO-5350, and PCM-9366, the EBX SBC PCM-9563, the Mini-ITX Motherboard AIMB-217, the IoT Gateway System UTX-3117, and the Fanless Embedded Box PCs ARK-1124, and ARK-2231R. Powered by the latest Atom™/Celeron®/Pentium® processors, each of these devices delivers better, more reliable performance, superior media functionality, and longer battery life to empower real-time computing in IoT applications.
An Integrated IoT Platform Software Services -WISE-PaaS Built-in
Advantech's latest embedded boards and systems are equipped with multiple OS, value-added software, and built-in WISE-PaaS, an integrated IoTplatform software service for remote management, system security, and pre-configured cloud services that mitigate your development effort and empower your IoT solution. WISE-PaaS partnered with Microsoft Azure to allow seamless hardware and software integration and analytic tools for data analysis. Furthermore, Advantech will launch WISE-PaaS Marketplace, an online software shopping website, to provide diverse IoT Cloud Services, Security Services, WISE-PaaS Software Services, and IoT Solution Packages integrated with IoT Cloud solutions to accelerate and transform your business.
The complete product lineup will be available in 2017 Q1 to Q2. For more information, please visit: www.advantech.com.
Advantech's Latest Embedded Platforms Featuring Next Generation Intel® Atom™, Celeron® and Pentium® processors for the Internet of Things
SOM-3569–QSeven R2.1 Computer-On-Module
Onboard LPDDR4 up to 8GB, eMMC up to 64GB
Up to 4 PCIe x1 (x4 configurable) with GbE support
Rich display interface: LVDS/eDP, HDMI/DP/DVI
SOM-6869 – COM Express Compact Module Type 6
Supports 5 PCIe x1 (x4 configurable), GbE, 2 USB 3.0
Supports 3 simultaneous displays on LVDS/eDP, HDMI/DP/DVI, and VGA
Supports wide operating temperatures -40~85 °C
SOM-7569 – COM Express Mini
Onboard DDR3L w/ECC up to 8GB, eMMC up to 64GB
Up to 4 PCIe x1 (x4 configurable) with GbE support
Supports wide operating temperatures -40~85 °C
MIO-2360 –2.5" MI/O-Ultra (Pico-ITX) Single Board Computer
Super-slim exterior design & fanless rugged solution
Highly flexibile I/O expansion
Powerful graphic engine with quad-core processor performance
MIO-5350 –3.5" MI/O-Compact Single Board Computer
Supports DDR3L 1867 MHz, up to 16GB, 2 Intel GbE/ 4 COM/ 6 USB/mSATA or mSATA or Mini PCIe
New interface:MIOe 3.0/SATA III/M.2 E Key/TPM 2.0
Supports 3 independent displays: VGA, LVDS/eDP, and HDMI/DP
PCM-9366 –3.5" Single Board Computers
DDR3L frequency 1867 MHz, and 8GB capacity
Rich I/O: VGA, 48-bit LVDS, 2GbE, HDMI, Mini PCIe, M.2E key
Display: 3 Independent displays: VGA/HDMI/LVDS
PCM-9563 –EBX SBC
DR3L frequency 1867 MHz, and 8GB capacity
Rich expansion: 1 x mini PCIe, 1 x mSATA, 1 x M.2 E key, PCI-104, PCI slot
Supports 3 independent displays: VGA/HDMI/LVDS
AIMB-217 –Mini-ITX Motherboard
Supports 3 independent display interface: DP++/HDMI/VGA
Supports dual channel DDR3L 1866 MHz SO-DIMM up to 8 GB
Rich & flexible high speed I/O connectivity
UTX-3117 –Gateway System with Multiple Connectivity and Low Power
Adopts Intel APL technology for efficient computing
Double sided thermal cover to reduce heat impact on RF performance
5 optimized antenna to avoid RF signal conflicts
ARK-1124 – Ultra Small Fanless Box PC for IoT Gateway Solution
Intel Atom E3930/E3940 DC/QC SoC
Modular expansion for iDoor with a wide range of power modules
Flexible mounting kits and lockable I/O cable selection
ARK-2231R –Rolling Stock Fanless System
Intel® Atom E3845 SoC
-40 ~ 70 °C wide temperature support: EN50155 TX compliant
DC 24V EN50155 S2/C1 compliant, with DC 48/72/110V options