Advantech Introduces the Scalable i.MX 8 Qseven Module ROM-7720 at Embedded World, 2018
2/27/2018
Feb 27, 2018, Nuremberg—At Embedded World 2018, Advantech, a leader of the global industrial computing market, has introduced its NXP i.MX 8 QuadMax Q7 v2.1-compliant computer-on-module, the ROM-7720, which is designed for graphics-intensive IoT applications. Answering the market needs of graphics computing in IoT edge nodes, Advantech has collaborated with NXP to develop this new Qseven module, aiming to realize multi-display human–machine interfaces, advanced driver assistance systems, robotic vision, precision advertising systems, and medical image processing.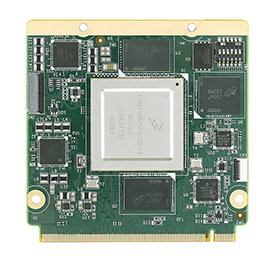 The ROM-7720 is powered by the i.MX 8 QuadMax processor, a multi-core SoC that is based on the Arm® Cortex®-A72 and Cortex®-A53 processors and the Cortex®-M4 big.LITTLE structure, featuring high-performance computing and low-power processing. Additionally, the dual-core GC7000 GPU delivers high-quality 3D graphics and 4K decoder. The ROM-7720 is designed as a standard Qseven 2.1-complaint platform to ensure that customers benefit from the flexibile interface design and improved time-to-market.
The newly released ROM-7720 supports both Yocto Linux and Android OS, and it has Advantech's WISE-PaaS/Edgesense built in, providing support for RMM and OTA features, thus enabling remote monitoring and management and over-the-air updates for IoT and industrial IoT applications. Furthermore, Advantech will continue to cooperate with its Embedded Linux and Android Alliance (ELAA) partners to provide complete ROM-7720 software offerings, including featured OS as well as security and image recognition technologies, the aim of which is to facilitate customers' adoption of the ROM-7720 and realize all the merits of the i.MX 8 processor.
ROM-7720's key features include the following:
NXP i.MX 8 QuadMax 8-Core Processor with 2 x Cortex®-A72, 4 x Cortex®-A53, and 2 x Cortex®-M4F
64-bit LPDDR4 (2 GB/4 GB)
Onboard QSPI Flash (256 MB), eMMC Flash (8 GB)
4K h.265 decoder, HD h.264 encoder
3 x USB 3.0 with OTG

Multi-system capacity

TThe ROM-7720 will be launched in 2018/Q4. A live demo is now available at Embedded World 2018 at the NXP booth (Hall 4A/4A-220) and the Advantech booth (Hall 2/2-138).
For more information about Advantech's Arm®-based computing solutions, please visit: http://risc.advantech.com
For more information about Embedded Linux and Android Alliance (ELAA), please visit: http://www.elaa-platform.org