Advantech Kostec Launches 24" PAX-324 Medical Grade Surgical Monitor
6/13/2018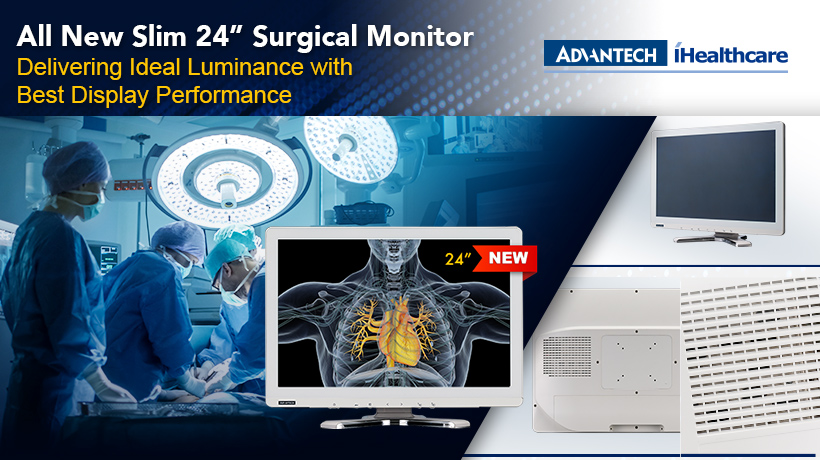 Taipei, Taiwan, June 1, 2018 -Advantech, a leading provider of medical computing platforms and solutions, is pleased to announce the Advantech Kostec PAX-324 24-inch widescreen medical-grade surgical monitor, for medical applications to ensure operating precision. Designed to deliver medical images of optimal quality, the PAX-324 monitor supports a Full HD resolution of 1920x1200 @ 60 Hz.
Equipped with DICOM Part 14 GSDF compliance 14-bit LUT processing grayscale, hardware calibration support, and automatic charge input detection, the PAX-324 surgical monitor ensures precise representation of grayscale images.
Meanwhile, power-saving features automatically switch the screen in to standby mode after 3 seconds without signal. With the inclusion of backlight leveling technology (BLT), the PAX-324 monitor maintains brightness at the pre calibrated maximum luminance level (L'max), and consistently matches the just noticeable difference (JND); thereby reducing backlight warm-up time and extending the product lifetime.
To facilitate simultaneous monitoring of color and monochrome images on the same screen, particularly for operating room (OR) applications, the monitor also features hybrid gamma encoding (HGE) technology. The PAX-324's slim true-flat design also offers physical onscreen display (OSD) keys, a splash screen and an optional touchscreen with projective capacitive control, and can be upgraded into an IP-based monitor.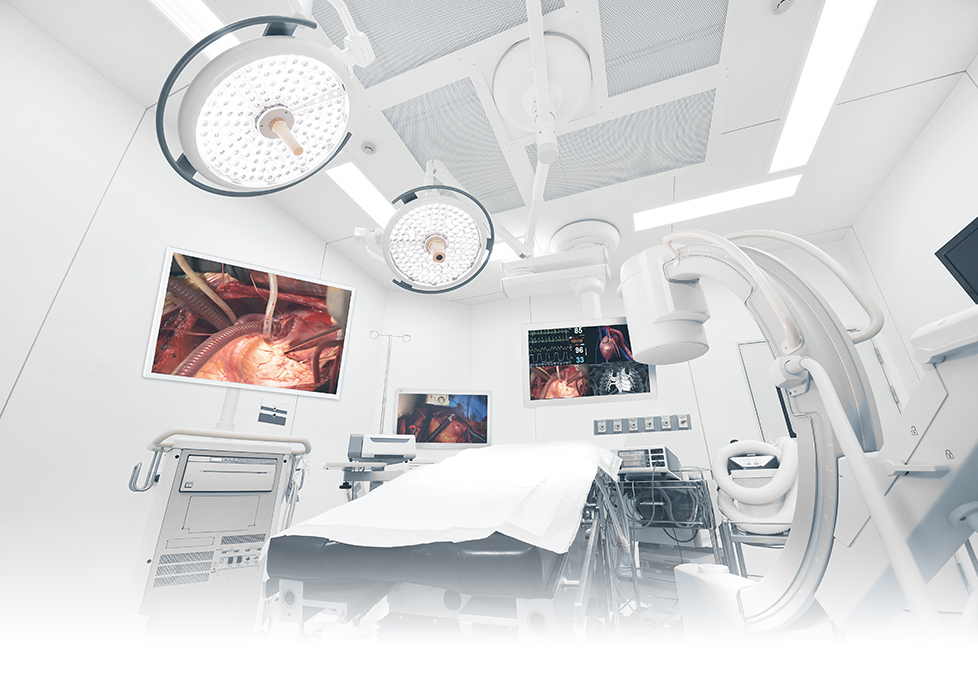 24" True-Flat Surgical Monitor for Enhanced Imaging
The PAX-324 is a true-flat, full HD surgical monitor with AR filter. Boasting a narrow edge of less than 24 mm, panel, thickness of less than 20 mm, and weight of 7.20 ~ 7.85 kg (15.87 ~ 17.30 lb), the monitor offers a compact and lightweight imaging solution for medical applications. In addition to displaying images with various aspect ratios without distortion, the monitor features contains a higher pixel density that enhances image sharpness, while the increase in vertical space offers a 10% greater viewing area. The I/O cover design optimizes cable routing and enhances hygiene for superior infection control. To eliminate heating issues, PAX-324 is also equipped with an IPX1 ventilation hole that boosts airflow. Finally, the silver decorated rim provides a luxurious, elegant appearance, while the physical OSD keys are designed to be downward facing to prevent accidental touch.
Dual Image Modality Support for Flexible Viewing
The PAX-324 monitor features a variety of analog and digital I/O interfaces for optimal connectivity in order to display images from diverse image sources. Moreover, the PAX-324 surgical monitor is equipped with HGE technology for dual-modality support, allowing color and monochrome images to be displayed on the same screen, without sacrifices in image quality. This functionality is extremely important for imaging applications in OR environments.
24" true-flat monitor with AR filter

High brightness display with a high contrast ratio

FHD resolution (1920 x 1200)

HDMI 2.0, DP 1.2, DVI, RGB support up to 1920 x 1200 @ 60 Hz

SDI support up to 1920 x 1080 @ 60Hz

Multi-standard video support (NTSC, PAL, SECAM)

Video enhancement features include:

14-bit LUT processing

DICOM Part 14 GSDF compliant

DICOM, clear, blue modes supported

Optional upgrade to an IP-based monitor with AVAS

Operational 0~40oC / Storage -20~60oC

Advantech's PAX-324 medical-grade surgical monitor is available for order now. To obtain more information regarding PAX-324 or other Advantech Digital Healthcare products and solutions, contact your local sales representative or visit the Advantech website at:
http://www2.advantech.com.tw/digital-healthcare/.
To learn more about Advantech Kostec, please visit the Advantech Kostec website at:http://select.advantech.com/advantech-kostec/en-us/
Founded in 1983, Advantech is a leading provider of trusted, innovative products, services, and solutions. Advantech offers comprehensive system integration, hardware, software, customer-centric design services, embedded systems, automation products, and global logistics support. We cooperate with partners to provide complete solutions for diverse applications across various industries. Our mission is to enable an intelligent planet with automation and embedded computing products and solutions that facilitate smarter working and living. With Advantech products, the number of potential applications and innovations is unlimited. (Corporate website: www.advantech.com)