Advantech Launches 10G Industrial Ethernet Switches
2/19/2020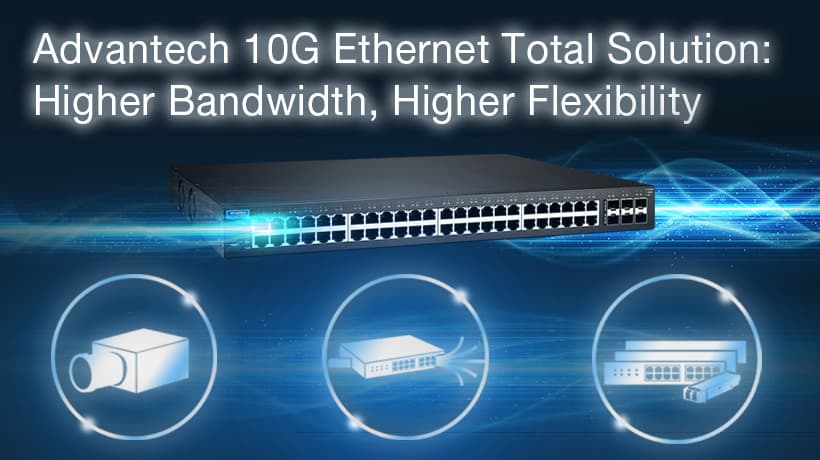 Taipei, Taiwan, Feb 19, 2020 - Advantech, a leading supplier of industrial communications equipment, is pleased to release its latest series of 10G industrial Ethernet switches. The series broadens the coverage of Advantech's 10G product line by delivering a wide variety of 10G Ethernet selections with non-blocking mass data aggregation and transmission for hyper-converged infrastructure involving heavy data transmission.

The Best Choice for Heavy Data Transmission
For machine vision and video surveillance applications, transmission bandwidth requirements are higher than what traditional 10/100/1000Mbps can satisfy. The 10G uplink ports prevent users from experiencing data loss or latency—guaranteeing network transmission quality.
Supports Multiple Transmission Speeds
10G Ethernet switches are future-proof Ethernet products consisting of both 1G and 10G ports. The 10G ports are backward compliant with 1G, 2.5G, and 5G. Multiple transmission speeds provide each connected device with the most suitable network service. The 10G Ethernet switches provide users with high network deployment flexibility, making them suitable network devices for managers expecting to upgrade their devices or undertake quantity expansion in the future.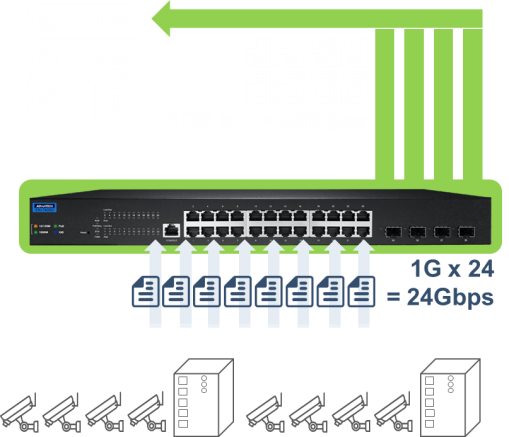 Ranging from 8 to 54 ports, Advantech's 10G Ethernet switch product line includes six different models for all network deployment needs. The rack mount design allows it to be either installed in a rack or on a desk. Both managed and unmanaged SKUs are available for various applications. Optional PoE ports deliver both data and power on one wire to PD devices. The SFP ports can further extend the transmission distance from 100 meters to 100+ kilometers for widened geographical network coverage.
For more product inquiry, please contact iiot.tech@advantech.com
Advantech experts will be providing you with dedicated support soon!