Advantech Launches 5" MICA-053 Tablet to Provide a Portable Nursing Care Solution for Diverse Healthcare Applications
5/29/2018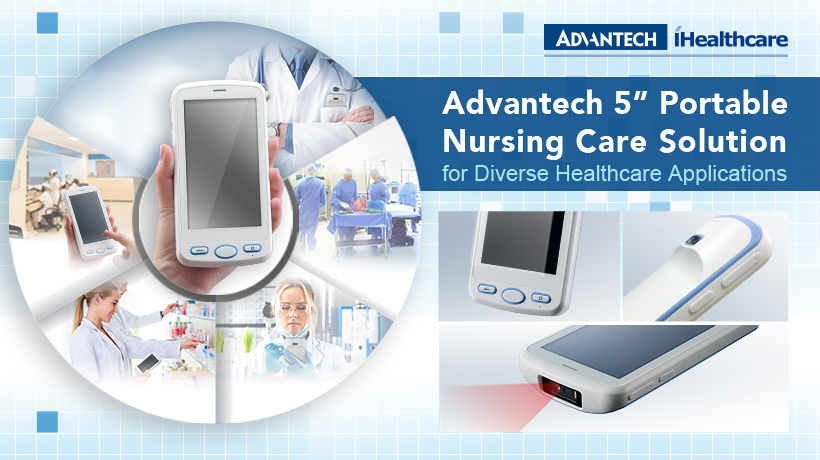 Taipei, Taiwan, May 25, 2018 – Advantech, a leading provider of medical computing solutions for digital healthcare, is pleased to announce its MICA-053 5" clinical tablet aimed at diverse medical/healthcare applications. Powered by an ARM® Cortex™-A53, quad-core, 1.3 GHz, processer that supports Android 5.1/7.0 IoT operating systems, and equipped with a built-in 1D/2D barcode scanner, 13-megapixel camera, 16 GB flash storage, and 5" HD LCD with multi-touch PCAP control, MICA-053 offers healthcare providers a reliable, flexible, and ergonomic tablet that can streamline workflows and improve overall efficiency. Built-in dual-band Wi-Fi, NFC, WLAN, and Bluetooth 4.0 technologies facilitate high-speed data transmissions, over-the-air (OTA) updates, and asset tracking for real-time communication with back-end hospital database systems. The inclusion of an embedded 3.8 V 3600mAH lithium-polymer battery that supports up to 24 hours operation and can be recharged within 2 hours, combined with the tablet's lightweight (253 g), slim design ensures maximum portability and long-duration operation for reliable mobile computing. Moreover, in addition to 1 micro USB (client) port, the MICA-053 tablet features 3 function keys and 2 barcode scanner buttons for easy control and intuitive operation. Drop-tested from a height of 120 cm and IP54-rated for protection from water and dust ingress, MICA-053 is built to withstand rough handling in a range of healthcare environments, providing the ideal extension to existing hospital information systems (HIS).
MICA-053 Tablet Provides Intelligent Support for Diverse Applications
MICA-053 is equipped with features that offer substantial application value for nursing stations, pharmacies, laboratories, and medical equipment rooms. The high-performance ARM® Cortex™-A53 processor is compatible with both Android 5.1 and 7.0 IoT operating systems, enabling flexible configuration. For daily operations such as medical inventory management, medical consultations, patient identity verification, and drug administration, the built-in Wi-Fi, NFC, WLAN, and Bluetooth 4.0 communication technologies offer substantial connectivity and increased data streams. Meanwhile, the inclusion of a 13-megapixel camera and 1D/2D barcode scanner streamlines data acquisition by providing multiple data collection tools for flexible usage. Additionally, with its IP65-rating, the MICA-053 tablet can tolerate repeated sanitization to ensure superior hygiene for medical applications.
Instant Data Access Enhances Data Processing and Operational Efficiency
The MICA-053 enables medical professionals and nursing staff to remain on the go by providing instant access to patient records and facilitating data retrieval from PACS/HIS systems. Additionally, the Android IoT operating system is fully compatible with medical facility HIS systems, allowing medical staff to exchange data with a variety of databases and platforms directly at the point of care. This ultimately streamlines data processing and increases operational efficiency..
Key Features
ARM Cortex™-A53 quad-core, 1.3 GHz processor with Android 5.1 IoT OS
5" HD LCD with PCAP multi-touch control for easy operation
Built-in dual-band Wi-Fi, NFC, WLAN, and Bluetooth communication technology
Wide operating temperature range (-20 ~ 60 °C/-4 ~ 140 °F)
IP54 rating for protection from dust and water ingress
Battery supports up to 24 hours operation
Palm-sized, lightweight, slim design ensures portability
Built-in1D/2D barcode scanner and 13-megapixel camera for convenient data collection
Advantech's MICA-053 clinical tablet is available for order now. For more information regarding MICA-053 or other Advantech Digital Healthcare products and solutions, contact your local sales representative or visit our website at www.advantech.com.