Advantech Launches Embedded Platforms with Intel Atom® x6000 Series and Intel® Pentium® and Celeron® N and J Series Processors
9/24/2020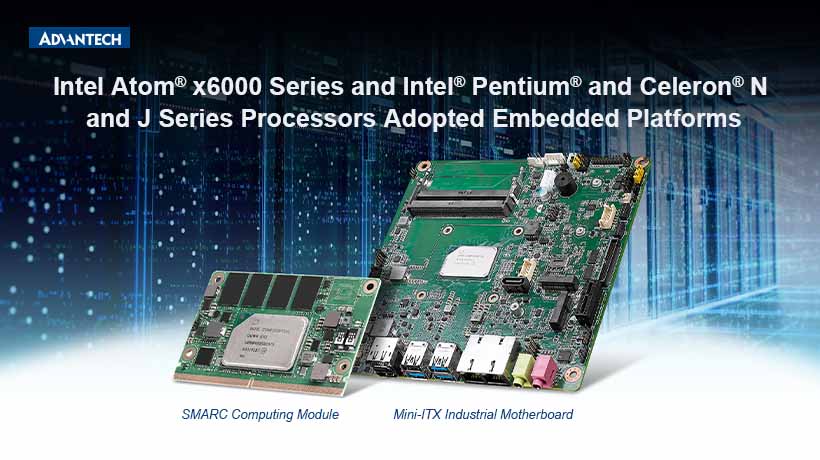 Taipei, Taiwan, October 2020—Advantech, a leading provider of embedded IoT solutions, is happy to unveil three new embedded computing platforms featuring Intel Atom® x6000 Series and Intel® Pentium® and Celeron® N and J Series processors. These platforms — Advantech's SOM-2532 computer on module, AIMB-218 industrial motherboard and MIO-5152 3.5-inch single board computer — feature the latest Intel® processors and Advantech WISE-DeviceOn, an IoT device operations and management solution. Advantech's embedded platforms are an excellent choice for real-time computing in retail, factory automation, healthcare, IoT edge, and transportation applications.
Excellent Performance and Connectivity for AIoT Applications
Advantech's SOM-2532, MIO-5152 and AIMB-218 feature advanced 10 nm process semiconductors which increase computing performance and I/O throughput; yielding solutions suitable for IoT-specific work tasks. Intel Atom® x6000 Series and Intel® Pentium® and Celeron® N and J Series Processors has increased its CPU's performance up to 40% and 2 times in the GFX performance compared with its previous generation. Advantech's AIMB-218 supports a TDP range of 4.5W to 12W to fulfill customer demands for improved performance. The on-board storage (UFS) delivers fast transfer speeds (up to 1200MB/s) and diverse I/O to support numerous peripherals on a single platform.
Similarly, Advantech's SOM-2532 provides onboard LPDDR4 3200Mt/s up to 16GB with IBECC. Advantech's design supports onboard UFS 2.0, dual GbE LAN with TSN PHY, 2x CAN FD, and 3x independent 4K displays. SOM-2532 is suitable for automation, medical, IoT edge, and transportation applications. And the embedded 3.5-inch single board MIO-5152 equips with DDR4-3200 up to 32GB and provides rich I/O options like HDMI2.0/DP/LVDS, Dual GbE, 4x USB3.2, 4x USB2.0, 6x UARTs & TPM fitting the applications such as IVD in the medical field, robot and HMI in the automation markets and various uses of instrument panels.
Empower Devices via Embedded Design-in Services and 24/7 Management
Advantech's Embedded Core Design-In Service is designed to address the technical requirements of IoT solution developers. This service is comprised of a series of hardware and software add-on services designed to help developers integrate their systems and reduce time to market. Additionally, using Advantech WISE-DeviceOn software, an intelligent networking solution for device monitoring and predictive maintenance, delivers stable operation and convenient remote management to IoT devices. The complete product line will be available in 2020 from Q4 to 2021 Q1. For more information, please visit: www.advantech.com.