Advantech Launches FPM-200 Series – New Generation of Industrial Monitors
7/30/2020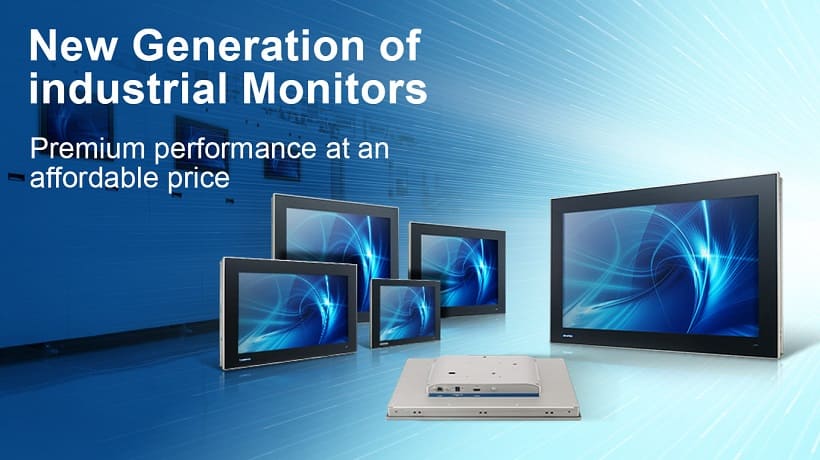 Taipei, Taiwan, July 30, 2018 – Advantech, a leading industrial computing platform provider, is pleased to announce the launch of its FPM-200 series, a new generation of industrial monitors designed to provide premium display solutions at an affordable price.
Aimed at industrial and IoT applications, the FPM-200 series are true-flat LCD monitors that feature an IP66-rated front panel for protection from water and dust ingress. This ensures the monitors can withstand rigorous cleaning using high-pressure water jets, making them ideal for industrial environments with harsh operating conditions. Designed with the same slim, compact form factor as Advantech's TPC touch panel computers for easy integration, the FPM-200 series monitors are also built with die-cast aluminum enclosure to provide a complete protection against shock, vibration, and corrosive liquid/gas to meet the requirements of industrial applications. Regarding installation, like all of Advantech's flat-panel displays, FPM-200 monitors can support various mount options, including panel, desktop, and VESA mounting, to ensure easy deployment in diverse industrial environments. Overall, FPM-200 monitors offer the best price-performance ratio for a reliable industrial-grade, touch-controlled display solution that can support a wide range of industrial and IoT-related applications.
Premium Industrial-Grade Quality at Affordable Prices
Featuring an industrial-grade design and IP66-rated true-flat front panel that protects against water and dust ingress, the FPM-200 series monitors can withstand 24/7 operation in industrial environments with harsh conditions, such as excessive vibration and temperature and power fluctuations. The IP66 rating for protection from dust and water ingress allows the entire display to be cleaned and easily maintained. Moreover, the monitors offer a backlight lifetime of 50,000 hours for an estimated service life of more than 5 years under constant load. Considering the hardware durability and service longevity, the FPM-200 series monitors offer very attractive and cost-effective industrial display solutions.
Ruggedized design with die-cast aluminum enclosure
IP66-rated front panel with chemically resistant surface
Lockable connectors to avoid accidental plug removal
Slim, compact design ensures easy installation
Supports various mount options, including panel, desktop, and VESA arm
Of Advantech's FPM-200 series industrial monitors, FPM-212(12"), FPM-215(15"), FPM-217(17"), FPM-215W (15.6") and FPM-221W (21.5") are available for order now. For more information about these or other Advantech products and services, contact your local sales support team or visit the Advantech website at www.advantech.com.
Founded in 1983, Advantech is a leading provider of trusted, innovative products, services, and solutions. Advantech offers comprehensive system integration, hardware, software, customer-centric design services, embedded systems, automation products, and global logistics support. We cooperate closely with our partners to provide complete solutions for a wide range of applications in diverse industries. Our mission is to enable an intelligent planet by developing automated and embedded computing products and solutions that facilitate smarter working and living. With Advantech products, the application and innovation potential becomes unlimited. (Corporate website: www.advantech.com).