Advantech Launches Intel® Select Solutions for NFVI
6/12/2018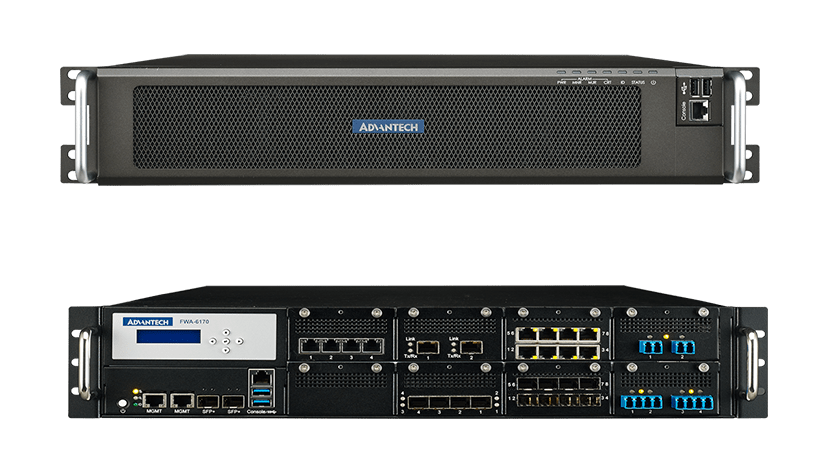 Targets Next Generation Central Office (NGCO) and Provider Edge Networking Elements including Virtual Routers, Network Gateways and Remote Access Servers
Taipei – 12 June 2018 – At 5G World in London today, Advantech (TWSE: 2395) unveiled two systems that are verified as Intel® Select Solutions for NFVI. The Advantech FWA-6170 workload-optimized network appliance and the SKY-8201 carrier grade server are focused on helping Communication Service Providers (CommSPs) accelerate network transformation by reducing the time, effort, and costs required to integrate and evaluate hardware and software configurations for NFV-based service development and deployment.


Both platforms provide tested, pre-integrated solutions for developers to gain faster access to advanced configurations that speed the rollout of highly-optimized NFV solutions. They allow network architects to accelerate their evaluation, test and modelling of solutions that will transform next-generation network infrastructure. Based on Intel® Xeon® Scalable processors and chipsets supporting Intel® QuickAssist Technology, the systems are fully configured for virtual networking workloads requiring high-speed packet processing, encryption and compression.
"Next generation central offices, telecom cloud and edge compute will require a significant boost in performance, network throughput and agility to maximize the opportunities created by 5G at sustainable costs." said Ben Shen, Director of NFV Infrastructure Division, Advantech Networks & Communications Group. "Intel Select Solutions for NFVI help close the gap and speed the transformation needed to support the next wave of applications where lower latency, additional bandwidth and increased storage capacities will be essential."
"Advantech's systems have been optimized to streamline deployment of new NFV infrastructure for CommSPs." said Sandy Chen, Director of Enterprise Networking, Advantech Networks & Communications Group. "They both meet, and in some cases exceed Intel Select Solutions for NFVI performance thresholds while providing the flexibility to scale up compute performance, massively scale out network connectivity and experience a throughput boost from Intel® QuickAssist Technology acceleration to fit many NFV workloads."
Both platforms meet the requirements of the Intel Select Solution for NFVI, based on integrated high-performance Intel® Xeon® Platinum and Gold processors. The configuration complies with specific network, storage, and integrated platform acceleration products from Intel to maximize virtual machine density. The high-performance CPUs, balanced I/O, and on-board acceleration with Intel® QuickAssist Technology combined with optimizations through DPDK allow for the achievement of exceptional throughput and latency performance. These technologies improve data and control plane throughput, latency, and jitter performance, and allow virtual network functions (VNFs) to meet their performance requirements.
The FWA-6170 configuration will be showcased at the Intel booth during 5G World in London on June 12-14 (Stand # 5G400).
More information related to Advantech products based on Intel® Xeon® Scalable Processors can be found at:
Intel and Xeon are registered trademarks of Intel Corporation in the United States and other countries.