Advantech Launches USM-260 Series of Industrial-Grade Box PCs for Edge Computing
8/27/2019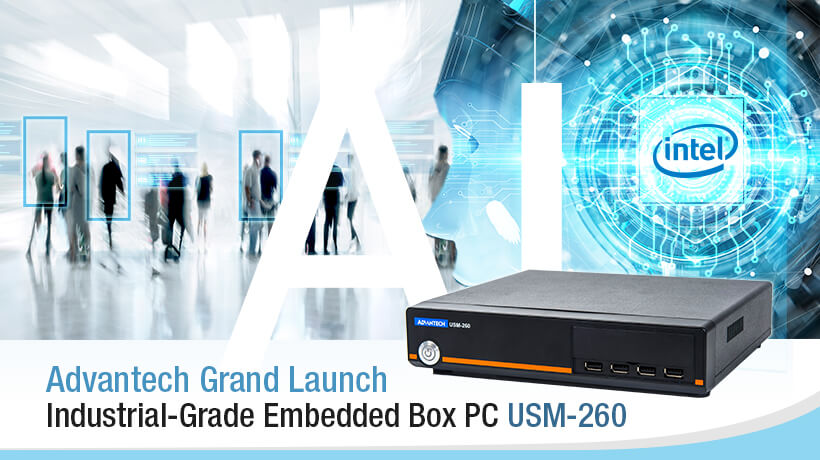 Taipei, Taiwan, October 2019 – Advantech, a leading provider of industrial computing platforms, is pleased to announce its USM-260 series of high-performance box PCs. Designed for a wide range of semi-industrial and commercial applications, including edge computing, machine vision, AI, self-service, high-traffic POS, and digital signage, the USM-260 series are intelligent multi-functional box PCs equipped with a 7/6th gen Intel® Core™ i7/i5/i3/Pentium®/Celeron® desktop processor. The system's compact design and provision of multiple I/O, including 8 x USB, 2 x LAN, and 4 x COM, support the integration of diverse peripherals to expand the system functionalities or satisfy specific application requirements. Designed for long-duration 24/7 operation, USM-260 provides a highly reliable and stable device that can be easily expanded for industrial automation and process control management operations.
Industrial-Grade Design with Advanced Thermal Solution
In addition to its compact form factor, the USM-260's industrial-grade design supports a wide operating temperature range (0 ~ 40 °C for HDD and 0 ~ 50 °C for SSD) to ensure reliable and stable operation both indoor and outdoor[PW1] . USM-260 is also equipped with an advanced thermal solution that improves heat dissipation to protect the processor from extreme temperatures and eliminate potential bending during PCB assembly. [PW1]What other features does it have to support outdoor use? IP rating? Solid enclosure to protect against water and dust?
Easy Expansion with Diverse I/O
Featuring USB, COM, HDMI, DP, LAN, and mSATA I/O interfaces, the USM-260 series is built for easy expansion. For applications that necessitate the connection of multiple peripheral devices, some of which may still use serial data interfaces, the USM-260 provides various I/O connectors with excellent data handling and networking capabilities to support the integration of a wide range of peripherals according to specific usage requirements.
Front-Facing HDD/SSD Tray for Convenient Maintenance
USM-260 is designed for easy maintenance with the inclusion of a front-facing dual 2.5" HDD/SSD tray that can be easily accessed for data backups, as well as four front-facing USB 2.0 ports that support BIOS, firmware, and middleware upgrades. Furthermore, located under the I/O cover at the rear of the device are one full-size and one half-size mini PCIe expansion slots for installing various Wi-Fi or mSATA storage modules. The accessibility of these interfaces enables rapid diagnosis and maintenance for reduced system downtime and total cost of ownership.
Integrated WISE-PaaS Software for Business Intelligence
USM-260 supports video AI functions including people counting, heatmap analysis and interactive signage and is also equipped with Advantech's WISE-PaaS/DeviceOn remote management platform that provides real-time device control, machine status monitoring, and data visualization functions for industrial IoT applications. The platform provides a library of API functions and supports over-the-air configuration and software updates, which allows a large number of devices to be rapidly onboarded, conveniently managed, and easily maintained
7/6th gen Intel® Core™ i7/i5/i3/Pentium®/Celeron® 35W desktop processor
Compact design saves installation space
Front-facing easy-access dual 2.5" HDD/SSD tray
Supports dual display (DP+HDMI, DP+VGA, or HDMI+VGA)
8 x USB, 2 x LAN, and 4 x COM for integrating peripherals
Mini PCIe for easy RAM and mSATA installation
Supports VESA, wall, and desktop mounting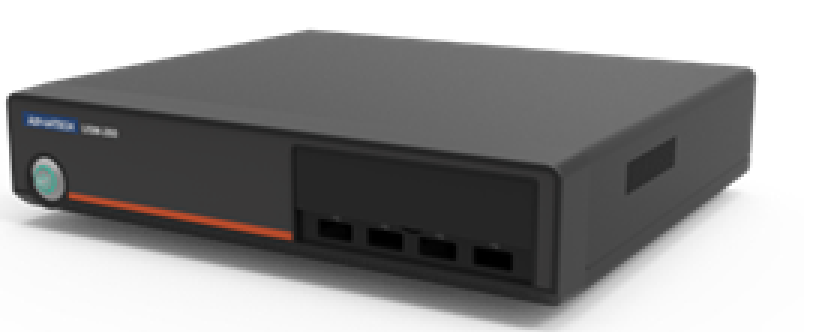 Founded in 1983, Advantech is a leading provider of trusted, innovative products, services, and solutions. Advantech offers comprehensive system integration, hardware, software, customer-centric design services, embedded systems, automation products, and global logistics support. We cooperate closely with our partners to provide complete solutions for a wide range of applications in diverse industries. Our mission is to enable an intelligent planet by developing automated and embedded computing products and solutions that facilitate smarter working and living. With Advantech products, the number of potential applications and innovations made possible becomes unlimited. (Corporate website: www.advantech.com)