Advantech Partners with aetherAI for AI Medical Solutions at MEDICA 2019
11/15/2019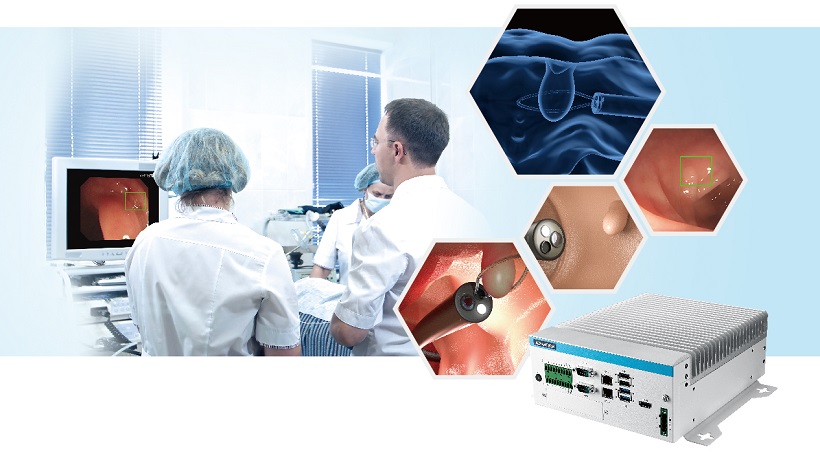 Advantech, a leading provider of industrial intelligent systems, has developed a core competency in reliable and high performance server grade-IPCs for over 30 years. In 2019, Advantech continued bringing AI systems to Smart Manufacturing, Surveillance, and Transportation applications, and the results were fruitful. Now, collaboration with NVIDIA and aetherAI has successfully led to the development of an Advantech AI box system for medical applications. This solution will make its debut at MEDICA 2019
aetherAI Endo: Real-time Automatic Colorectal Polyp Detection
Advantech's co-creation effort saw it partner with medical solutions provider aetherAI—Asia's leading medical image AI company dedicated to providing solutions for digital pathology transformation and AI-powered diagnostic support. aetherAI now delivers aetherAI Endo, a dedicated solution for real-time automatic polyp and adenoma detection during colonoscopies.
aetherAI is built on deep neural networks trained with tens of thousands of annotated colonoscopy images. With an extensive optimization software pipeline and operating system, aetherAI Endo is able to detect colorectal polyp and adenoma in real-time, capturing colonoscopy images and performing AI inference at 30 frames per second. aetherAI Endo is deployed on aetherAI Cube (Advantech MIC-730AI) and is specifically designed for real-time medical image AI inference systems.
aetherAI Cube is a fanless medical imaging system that supports powerful AI inference computing by NVIDIA Jetson AGX Xavier™. It offers ultra-low latency benefits from video processing via pass-through SDI or HDMI video capture. Multiple I/O interfaces provide the capability to integrate with various medical systems and peripherals. This medical inference system helps ease the burden on healthcare professionals and improves the quality of medical diagnostics by bringing top-quality AI into clinical practice.
To enhance model security, aetherAI Endo is equipped with dedicated hardware-encrypted storage. Providing superior detection rates, real-time inference, and model security, aetherAI Endo is an all-in-one solution for medical institutions adopting real-time AI without extra integration effort.
aetherAI Endo will have its initial debut at MEDICA 2019, please visit the Advantech booth for more information. Advantech booth location: Hall 9, A40