Advantech Releases the 10.4" and 12.1" DMI Touch Panel Computer of ITA-8000 Series for Locomotive
6/3/2019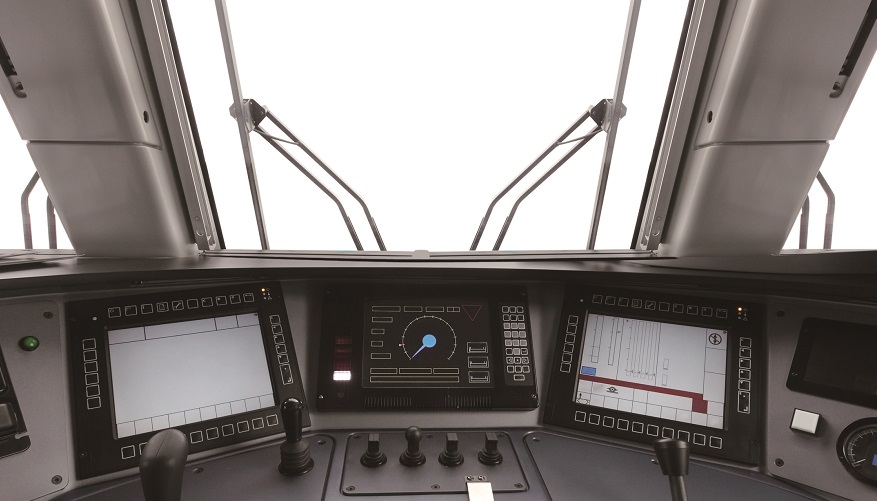 Taipei, Taiwan - May 2019 – Advantech, a leading global provider of embedded systems and IoT solutions, is pleased to announce the completion of its family of rolling stock control systems with the release of the ITA-8000 series of fanless touch panel computers with a driver-machine interface (DMI). Providing real-time information and a touch panel design, locomotive operators can enjoy improved safety control and optimized decision making based on the collection and analysis of all relevant data. The ITA-8000 series offers a full power range, from 24 to 110Vdc, and comes in two different panel sizes. It is EN50155 certified, compliant with the EN45545 standard for railway operations, and performs under the harshest of temperatures and environmental conditions.
Together with its range of other onboard in-vehicle products, Advantech is able to provide its customers with a total solution for their desired systems and in-vehicle applications — such as wireless data networking, security and surveillance systems, and passenger information systems. Mounted in the locomotive and acting as "the brain" of the train infrastructure, the ITA-8000 series is a fanless, industrial-grade touch panel PC utilizing the latest Intel® Atom™ x7-E3950 quad-core processor. It allows drivers to seamlessly monitor and adjust settings based on platform and carriage conditions from the driver's cab. This DMI product is designed for easy operation and displays a vast range of real-time information. Lockable front hotkeys seamlessly link the driver to the rolling stock control system.
Customization and Flexibility
The ITA-8000 series offers wide input power range — from 24Vdc to 110Vdc — that fulfills the diverse needs of different manufacturers. In order to further increase flexibility, the ITA-8100 series reserves a PCIe and USB 3.0 slot onboard. By adding a different optional module, the ITA-8000 series supports a variety of transportation communication protocols, such as MVB, and CAN bus. A customized interface can also be implemented upon request. The series features two panel sizes with impressive 1024 x 768 display resolution and highly sensitivity capacitive touch: 10.4" for the ITA-8100 and 12.1" for the ITA-8120. The high-brightness anti-glare LCD panels ensure readability in both dark environments and under intensive sunlight. Both the ITA-8100 and ITA-8120 offer the option of UIC612-01-compliant keypads for control or display purposes.
Durability and Resiliency
The ITA-8000 series is specially designed for performance under the toughest of conditions; meeting the EN50155 and IEC61373 certification for rolling stocks applications and adhering to the strictest safety standards. The series can operate under temperatures ranging from -40 to 70°C (class TX), and +/- 40% of selected input voltage. It can tolerate 20mS interruption (class S3) and 30mS supply break (class C2). The front panel is IP65-rated for maximum protection.

(Left to right) Front side, The option of UTC612-01-compliant keypads, Rear side
A comprehensive DMI designed for controlling in-train systems and displaying real-time information
Different panel sizes: 10.4" and 12.1"
EN50155, EN45545, and IEC61373 certification for rolling stock standards
Wide range of input power: 24Vdc – 110Vdc with +/- 40% tolerance
Wide temperature range: -40 to 70°C
Front panel IP65 certified, dust-proof, and water resistant
The Advantech ITA-8100 and ITA-8120 are available for order later this year. For more information regarding the ITA-8000 series or other Advantech products and services, please contact your local sales support team or visit our ITA-8000 series website at www.advantech.com