Advantech SKY-6100 Scalable GPU Server Optimized for AI at the Edge with NVIDIA EGX and NGC
10/21/2019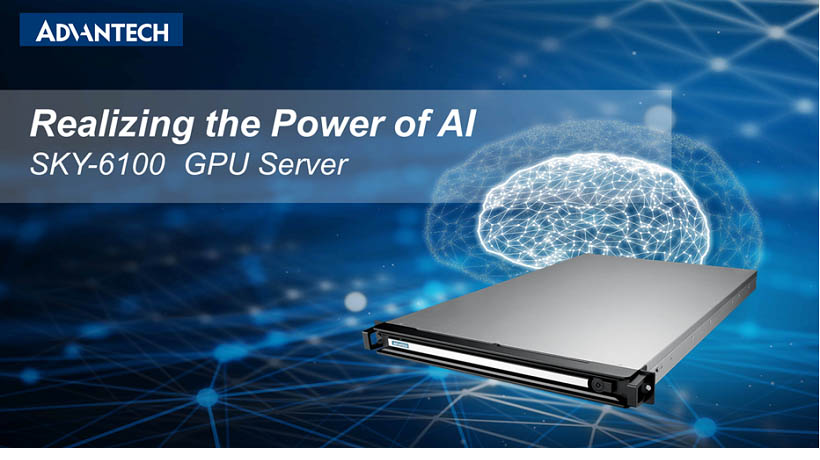 Advantech, a leading provider of industrial automation solutions, today announced its support for the NVIDIA EGX platform with the Advantech SKY-6100 — an NGC-Ready for Edge validated 1U system with up to four NVIDIA T4 GPUs — that enables customers to deploy multiple AI applications to edge locations.
Rapid advances in industrialization and IoT sensors have driven tremendous progress in the development of next- generation technology in manufacturing, smart cities and healthcare. 5G networking will make it possible to deploy large-scale AI from the edge to cloud, yet deploying AI is an even more complex challenge.
The Advantech SKY-6100 is a NGC-Ready for Edge validated system that simplifies the deployment process and delivers exceptional performance acceleration from the data center to the network edge. The system includes a TPM (Trusted Platform Module) and BMC leveraging Redfish API to provide better security and easier integration for enterprises to securely deploy and manage AI workloads at the edge or in the data center.
SKY-6100 is a 1U rackmount GPU server that supports up to four NVIDIA T4 GPUs in a configuration optimized to support multiple workloads at the edge. The SKY-6100 will support up to five NVIDIA T4 GPUs for customers who want to deploy an exclusively inference- focused solution. In addition, SKY-6200 and SKY-6400 servers support up to four NVIDIA T4 GPUs for flexible data training center and AI workstations. SKY-6420 supports up to 10 NVIDIA T4 GPUs for a more scalable inference and training server.
Advantech SKY-6000 GPU servers aim to transform enterprises and empower them with intelligent connectivity from IoT devices to the cloud. With NVIDIA EGX platform support, Advantech SKY-6100 GPU server can provide a wide selection of optimized and efficient solutions for the intelligent edge and for seamless integration from the edge to the cloud, and to support evolving applications that enable an intelligent planet.